Our next pick may come as a surprise to some, but we think it definitely deserves a spot in the rundown of our favourite affordable performance cars;
Kia Stinger GT-S
Vital Statistics:
– 3.3-litre twin turbo V6 engine
– 8-speed automatic gearbox
– 0-62mph in 4.7 seconds
– Top Speed 168mph
– Approximately 26.6mpg
– 244g/km of CO2
Awards:
– What Car? Best Executive Car of the Year 2018
– Red Dot Awards Best of the Best Car Design 2018
The all-new Kia Stinger GT-S may not be the first car that springs to mind when someone mentions a performance car. However that's something we think may soon change…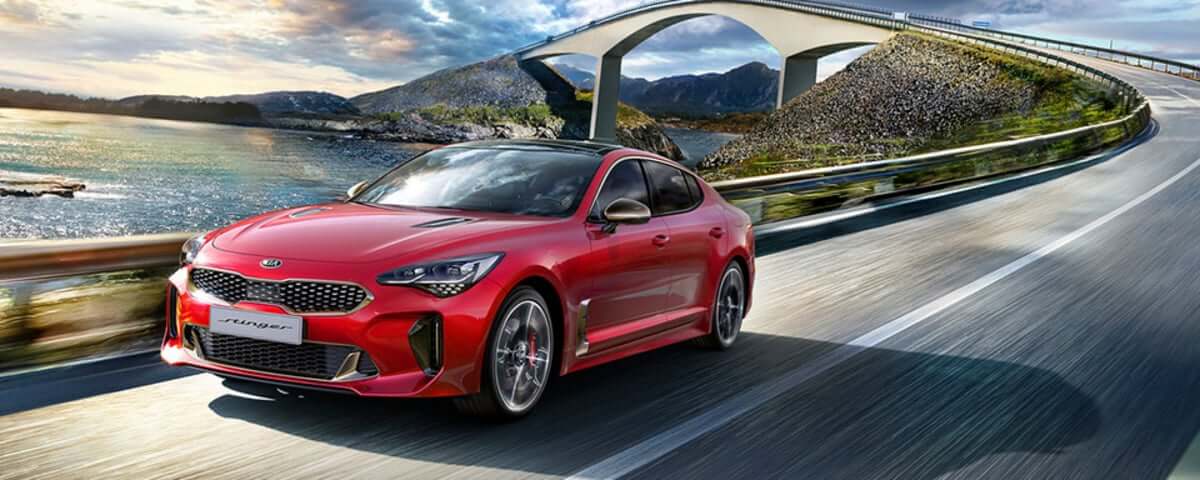 The Stinger's 3.3-litre twin-turbo V6 engine comes with 365bhp, has a top speed of 168mph and delivers an impressive 376lb ft of torque at 1300rpm. It surges from 0-62mph in sub-five seconds so will put in an admirable performance on the track. Plus the eight-speed automatic transmission, which comes as standard, provides slick and responsive shifts.
It's not just about pure power though, the brief for creating the Stinger GT-S was to produce a sporty car that would still deliver long-distance drive comfort, and the Stinger certainly comes up with the goods. It cruises along at a whisper, effortlessly eating away the motorway miles. While on A-roads the pliant chassis makes light work of absorbing lumps and bumps in the road. Plus with decent resistance to understeer, properly adjustable supple rear-drive and standard limited slip-differential you get fluid, agile and responsive handling that ensures every ride is enjoyable, be it on the track or on the road.
You'd be forgiven for mistaking the Stinger GT-S for a more conventional executive saloon, as looks-wise it's on par with its German rivals. Its sculpted broad shoulders and long rear overhang give it a muscular stance, while the chrome accents highlight the fastback silhouette and add distinction, and the striking 19" alloys complete the look.

Equipped with an extensive offering of luxury equipment as standard, with the Kia Stinger it really is possible to have it all. The deluxe Nappa leather seats heighten the finesse of the cabin. Plus as the front seats are both ventilated and heated, you can rest assured that whatever the weather you will arrive at your destination feeling refreshed. The addition of heated rear seats are an extra touch sure to keep rear passengers happy.
When it comes to technology, Kia has stuck with their tried and tested methodology of making it usable rather than flashy. The intuitive eight-inch touchscreen is easy to use and comes with both Satnav and Bluetooth. It is also fully compatible with Apple CarPlay and Android Auto, so you can enjoy full hands-free connectivity of your phone on the move. While the head-up display negates the need for you to take your eyes off the road by putting all the essential information right where you need it.

Keeping you safe and protected on your daily commute the Stinger has a full offering of driver assistance including lane departure warning, traffic sign recognition, blind-spot monitoring and tiredness recognition. It even comes with a five-star Euro NCAP rating.
The Stinger has a spacious cabin, thanks to the fastback's wheelbase, so you and your passengers benefit from ample space. While the 406-litre boot is outstandingly practical and ensures the Stinger GT-S will fit in with your day-to-day life. For added flexibility, the rear seats will flip forward to increase the available load area to an impressive 1,114-litres.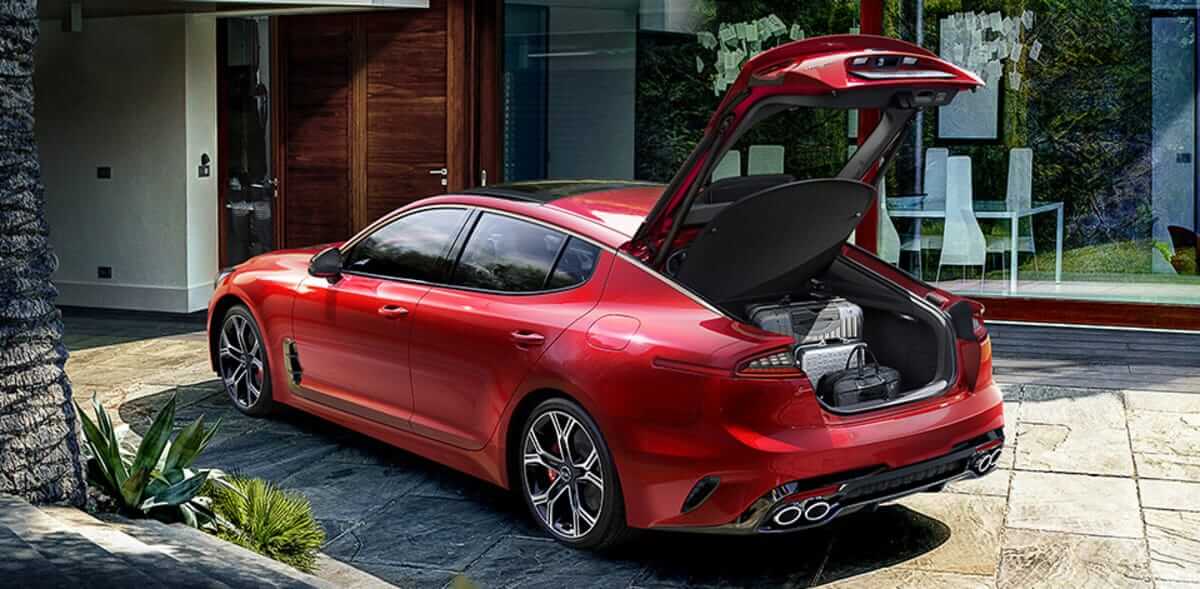 While perfectly equipped for daily driving the Stinger was developed first and foremost as a sports car so understandably economy and fuel efficiency were not key priorities. The V6 engine is a thirsty beast so don't expect any more than around 26.6mpg while CO2 emissions of 244g/km won't do anything for your green street cred.
However, if you're after a great looking, capable and well-equipped car then the Stinger is a strong candidate. Kia may not have the badge kudos of its German rivals but with great looks, extensive equipment, outstanding performance, Kia's unrivalled seven-year warranty and impressive reliability, the Kia Stinger GT-S is definitely not to be trifled at.