Hyundai Motor Group, which represents Hyundai and Kia, has announced details on a new platform, the E-GMP, which has been designed specifically for electric vehicles.
The E-GMP Platform – A Commitment to Electric Power
The latest news from the Hyundai Motor Group demonstrates its intention to produce next-generation electric vehicles.
Significant development has gone into the new platform to ensure it offers better development flexibility, powerful driving performance, better range capabilities, increased safety and more cabin space.
Greater Flexibility
As a modular platform, the E-GMP offers a greater range of flexibility. As a result, Hyundai and Kia will use the E-GMP on a variety of different size cars with various battery and motor configurations. With the option of both rear-wheel and all-wheel-drive configurations available.
Plans are already in place for a dozen different electric cars by 2025, with the Hyundai Ioniq 5, the first vehicle to use the E-GMP platform in 2021.
Freeing Up Space
A longer wheelbase enables the flat battery to go underneath the cabin floor, which frees up space in the cabin. It not only means there will be no compromise when it comes to space, but it will help optimise driving dynamics and safety.
Stronger yet Lighter
The platform will use high-strength steel and aluminium to ensure that it is lightweight yet strong. It will also have a lower centre of gravity, with the battery accommodated lower down, which will help to enhance cornering performance and stability at higher speeds.
Meanwhile, less weight in the electrical systems and a new cooling system in the battery further add to the weight efficiency gains.
More Power Readily Available
Hyundai Motor Group say the E-GMP will be capable of powering high-performance models and used for up to 600bhp. This potent power will see vehicles capable of 0-62mph in just 3.5 seconds with a top speed of up to 161mph.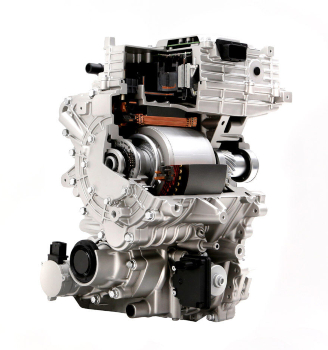 Exact details on batteries are yet to be released, but it thought the Group is targeting a range of around 310 miles. However, we do know the Group intends to develop the use of 800V rather than the usual 400V, to improve range and speed up charging capabilities. In fact, it claims 5-80 per cent charge will be possible in just 18 minutes when using high powered 350KW chargers, which will become more mainstream as electric motoring continues to evolve.
Reversible Charging
The E-GMP platform will have a reversible charging system and will be able to supply up to 3.5kW of power. This can be used to operate a device, like a TV or can even be used to charge another EV. It opens up greater possibilities and potential integration of the car within the home. In the future, this may help manage power from the grid more effectively, something which may prove vital as more of us choose to make the switch to electric-only power.
An Exciting Future with the E-GMP Platform
It is clear Hyundai Motor Group is looking to future-proof their range quickly with the models built on the new E-GMP as soon as next year. The Group is showing a real commitment to the future of electric vehicles by looking to improve on existing electric and hybrid models. Why not check out the current range of cars available from Hyundai and Kia using the links below?