Find a new Toyota Aygo for sale
About the New Toyota Aygo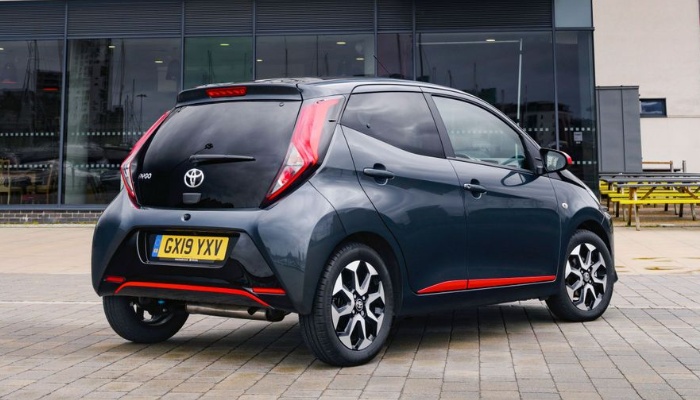 Go where the feeling takes you in the compact and chic Toyota Aygo. One of the UK's bestselling city cars, the Aygo has everything you need to motor on more freely.
A five-door model with seating for four, the Aygo offers good practicality for you to nip in and around the town with your loved ones. Plus, thanks to the latest in-car tech, you get everything you need to stay entertained and connected wherever you are heading.
Not only is the Aygo incredibly affordable to buy, but it is incredibly economical to run. The small one-litre engine provides enough pep for the compact model yet delivers incredible fuel economy and low CO2 emissions.
You can have complete confidence in your commute too, thanks to a range of advanced suite of safety functions. You get the benefit of impressive driver-assistance systems, including the likes of automatic emergency braking.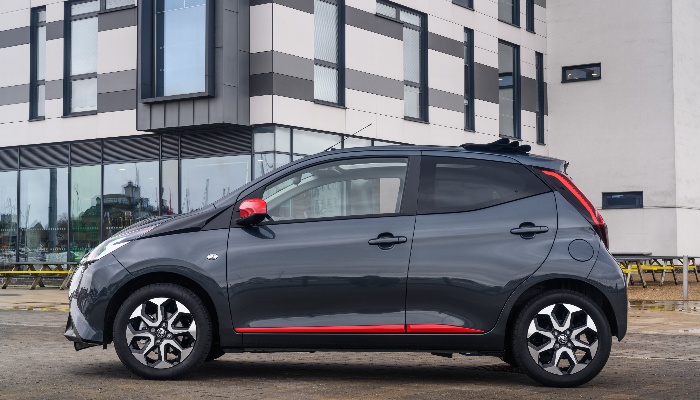 The Toyota Aygo comes with a straightforward engine line-up with just a one-litre three-cylinder petrol engine on offer. With 71bhp, it may not seem like the most powerful model. However, since the Aygo is so compact and lightweight, it does a commendable job of powering you around the city.
Two gearboxes are available; a five-speed manual or a five-speed automatic that Toyota calls x-shift. The automatic brings greater driving convenience while the manual transmission gives you greater control, so the choice really is yours.
On the road, the well-damped suspension soaks up the worst bumps providing a more comfortable and relaxing commute. So you can motor on without worry.
With well-weighted and responsive steering, the Toyota Aygo has impressive agility and offers you the ability to nip in and out of traffic with ease. Plus, the 10.2m tight turning circle ensures you will have no bother completing tricky manoeuvres or squeezing into tight parking spaces.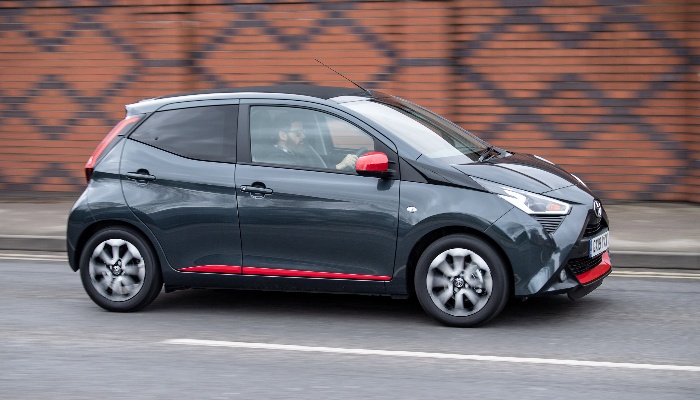 Bright and bold, the Toyota Aygo is a model which is sure to get heads turning in the city. When first launched the Aygo made waves with its stylish 'X' graphic on the nose. The design of the new model reinvents this distinctive feature by incorporating LED daytime running lights. Meanwhile, the rear benefits from signature LED at the rear.
The compact dimensions and new design touches are all part of Toyota's missions to create better car that are more fun to own.
Coloured accents on the wing mirrors and trims are available on some trims offering you the chance for personalisation while helping create a more distinctive look. One things for sure you can be confident the Aygo stands out in the crowded city car market.
The interior is simple yet sophisticated offering the ideal space for you to enjoy journeys around town. The multimedia system puts a range of functions at your fingertips and frees up space creating a classy clutter-free dash.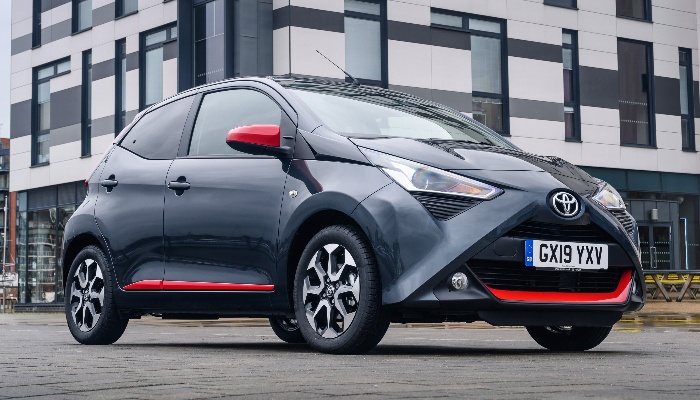 The phrase good things come in small packages couldn't be more true of the Aygo. There is no escaping the Aygo is a small car, yet you do get ample room for four to travel happily. And as it is available as a five-door model, it is easier to gain access to the two rearmost seats. So whether you are carrying friends or little ones, no one will have any worries getting on board.
Inside, the tall windows and narrow front pillars deliver impressive all-round visibility as well as helping make the cabin feel airier.
Up front, the comfortable seating and offer decent support through corners. Meanwhile, the front seats come with ample adjustability so it is easy for you to find your ideal position behind the steering wheel.
You also get the benefit of a large cubby with two cupholders, a large glovebox and two rear door pockets, so there is somewhere for your necessities.
Toyota Aygo Technology & Safety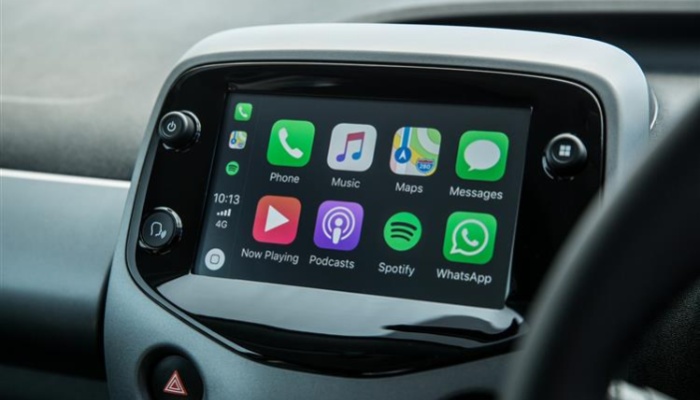 An advanced seven-inch touchscreen features crisp, bold graphics and easy to navigate menus to make it easier to use on the go. Plus, with Bluetooth, DAB radio and smartphone mirroring, you are in control of the car's entertainment functions.
As it is compatible with Apple CarPlay and Android Auto, you can access some of your favourite apps as well as voice recognition for more seamless connectivity.
Entry-level models come with a stack of features to help make daily life easier, while upgraded models come with more luxurious equipment like automatic headlights and upgraded climate control to ensure you never miss out.
With a four-star Euro NCAP rating, the Aygo scores well for safety in the city car class. As well as standard safety equipment, you also get advanced driver-assistance functions like automatic emergency braking and lane-departure warning to give you extra confidence in every journey.
About the New Toyota Aygo
Re-ignite your passion for driving with the new Toyota Aygo. Injecting a new sense of fun to your drive the bold and distinctive look is sure to make you stand out in this chic city car. Colourful styling options ensure that the new Toyota Aygo has plenty of appeal, while LED daytime running lights and signature LED at the rear give the Aygo a distinctive look.
When it comes to the engine, the new Toyota Aygo is offered with a one-litre three-cylinder petrol engine. It delivers a supple ride-quality around town, while remaining well-composed at motorway speeds, so you have the flexibility to travel wherever you need to. The new Aygo's well-weighted and responsive steering and a tight turning circle of just 10.2 metres ensure that tricky manoeuvres and U-turns are a doddle. Its incredible agility also allows you to nip in and out of traffic with ease.
The new Toyota Aygo may be small, but that doesn't mean it misses out on essential equipment. A seven-inch touchscreen infotainment system powered by Pioneer is available on X-Play and above models. It enables smartphone integration to mirror your favourite apps on the touchscreen as well as allowing you to access smartphone voice control. Staying connected and entertained has never been easier.
Tall windows and narrow front windscreen pillars ensure that visibility is surprisingly good for a small city car. However, a rear-view camera which is standard on X-Play trim models means that you'll never have any issues when parking. Should you have any further worries, then parking sensors are available as part of an optional pack on all but the entry-level Toyota Aygo models for sale.
Upfront, both the driver and front passenger have plenty of space to relax on journeys. In the back, the new Toyota Aygo offers an additional two seats, a fairly typical layout for modern city cars. These rear seats split 50/50 and fold almost flat to increase the standard 168-litre boot capacity should you need extra space to carry bulkier items.
New Toyota Aygo Deals
Let us take the hassle out of finding a new Toyota Aygo deal for your circumstances. As well as incredible Toyota Aygo PCP deals we can offer Toyota Aygo 0% finance, so no matter what your preference you're sure to find the right Toyota Aygo deal.
In addition, we can even tailor a Toyota Aygo offer to your particular circumstances, all you need to do is let us know your preferred deposit contribution and terms, and our team will do the rest.
Representative Example
Amount of credit
£17,608.64
Fixed Interest per annum
4.67%
Total Charge for credit
£3,825.35
Option fee (included in total charge for credit)
£399.00
Total Amount Payable (Incl. Deposit)
£21,433.99
We are a credit broker and a lender. We can introduce you to a limited number of lenders and their finance products. We will provide details of products available, but no advice or recommendation will be made. You must decide whether the finance product is right for you. We do not charge you a fee for our services. Lenders may pay commission to us (either a fixed fee or a fixed percentage of the amount you borrow) for introducing you to them, this may be calculated in reference to a variable factor such as (but not limited to) the vehicle age, your credit score and the amount you are borrowing. Different lenders may pay different commissions for such introductions.