Find a new Peugeot 108 for sale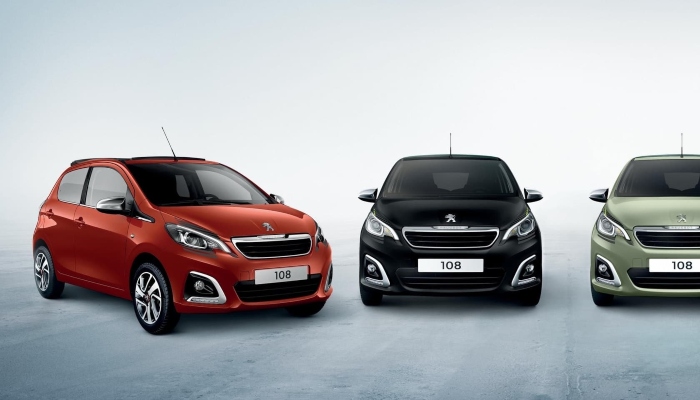 About the New Peugeot 108
Inner-city cars are currently enjoying a great surge in popularity. They are easy to drive and park, as well as being efficient with low emissions; they prove perfect for urban use. It is no wonder, therefore, why French manufacturer Peugeot has entered the market with an all-new Peugeot 108 hatchback. Embracing the world of fashion, the new 108 is a head-turning, chic city car that is sure to become the envy of all of your friends.
Chic and elegant, the brand new Peugeot 108 does not lack quality on technology, as it features some striking black chrome headlights and fancy LED daytime running lights. Moreover, it offers a bountiful colour selection you can style the Peugeot 108 your way!
At Stoneacre, we currently stock the Peugeot 108 Allure, Peugeot 108 Active and Peugeot 108 Collection trims. Each offers its own unique features and makes for a personalised drive. The Peugeot Active 5 door comes with trendy 15" steel wheels. Meanwhile, the Peugeot 108 Allure for sale has 15" alloys, as well as on the Collection. Visit a local Stoneacre Peugeot dealership today! We can show you around, inform you about the latest trims, and book you in for a test drive on your favourite Peugeot model.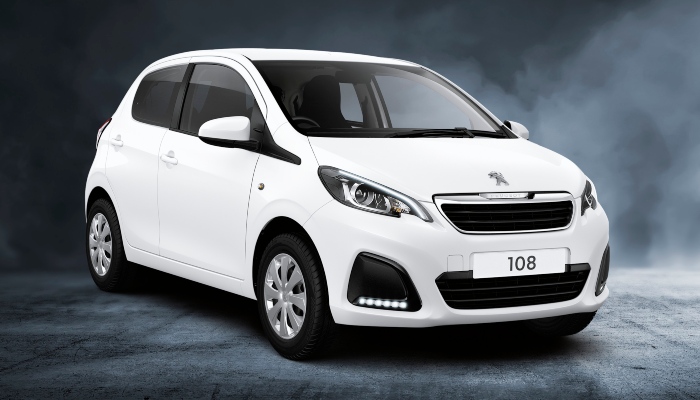 Peugeot 108 Design
The new 108 is a versatile hatchback that offers practical solutions no matter what your requirements. The new Peugeot 108 5-door ensures not only that is space for you and your friends, but also that access is never an issue. Alternatively, if you're looking for something sleeker, you might prefer the new Peugeot 108 3-door. It offers the same space and capacity as the 5-door but is better for people carrying people less often.
The Peugeot 108 boot space holds a capable 180-litres, great for stowing away a weekly shopping haul. Need more space to carry? The handy 50/50-split folding rear seats allow you to carry a much larger load when needed.
Onboard, the new 108 ensure you never miss an update, with a seven-inch touchscreen that is compatible with Android Auto and Apple CarPlay. Not only does it have this, but the new model Peugeot 108 also features steering-wheel-mounted controls, a DAB radio, and a Bluetooth system.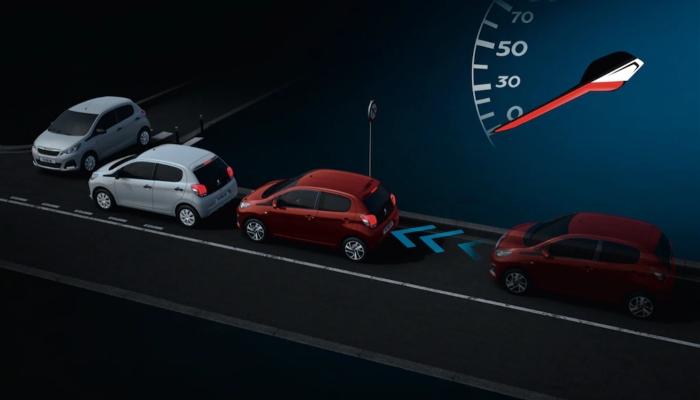 Peugeot 108 Safety
The new 108 has many helpful safety features that ensure that everyone on board is safe and protected. The Peugeot 108 hatchback has six airbags installed as standard. It includes several ISOFIX child seats, as well as remote central locking on the Active and Collection for improved security. Meanwhile, the new Peugeot 108 Allure 5-door features Peugeot's own Open & Go (with keyless entry and stop/start button).
The new Peugeot 108 also includes a number of advanced safety features, which helps assist the driver to keep your drive smooth-running. This includes Lane Departure Warnings, which alert you to if you stray from the lane, as well as Hill Start Assist and Active City Brake.
The Peugeot 108 for sale has an Electronic Stability Program, so you should have no trouble manoeuvring tight city streets. The car also features Tyre Under-Inflation Detection, so you do not run on flat.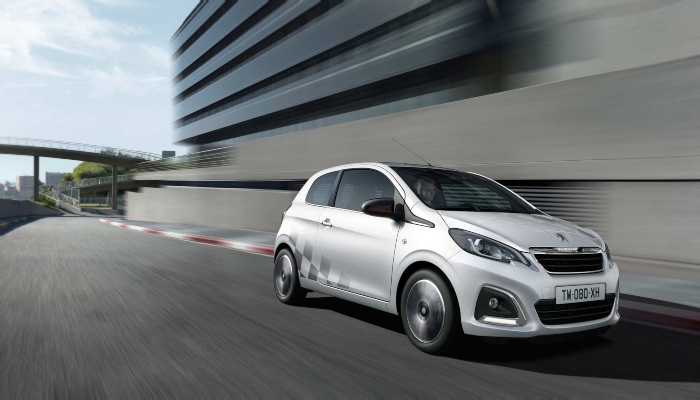 Peugeot 108 Performance
Save money in style with the new 108! The Peugeot 108 engine size is an efficient 1.0-litre 72bhp petrol engine with a manual gearbox; this offers an outstanding fuel economy. You can also drive on a clear conscience, as the car's CO2 emissions are as low as 85g/km. The Peugeot 108 1.0 Active 5dr is our base model, but even this offers a nifty level of power.
Offering a lively drive, the brand new Peugeot 108 lets you navigate any tight city streets with ease. Quick steering and reduced body lean ensure you feel suitably agile and perfectly equipped to cope with any busy urban environment. Not only this, but you can squeeze into the tightest of spaces as not only is the new Peugeot 108 small in size, but it is also available with a full-colour reversing camera.
The hardest part of buying a new Peugeot 108 will be deciding which option to go for, which is why we have a handy dropdown selector that allows you to explore every Peugeot 108 on sale. Have a go! You can filter by trim, door number or Peugeot 108 cash price.
We have a range of new Peugeot 108 deals at Stoneacre. You can choose from a range of Peugeot 108 price offers, or spread the costs by buying a Peugeot 108 on finance.
We offer a range of ways to save money on the costs of your car. With Stoneacre part exchange, for example, you can trade in your old car and contribute its value towards a new deposit or cash price offer. You can use our free car valuation tool, to find out what your car could be worth today!
We also offer ongoing servicing, to keep your Peugeot 108 as good as new. We have three Peugeot service plans, each with its own number of checks; these include checks to steering, suspension, tyres, and more! You can see our comprehensive list through the Stoneacre Peugeot service page.
Finance a New Peugeot 108
Finding a Peugeot 108 on finance is as easy as pie! We offer a number of Peugeot 108 finance deals that are flexible around you and your needs; these include HP and PCP deals, with plenty of options to personalise your own finance package.
Looking to buy a car outright? Then a Hire Purchase deal may be the one for you. Equally, our Peugeot 108 PCP deals are ideal for customers looking to spread the costs of a new car into affordable low monthly payments. All our new cars are also for sale with nil deposit payment plans and 0% finance options to make affording a car much easier.
Customise your own bespoke plan with our finance team. Apply online today and our team will be in touch to discuss your specific requirements.
Representative Example
Amount of credit
£14,972.95
Total Charge for credit
£3,449.86
Option fee (included in total charge for credit)
£399.00
Total Amount Payable (Incl. Deposit)
£20,001.59
We are a credit broker and a lender. We can introduce you to a limited number of lenders and their finance products. We will provide details of products available, but no advice or recommendation will be made. You must decide whether the finance product is right for you. We do not charge you a fee for our services. Lenders may pay commission to us (either a fixed fee or a fixed percentage of the amount you borrow) for introducing you to them, this may be calculated in reference to a variable factor such as (but not limited to) the vehicle age, your credit score and the amount you are borrowing. Different lenders may pay different commissions for such introductions.