Find a new Peugeot 508 for sale
The new Peugeot 508 is a stylish saloon with a bold new look and a dynamic shape. You'll surely be impressed with the design thanks to its dynamic front end and muscular lines. The new Peugeot 508 dimensions are sleek and aerodynamic. It boasts a chrome-trimmed radiator grille and flashy claw lights. The Peugeot features LED lighting clusters with convenient DRLs, a Follow Me Home headlight function and High Beam Assist.
The 508 receives great marks for its enjoyable and comfortable driving experience. There are four trim levels available to buyers; the base Active Premium, Allure Premium, GT, and GT Premium can be combined with either petrol or diesel. It has previously received honours from organisations like Business Car Awards and CarWow Awards, including "Best Upper Medium Car" and "Style Award."
Peugeot 508 Engine and Performance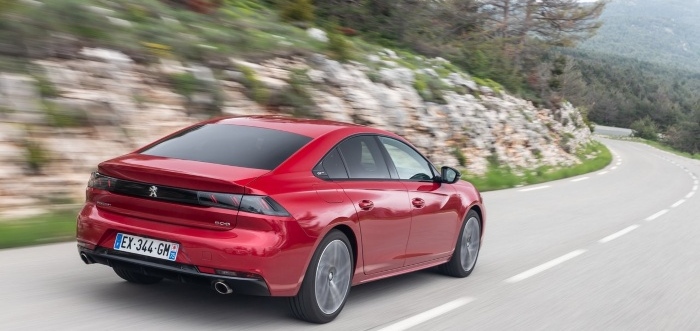 You'll find two variations of the engine in petrol or diesel available. The 1.2-litre PureTech 130 EAT8 is a petrol eight-speed automatic version. It does 0-62mph in 10secs and the power output is 131bhp, with 170lb ft of torque available. This engine is great for driving in towns or cities but is capable of giving you an economical ride thanks to its euro6 specification. It can produce 47.9mpg while only emitting 132g/km of CO2 emissions.
The 1.5-litre BlueHDI 130 EAT8 is a diesel eight-speed automatic version. It does 0-62mph in 10secs and has a 131bhp output. It has access to 221lb ft of torque and will do a top speed of 129mph. This engine is ideal for those who do long journeys as you will receive between 52.4-62mpg and will emit 121g/km of CO2 emissions.
On the other hand, this car features one of the best front-wheel drive chassis available on the market, which results in exceptional handling when it comes to the drive. As soon as you switch to Sport mode, you will notice that the suspension stiffens and reduces body roll. The steering is easy to handle and is great in town, city driving or on the motorway. The incredibly light steering gives the vehicle a fantastic sense of agility, especially on country roads.
Peugeot 508 Interior, Technology and Safety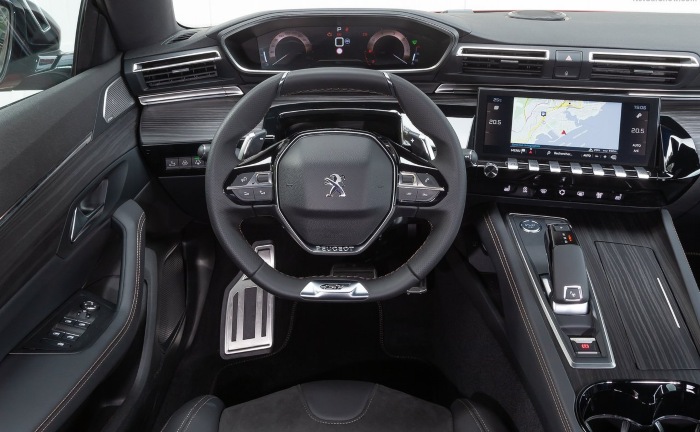 With supportive seats and a low-set driving position, the Peugeot 508's interior is comfortable and convenient to drive in. The Peugeot 508 Fastback has plenty of room for all of your passengers. There's no need to pack lightly because the cabin is roomy and the boot provides enough space for up to 487 litres. It may even extend to more than 1500 litres when the back seats are folded down.
The curved appealing dash and Peugeot's i-Cockpit electronic display give the interior a stylish appearance. The base trim level, Active Premium, comes with excellent standard equipment. To receive the larger optional centrally mounted touchscreen system (10.0-inch as opposed to 8.0-inch), you will need to upgrade to the Allure Premium model. All variants come with Bluetooth and a DAB radio, while the Allure Premium trim includes voice recognition and replaces the 12v output with USB connections. With Active Premium, you get Mirrorlink with Apple CarPlay and Android Auto from Active Premium. The Peugeot 508 GT premium vehicle has an upgraded Focal stereo and a 360-degree colour camera system.
The Peugeot 508 offers great safety and boasts a five-star safety rating by Euro NCAP. In the Active Premium, you will find safety features such as Advanced Automatic Emergency, Distance Alert, and Intelligent Speed Adaption. If you move up to higher trim levels, such as the Allure Premium, you will get Blind Spot Monitoring, Peugeot Smart Beam Assistance, Adaptive Cruise Control, and Lane Positioning Assist.
Stoneacre works with a range of finance lenders to offer flexible financing options to suit different budgets for new Peugeot 508 sales in the UK.
We provide several financing alternatives to help you with the cost of your new Peugeot 508 vehicle. The most common type of car financing, PCP, offers flexible, affordable monthly payments that may be made to fit your needs. We can walk you through the Peugeot 508 financing options so you can choose what's best for you. If you have a used car to trade in, the value may go toward the purchase price of a new Peugeot 508. To find out how much you can save, use our free online part-exchange valuation tool.
Stoneacre is a great place to start if you're looking to buy a new Peugeot 508. We hope you found our new Peugeot 508 review to be useful. We can make your dream of owning a new Peugeot 508 a reality without breaking the budget. Contact our Peugeot dealership to get the ball rolling.
Representative Example
Amount of credit
£17,608.64
Fixed Interest per annum
4.67%
Total Charge for credit
£3,825.35
Option fee (included in total charge for credit)
£399.00
Total Amount Payable (Incl. Deposit)
£21,433.99
We are a credit broker and a lender. We can introduce you to a limited number of lenders and their finance products. We will provide details of products available, but no advice or recommendation will be made. You must decide whether the finance product is right for you. We do not charge you a fee for our services. Lenders may pay commission to us (either a fixed fee or a fixed percentage of the amount you borrow) for introducing you to them, this may be calculated in reference to a variable factor such as (but not limited to) the vehicle age, your credit score and the amount you are borrowing. Different lenders may pay different commissions for such introductions.