South Korean Company, Kia, have released plans to bring 14 purely electric vehicles by 2027.
Aiming to sell at least 4 million vehicles globally by 2030, Kia has announced their approach to enhance autonomous driving technology and introduce new digital revenue streams.
Plan of Action for Kia
In recently revealed strategies, the firm will also be switching to more sustainable manufacturing methods, including the use of recycled material and renewable energy where possible. The new goals will build on the 'Plan S' electrification strategy that was announced two years ago and recognised largely for being in line with the ambitions laid out by sibling brand Hyundai.
Kia's overarching goal is to become a "global sustainable mobility leader"
Kia has set out four primary targets they aim to achieve by 2030. Firstly, the firm wants to sell four million vehicles overall and 1.2 million battery-electric vehicles. Furthermore, Kia intends to roll out advanced connectivity and autonomous driving functionality to all models and become the leading provider of 'purpose-built' (i.e. produced at scale for a specific purpose) vehicles for third-party fleet operators.
Kia's first step is to become a leading global Purpose Built Vehicle (PBV) brand. From 2023, Kia plans to launch at least two BEVs per year, which will then build up to a full lineup of 14 by 2027. This new model range is said to include two pick-up trucks and an entry-level vehicle.
The first of these PBVs will be derived from existing vehicles, including a larger Kia Niro + that will launch later this year. The mid-sized crossover has benefitted from a complete overhaul of design from top to bottom. According to Kia, the new Niro draws influences from the brand's quirky HabaNiro concept back in 2019; encompassing a rugged, 4×4-inspired design and a striking two-tone paint effect. The front of the new Kia Niro has a new version of Kia's trademark 'tiger-face' grille, with a large lower intake and small upper grille separated by a full-width chrome strip. The LED headlights and running lights are housed in separate pods, with Kia claiming the running lights mimic a heartbeat.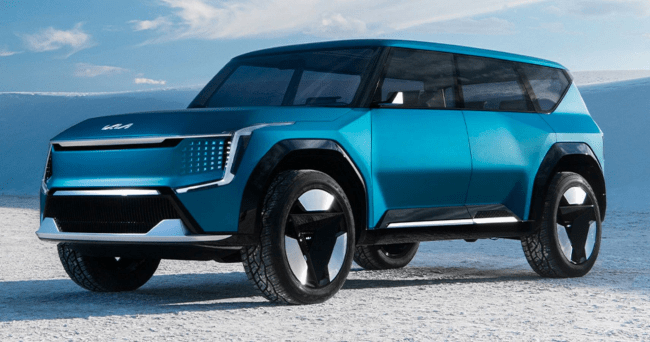 Kia EV9
After this first wave of advancements, the firm will introduce a new bespoke EV platform for PBVs in 2025, which will be fully scalable to suit different applications. One of the first purpose-built vehicles to come from Kia's strategy will be the EV9 SUV (although not confirmed for a UK launch). The large SUV will arrive in 2023, with a 0-62mph time of 5.0sec and a driving range of 336 miles.
The Kia EV9 will also be the first model to come equipped with feature-on-demand (FoD) services and over-the-air update functionality, in which drivers can activate optional upgrades via the infotainment system. Additionally, the EV9 will feature Kia's 'AutoMode' autonomous driving software.
2022 Award Winners
In more recent news, the Kia EV6 was named Car of the Year 2022, as well as Best Electric SUV and Overall Winner from What Car?. The EV6 marked the first vehicle to launch under the company's new vision, plus the first Kia vehicle based on its all-new Electric-Global Modular Platform (E-GMP).
---
What do you think of Kia's plans for the future? Get in touch with us in the comments section!