If you're looking for a large but affordable SUV then the new Dacia Bigster could be just the model for you. Recently unveiled the Bigster promises big car practicality with a wallet-friendly Dacia price tag.
The new Dacia Bigster
Dacia already has a growing fan base for its no-nonsense approach to motoring which prioritises key features to keep the price point low. It now plans to take on the big car market and challenge conceptions that owning an SUV means expensive ownership costs. In doing so, Dacia hopes to open itself up to an even wider customer base.

Dacia also has plans to keep running costs low too, by offering the Dacia Bigster as either a hybrid or an alternative energy source, likely to be liquefied petroleum gas (LPG) fuel.
It is thought the hybrid system could be borrowed directly from the existing Renault E-Tech which features a 1.6-litre petrol engine with two electric motors. It is also likely that some models will offer 4WD.
Big dreams made possible
The new Bigster will be the largest Dacia model to date. At 4.6m long it will challenge rivals like the Kia Sorento, SEAT Tarraco and Skoda Kodiaq.
Like many of these other models, the Bigster will accommodate up to seven making it ideal for larger families. On top of that, there will be a spacious boot compartment for everyone's kit.
Despite the size gains, the Bigster will otherwise be made on the same underpinnings as the latest Sandeor and Renault Clio hatchback.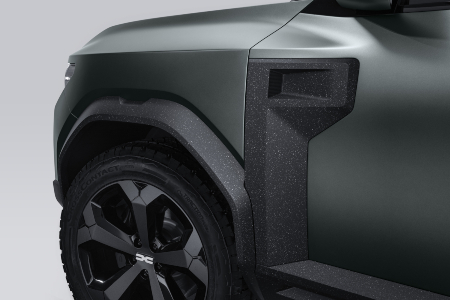 Distinctly Dacia
The imposing design will feature prominent Dacia badging at the front, rear and sides. While tough plastic body cladding along the lower edges and chunky front and rear bumpers will ensure a robust stance. The Dacia Bigster will also come with the benefit of LED lights both front and rear.
Dacia plans to make the exterior panels from recycled plastics to boost the eco-credentials of the model.
Inside, however, is likely to be more frugal, with the most basic Bigster models coming with the essentials, in order to stay true to the Dacia philosophy.
Plans for expansion
The Dacia Bigster is just one of three new models Dacia plans to release by 2025. As yet we know little about the other two new models, although, given the continuing popularity of SUVs, one could be a smaller SUV that sits below the Duster in Dacia's line-up.
We can also pretty much guarantee that all new Dacia models will significantly undercut rivals models, as they continue to bring incredible affordability to their cars.

If you want to find out more about the Dacia Bigster or any other Dacia models, why not get in touch with your local Stoneacre Dacia dealership? Our friendly staff are currently on hand to offer advice over the phone or online to ensure you get help when considering your new car options.