Find a new Kia e-Niro for sale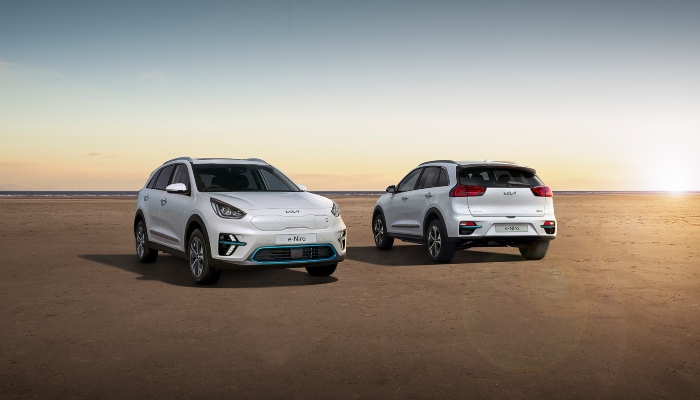 About the New Kia e-Niro
If you are looking to make a switch to fully electric, then why not check out the brand new Kia e-Niro SUV. Bringing outstanding practicality and usability to the range, the new Kia e-Niro for sale makes fully electric motoring your reality.
With a high-powered electric battery and regenerative braking system, the new Kia Niro has plenty of range and can get you to where you need to go. The interior display cluster also monitors vital driving information, including range, battery level and power usage, so you know exactly what the car has to offer at all times.
The Kia Niro EV range comes in a batch with four trims. These are the Kia e-Niro 2, Kia e-Niro 2 64 (Long Range), Kia e-Niro 3, and Kia e-Niro 4+. Just like other models in the range, the new Kia e-Niro comes with the manufacturer's unbeatable 7-year/100,000-mile warranty, so you get the same peace of mind when motoring.
We have a number of Kia dealerships located nationwide. You can come and browse our Kia Niro models or find out about the move to electric. Find a Kia dealership today.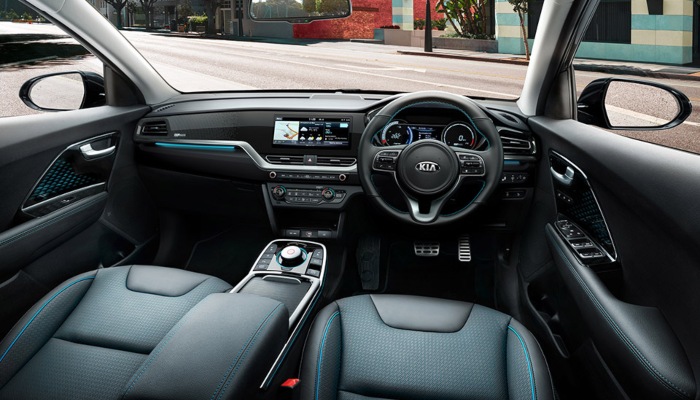 Kia e-Niro Design
Everybody can enjoy the new Kia e-Niro electric. With a futuristic aesthetic, and spacious, clean interior, the new Kia e-Niro for sale really offers another level of innovation.
The signature styling of the Niro is clear: it has shiny alloys on every trim, and a tiger-nose grille flanked by LED projection headlights. The top-level model even has Bi-Function LEDs, which allows for both high and low beam adjustments.
Inside, the all-new Kia e-Niro features a modern, tech-laden interior with the driver at the centre of its functionality. The 3 and 4+ drivers benefit from heated seats and a heated steering wheel. The leather seats also have eight-way adjustability with driver lumbar support included too. The 8" touchscreen display incorporates a whole host of convenient features including a DAB radio, Satnav, and the option for Apple CarPlay and Android Auto smartphone mirroring.
The cabin is spacious and has ample headroom for six footers. Also, there are compact storage solutions including the glovebox and centre-console cup holders. On top of that, the new Kia e-Niro comes with a practical 451-litre boot, so no matter what you are carrying, there is always sure to be room.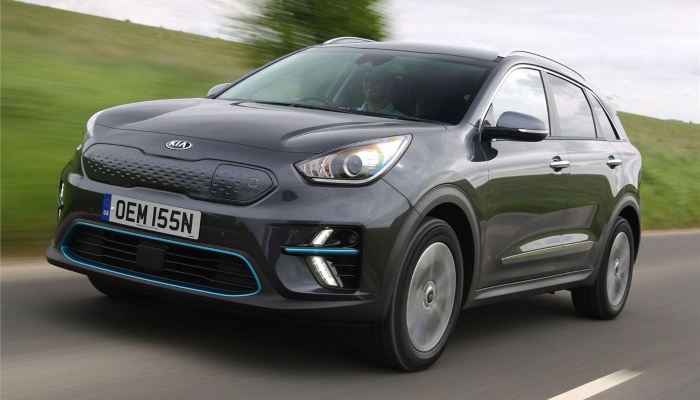 Kia e-Niro Safety
The new Kia e-Niro electric car comes with a multitude of driver assistance features, making your commute both safer and easier. As an example, the base model Kia e-Niro 2 comes with a smart key entry system and button start, plus a reversing camera system with rear parking sensors. You get great all-round visibility, so parking is never an issue.
All of our trims, including the Kia e-Niro 2 feature adaptive Smart Cruise Control functionality with intelligent Stop and Go; this conserves energy whilst the car is idle.
The new Kia e-Niro for sale is also equipped with Lane Keep and Lane Following Assist, which taps into the power steering to help maintain your course in the centre of the lane. This helps protect others from a car that can drift.
Most importantly, the new e-Niro features Forward Collision-Avoidance Assist, which gives a visual and audible warning that potential hazards are in your car's path. If no action is taken to avoid the collision, the Kia Niro electric car will ultimately brake for you. This protects both passengers in the car as well as other road users around you.
Kia e-Niro Performance
While the average daily commute in the UK is less than 30 miles, but the new Kia e-Niro comes as standard with an electric range of 180-miles.
With 'Long Range' models such as the new Kia e-Niro 2 64, it's even possible to travel an impressive 282-miles on a single charge. It's all completely emission-free, thanks to its 64kWh Lithium-ion battery, which ensures you get a driving range that is practical for both day-to-day commutes as well as longer journeys. This has more of a range one single charge than any other similarly priced model.
On top of this, the new Kia Niro electric for sale offers regenerative braking. This means that can enjoy the one-pedal driving as well as battery-boosting charge while resting assured that you are saving energy whilst on the go.
The new Kia e-Niro is both simple to drive and affordable to run. The e-Niro electric is an automatic, equipped with an in-built electric parking brake; this has an auto-hold function, so stopping on inclines is never a problem.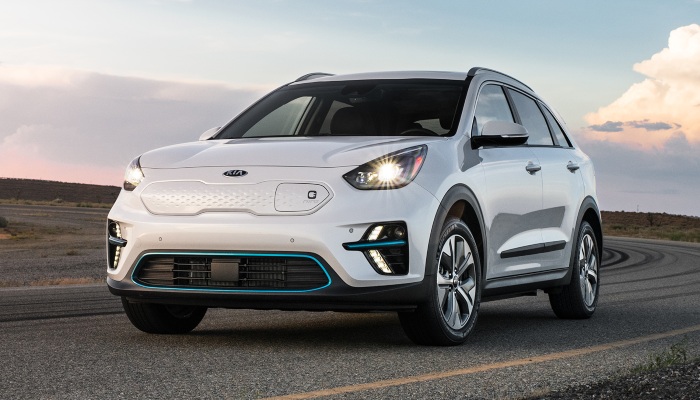 At Stoneacre, we offer a large selection of new Kia cars to choose from, including the new Kia electric car, the Kia e-Niro for sale. We offer this model on finance, or you can purchase at a great cash price, with the option to take charge of Kia's latest manufacturer promotions.
If you haven't considered part-exchanging yet, our helpful part-exchange programme can help you get ahead on your finance. When you trade in your car, we can value the vehicle and let you know what your car is worth. From there, you can choose to contribute value towards a future deal on a new Kia e-Niro electric car! See what your used car could be worth with a no-obligation, free car valuation.
When you buy a new Kia e-Niro through Stoneacre, we can also offer you a quality service package to go with it. When you have a Kia service plan, you can receive regular checks to your vehicle through an approved Kia service centre, that lets you know if your car is running as it should.
Our expert technicians know how to care for all Kia cars; including petrol, diesel, hybrid and electric, so you can rest assured that your new car is checked correctly. Our Kia service checks are carried out in keeping with manufacturer guidelines, so we promise the best quality service. For our list of vehicle checks, see our online Kia service page.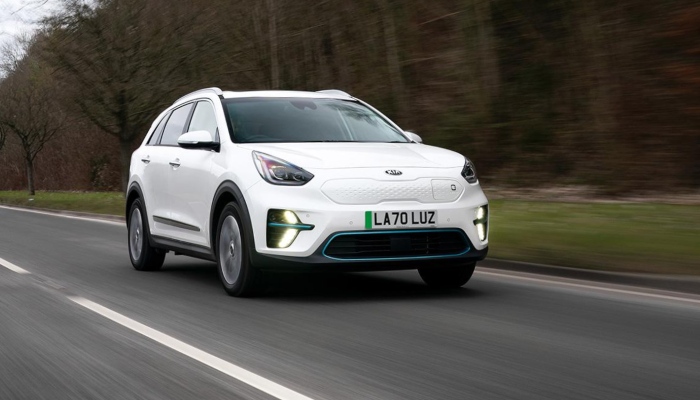 Make the switch to all-electric with our range of new Kia e-Niro finance deals that are now available on all new models in the Kia Niro EV range. As with all new cars at Stoneacre, the new Kia e-Niro is available with no deposit options as well as the choice of a low monthly payment plan. There are even options for 0% car finance!
We want to make buying a car more affordable and thanks to our range of new e-Niro car finance deals, that goal is certainly possible. We offer both Kia e-Niro PCP deals, as well as traditional Hire Purchase plans, and with the option of a tailored finance plan too, you can easily manage the cost of your new car and spread the payment over several months.
Buy a new Kia e-Niro at the best price with Stoneacre. Take our free finance check today and see which new Kia e-Niro deals are currently available to you. You can then organise a payment plan with our finance team, simply let us know your personal budget and preferred terms.
Not looking to buy? No worries! – We also offer a number of new Kia lease deals. Voted the Best Company Car of 2021, our new Kia lease deals are a great option for both personal and business contract hires. Find the latest Kia e-Niro lease deals online at Stoneacre Leasing.
Representative Example
Amount of credit
£14,972.95
Total Charge for credit
£3,449.86
Option fee (included in total charge for credit)
£399.00
Total Amount Payable (Incl. Deposit)
£20,001.59
We are a credit broker and a lender. We can introduce you to a limited number of lenders and their finance products. We will provide details of products available, but no advice or recommendation will be made. You must decide whether the finance product is right for you. We do not charge you a fee for our services. Lenders may pay commission to us (either a fixed fee or a fixed percentage of the amount you borrow) for introducing you to them, this may be calculated in reference to a variable factor such as (but not limited to) the vehicle age, your credit score and the amount you are borrowing. Different lenders may pay different commissions for such introductions.