Volvo has released details on its next model, the Volvo C40, its first all-electric model. A crossover styled coupe, the C40 brings a sportier look to the distinctive Scandinavian look of Volvo.
An Electric Commute In The New Volvo C40
The C40 is Volvo's first purely electric model and really marks the brand's push towards electrification. Up until now, the marque has released internal combustion and hybrid models alongside the option of electric.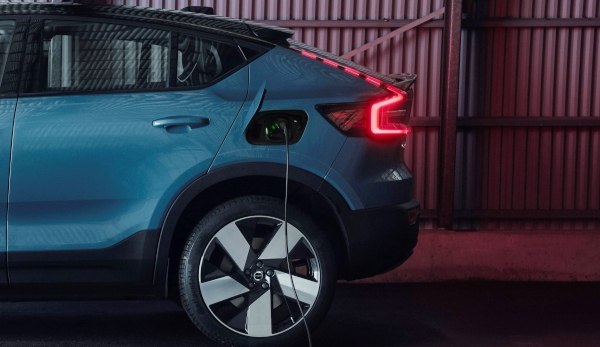 At launch, the C40 will feature the same P8 powertrain as in the XC40 Recharge. With an electric motor positioned on each axle for a combined output of 402bhp and 660Nm torque. This gives you the power to get from 0-62mph in just 4.9 seconds, although top speed is limited to 112mph for safety reasons.
The C40 comes with a 78kWh battery capacity for an official WLTP range of 261 miles. However, this range is likely to improve seamlessly over time, thanks to over the air updates. The first of which was released recently and went out to Volvo XC40 Recharge models.
When it comes to charging, the Volvo C40 will take a maximum charging rate of 150kW, meaning you can connect up to a fast charger. At maximum charge capacity, you can boost the battery from 0 to 80 per cent charge in around 40 minutes.
More modest powertrains will likely be on offer in coming years, although Volvo plans to simplify the offerings to streamline its sales as it drives customers online.
Distinctively Volvo
The XC40 has been a resounding success for the Volvo, so it no surprise it hopes to replicate this with its latest 40-series model. As such, the C40 shares a resemblance to the XC40 with virtually the same front end styling. Plus, it sits on the same CMA platform as the XC40, so key dimensions are similar, including an identically sized wheelbase.
The rear is where things start to get more distinctive, with the C40 featuring a tapering roofline for a coupe-esque rear end and more dynamic crossover styling. The tail also features a more horizontal light treatment and a small stylish spoiler.
However, with a raised floor and seating height, Volvo has made sure the driver gets the desirable lofty driving position behind the wheel in the C40.

Stylish and Spacious Interior
Inside, the C40 features the same rear legroom as the XC40, although headroom for rear passengers is more limited in the C40 due to the sloping roofline.
You still get plenty of room in the boot, with 413-litres to fill. Plus, there is an additional 'frunk' storage area under the bonnet with 31-litres of space, making it ideal for stowing away your charging cables.
Streamline your Commute In The Volvo C40
Although Volvo is yet to release any cabin images, we expect the characteristic pared-back sophistication unmatched by other manufacturers. We do know that Volvo doesn't plan to offer leather seats, in a move to improve the sustainability of its cars.
The heart of the cabin will be dominated by an advanced infotainment system powered by Android Automotive. This brings enhanced connectivity enabling you to access Google Maps for navigation and allowing you to integrate your personal data if you wish.

Expected in 2022
Orders will be taken from this summer, although the first UK deliveries won't begin until 2022. You can register your interest with your local Volvo Stoneacre branch to be the first to find out when it arrives to trial in our showrooms.
Volvo Moves Electric
The release of the Volvo C40 came on the same day that Volvo announced its intention to only offer electric cars by 2030.
The marque initially made headlines in 2017 when it became the first manufacturer to announce its intention to no longer sell internal combustion engine models. However, this new announcement speeds up this process, with Volvo pushing forward to ensure that pure electric cars make up at least half of its sales volumes by 2025.
The acceleration is said to have been driven by the strong early demand for the XC40 Recharge P8. However, there is also an expectation that legislation for internal combustion engines around the world will tighten, and this will further increase the demand for electric vehicles.
To achieve this, Volvo plans to phase out all combustion engine models including, all hybrid models.

Volvo has confirmed that it will launch a fully electric version of the next XC90 next year. It is also expected, the brand will roll out a 20 series of cars in the coming years which will sit under its 40-series cars.
Volvo also has plans to take the sale of its vehicles online and make the process much simpler. Dealerships will still be heavily involved through offering test drives, taking delivery and maintaining servicing. So if you have any questions about any of the models, just get in touch with your nearest Stoneacre Volvo branch.