Hyundai is adding a stylish new supermini-sized SUV to its range, the Hyundai Bayon. It packs bags of practicality into compact dimensions, as well as the latest technology and mild-hybrid power.
SUV Style
SUV sales are still booming, so it is no wonder Hyundai is planning to grow its range with a brand new small SUV to rival the Renault Captur, Ford Puma and Peugeot 2008.
In such a competitive market, you may think the Bayon has its work cut out to stand out. However, Hyundai will equip it with state-of-the-art technology, advanced safety and a more fuel-efficient mild-hybrid engine to give it the edge.
The sharp-looking new Bayon takes inspiration from its larger SUV, the Hyundai Tucson, with distinctive creases on the car's flanks and signature lighting thanks to distinctive slim running lights which sit above larger angled main units.
While inspiration from the i20 is clear from the full-width strip at the rear, which links the arrow-shaped taillights.
Mild Hybrid Power
The Hyundai Bayon will launch with a mild hybrid system that pairs a one-litre three-cylinder turbocharged engine with 48 Volt mild-hybrid technology.
The 99bhp model will manage 0-62mph in 10.7 seconds with predicted emissions as low as 118g/km CO2. Meanwhile, the slightly higher-powered 118bhp variant will shave three-tenths of a second of the 0-62mph time and come in just slightly less efficient with emissions as low as 119g/km CO2.
The Bayon will be available with either a six-speed intelligent iMT manual or a seven-speed dual-clutch transmission. So whether you prefer to stay in control or let the car do the work for you, the Bayon has something to offer.
As is becoming standard across hybrid cars, the new Hyundai Bayon will feature different drive modes; Eco, Normal and Sport. Each adapts the car's performance to ensure you get the best results for your environment and driving style.
Compact Yet Capable
At 4,180mm long and 1,775mm, it is only 140mm longer than the i20 and is exactly the same width. Yet despite its tiny dimensions, it has plenty to offer in terms of on-board space.
Prioritising the use of all available space means the cabin delivers ample legroom for all inside, so not even the rear passengers will feel crammed in. The 411-litre boot capacity offers space for a plethora of luggage, plus you can increase this further by folding the rear seats down for a whopping 1,205-litre load space.
At 1,490mm tall, the Bayon offers good forward visibility and the SUV-like drive height so many buyers crave. Plus, when fitted with 17-inch alloys, Hyundai says it has a ground clearance of 183mm.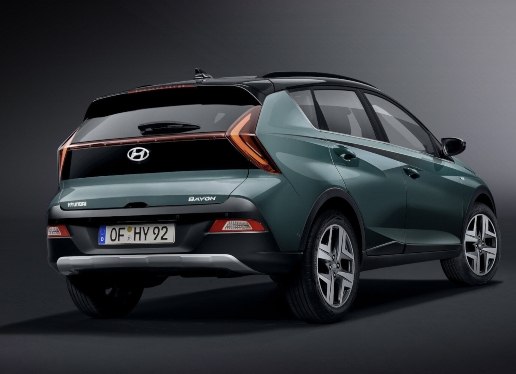 Designed to Be Safer
Hyundai aims to target the family market with the Bayon, so it is no surprise that it will come with the very latest of Hyundai's SmartSense active safety systems. Hyundai will extend the protection on offer with a host of advanced driving assistance features coming as standard.
You can expect the likes of lane keep assist, semi-autonomous lane follow assist and a state-of-the-art collision avoidance system that can detect pedestrians and cyclists and automatically brake the car for you.
Meanwhile, specifically with family buyers in mind, Hyundai has added a rear-seat occupant alert which will notify you if it detects movement in the back seats and notifies you before leaving your car.
Technology at Your Fingertips
The infotainment system in the new Bayon is taken from the new i20 and will offer buyers two options. Standard models will come with an eight-inch touchscreen with both Apple CarPlay and Android Auto compatibility.
However, you will be able to upgrade to a more advanced and larger 10.25inch touchscreen which will come with a built-in navigation system on top of the smartphone mirroring functionality.
The driver's instrument display is a fully digital 10.25-inch panel so you get a clear view of essential driving information. Meanwhile, an upgrade to the Bose sound system and the availability of wireless charging and three USB ports ensures you get better connectivity for your commute.
Hyundai also has plans to ramp up connectivity with the latest Bluelink services available in the Bayon. It will enable owners to create their own user profiles and sync their Google or Apple calendar with the car to keep you in the loop at all times. Connected routing and Live Parking features will also be available using cloud-based navigation.

Get in Touch
Hyundai is yet to release an official release date, although we expect to see the Hyundai Bayon arrive mid-summer. If you want to find out more about Hyundai or its latest model the Bayon, then why not get in touch with your nearest Stoneacre Hyundai branch? With extensive knowledge of the marque, they can offer a wealth of advice and you can even sign up to be the first to hear when the new Bayon arrives in our showrooms.