If you want a versatile car with cleaner power, the new Citroen e-Berlingo MPV could be just what you've been waiting for. With an impressive emission-free 170-mile range, a comfortable cabin and a humongous load area, it is the perfect companion for all of your activities.
Electric power
The new Citroen e-Berlingo MPV will use the same motor and battery as the e-Dispatch van. It features a 50kWh battery which sends energy to a 134bhp electric motor on the front axle. It is capable of 170-miles on a single charge, so will have no problems coping with many people's daily commute.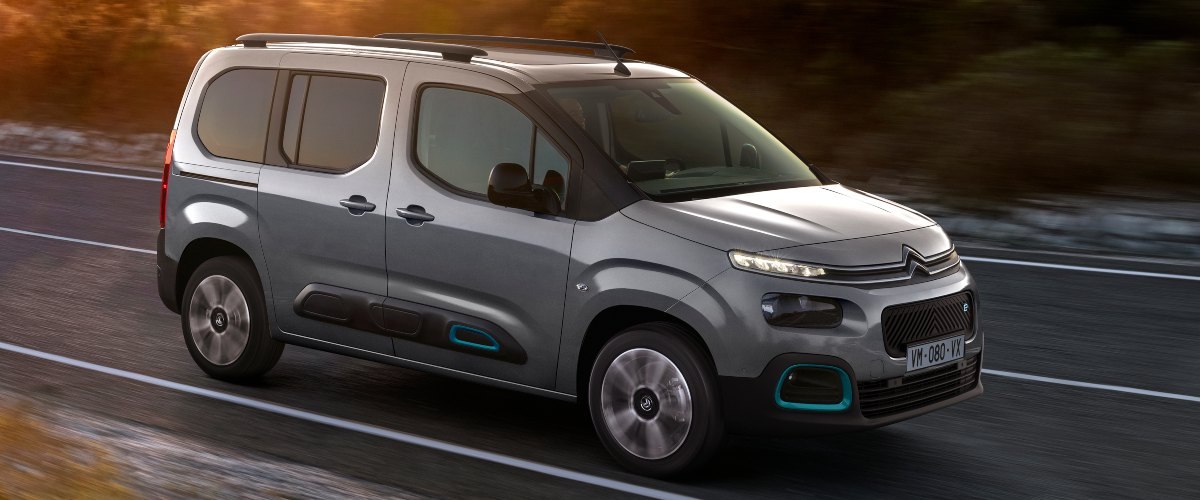 Choose your drive mode
Like many of the electric models Citroen has introduced, the e-Berlingo MPV will come with three drive modes; Eco, Normal and Power.
In Eco setting, the car limits output to just 80bhp and dials back the heating and air-conditioning to conserve as much power as possible. It's ideal for when you need to maximise the range to get you home, or to the next charging point, but probably limits things a bit much for daily journeys.
Normal mode is the setting most drivers will use day-to-day and ups the output to 107bhp for a bit more power when navigating the streets. It also doesn't compromise on internal settings like heating or air-con, so offers more comfort.
Finally, Power mode unlocks the full 134bhp which ensures the MPV has plenty of power when you've got a full car of passengers and luggage.
In addition, to the set driving modes, you can adapt the regenerative braking to the extent where it is virtually unnecessary to use the brake pedal.
Charge it your way
Life with the new Citroen e-Berlingo MPV promises to be hassle-free. You can recharge the battery in around seven and a half hours using a 7.4kW wallbox charger. So it's simply a case of plugging it in overnight and leaving it to do its thing.
If you plan on heading away in your e-Berlingo you'll need a faster boost to power to complete your journey. Fortunately, Citroen has made it compatible with 100kW DC rapid chargers which will top up the battery from zero to 80 per cent in just thirty minutes. So you can pull over at a service station and top-up charge while you get something to eat.
You can have also full confidence when making the switch to an electric Berlingo as Citroen guarantees the battery will retain 70 per cent of its capacity for eight years.
Practical as ever
The Berlingo MPV has a reputation for unbeatable versatility, and when it comes to on-board space things are no different in the e-Berlingo model. As Citroen has placed the battery under the floor, it offers exactly the same amount of space, so there is no need to compromise.
Like the standard model, the e-Berlingo is available in two sizes. The short wheelbase model comes with five seats and a 775-litre boot capacity, making it ideal for housing a multitude of luggage.
Meanwhile, the XL wheelbase model offers a whopping 1,050-litres of load capacity. Or should wish, you can opt to have a third row of seats fitted to enable you to carry up to seven passengers, while still having room for luggage. It's this unbeatable flexibility that has earnt the Berlingo its reputation as a family-focused model.
The extent of the Berlingo's talent don't stop at seating versatility though. As a truly flexible model, in the e-Berlingo, the front passenger seat can be folded flat to allow you to load in items up to 3,050mm long and the parcel shelf can carry up to 25kg.
Plus inside the cabin, you get an additional 167-litres of storage through door bins, cubbies, glove box etc. For anyone who regularly carries a car-full of passengers, this is a real plus as everyone gets somewhere to keep their essentials close at hand.
A familiar face
The e-Berlingo looks similar to its internal combustion stablemate, with distinctly van-like boxy styling. However, there are some subtle differences between the all-electric model which include a fresh blue trim on the Airbump panels and front air intakes and unique 'e' badging.
Comfortably equipped
Yes, the e-Berlingo looks like a van, but that doesn't mean it is not kitted out with all the latest features. On the inside, it features all the mod-cons including an eight-inch infotainment system and a 10-inch digital instrument cluster to help make driving easier and allow you to stay more connected.
It also features an EV-specific gear selector, while the infotainment menu has a specific menu that displays information regarding energy consumption, regenerative braking and the remaining battery charge. So you can easily keep an eye on how the car is performing and make any necessary adjustments to settings or your driving with ease.
Register your interest
The new e-Berlingo MPV is set to follow the e-Berlingo van into showrooms this October. To be the first to know when it arrives in our showrooms, why not register your interest with your local Stoneacre Citroen branch?