Ford's iconic Mustang is joining the electric-revolution with the new Mustang Mach E.
A New Era
This marks an exciting time for Ford, as it's the first time in the Mustang's 55-year history a new model has been added to its line-up.
Ford's Mustang already has a passionate fan base, so with the Mustang Mach E, Ford has retained much of the original Mustang flair. The styling has been carefully curated to show distinctive links between the EV and regular Mustang model, which is reflected in the badge, front and rear lights and striking bodylines.
The new Mustang Mach E is the first production car to emerge from Ford's Team Edison; a 70-strong Detroit group tasked with designing Ford's next-generation EVs. Team Edison's Dorit Haas said it was "meant to be like a sports car". She added: "This is a performance EV. Not just in a straight line, but in terms of handling and agility – the ride is very important."
The Mustang Mach E sits on the new Ford EV platform, Global Electrified 2 (GE2), which is essentially an extensively reworked version of the C2 architecture. It measures 4,712mm long, 1,881mm wide and 1,597mm high. This has ensured the Mach E offers a spacious interior as well as a practically-sized 402-litre boot. In addition, you gain a 100-litre waterproof front luggage bay, where a conventional engine would normally be housed.
Electric Power
At launch, the Mustang Mach E will be available with a choice of battery sizes and deliver various power outputs.
Entry-level models will feature a single motor to drive the rear wheels with the choice of either a 75kWh battery with 254bhp or a 99kWh battery with 285bhp. Both produce 307lb ft torque, can achieve 0-62mph in less than eight seconds and are capable of a WLTP range of 280 and 370 miles respectively.

While higher specification models feature a twin-motor all-wheel-drive with the choice of a 75kWh battery with 254bhp or a 99kWh battery with 332bhp. Both of these produce 429lb ft torque, so can manage 0-62mph in less than seven seconds, and have an estimated range of 260 and 335 miles respectively.
To ensure making the switch to an electric vehicle is seamless Ford has made sure that charging the Mustang Mach E is a doddle by making it compatible with both AC home charger and DC fast-chargers.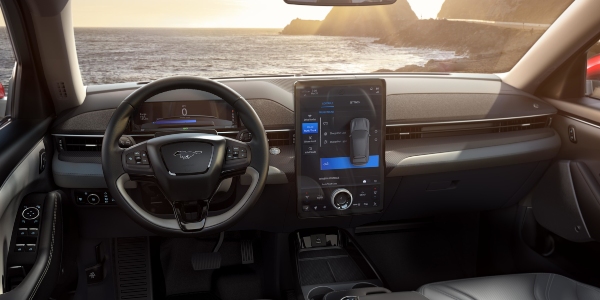 Inside the Mustang Mach E
Inside the Mustang Mach E offers a radical new interior design dominated by the large 15.5" vertically mounted touchscreen. This advanced touchscreen features Next Generation Ford SYNC system with cloud-connected navigation, over the air updates, Wi-Fi and both Apple CarPlay and Android Auto compatibility.
The advanced voice recognition system allows you to give simple commands to carry out various functions. This means there is no disruption to your journey, so you get a more intuitive on-board experience.
The advanced technology doesn't stop there, as the Mach E features a brand new entry system. The door handles have been replaced with an innovative system that uses E-Latch and FordPass connectivity, allowing you to unlock the doors using a smartphone.
On top of that, the Mustang Mach E comes with a host of driver assistance features for hassle-free commutes. For example, Ford's Adaptive Cruise Control with Stop and Go will make light work of heavy traffic, while Intelligent Active Park Assist removes the stress of parking.

Why not get in touch with your local Stoneacre FordStore to find out more about the breathtaking Mustang Mach E?