Renault is fully embracing new power sources and has recently announced details on its new Kangoo and how it hopes to use hydrogen to power future businesses growth.
2021 Renault Kangoo
Taking your business to new heights, the agile yet practical 2021 Renault Kangoo features a sleek new look with a brand new pillarless sliding side door system.
Open Sesame
One of the most impressive features of the new Renault Kangoo is the 'Open Sesame' sliding door system, which eliminates the need for the vans B-pillar.
This feature is unique to the CV sector and improves day-to-day functionality. It enables users to load longer items in tighter spaces which is especially useful when it is not possible to open the rear doors fully. In practice, the 1,446mm side opening combined with the flat-folding passenger seat allows maximum load lengths of 3,550mm in the Kangoo Maxi version. You can choose to have the 'open sesame' sliding door system on both sides of the van should you wish, fully increasing functionality.
Despite doing away with the traditional B-pillar, the new Kangoo offers the same strength and safety as the doors have been strengthened. The system has undergone extensive tests to ensure it does not impact the van's overall safety.

The Size of the matter
Like the existing Kangoo model, the 2021 Renault Kangoo comes with a choice of two body types. The standard model offers 3.3 cubic metres of cargo volume. Meanwhile, the maxi version comes with 3.9 cubic metres, and you can get it with a one-tonne payload.
Both versions are available with smart storage solutions, like a roof-mounted rack that can carry items up to 2.5 metres long.
New Powersources
The third-generation model will be available with petrol and diesel engines as well as an all-electric version known as the Renault Kangoo Z.E. Although, details on the full engine line-up are sparse, we do know the Z.E. model is likely to feature a larger 44kWh battery. Renault states it has a WLTP range of 159 miles with a full charge from an 11kW wallbox charger taking just four and a half hours.
Equipped for working life
The new Kangoo benefits from various other upgrades to ensure it offers everything you need to keep your business running. An electric parking brake aids usability and frees up cabin space, while a wide-angle mirror set into the passenger sun visor helps to reduce blind spots. You also get the benefit of a rear camera system which offers the driver a permanent view of the back to makes manoeuvres a bit easier.
As the 2021 Kangoo is based on the same platform as the Renault Scenic MPV, it comes with a range of passenger-derived safety equipment. This includes the likes of automatic emergency braking, lane assist, crosswind assist, trailer stability control to help with towing and adaptive cruise control with traffic assist. So you can relax knowing the van has the assistance you need to make your working day safer.

The new 2021 Renault Kangoo will go on sale this summer. So now is the ideal time to contact your local Stoneacre Renault commercial to register your interest.
Renault Master Z.E. Hydrogen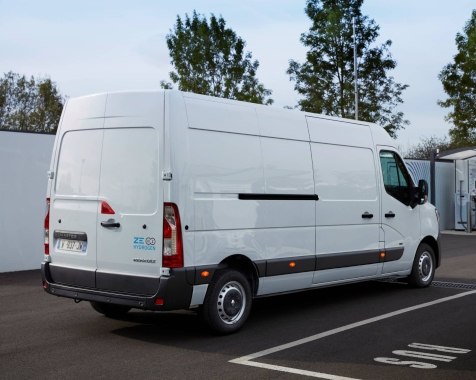 Another revolutionary new model from Renault is the brand new Renault Master Z.E. Hydrogen van. It will be sold as an alternative to the Renault Master diesel model and promises to be the low-emission solution for high-mileage drivers.
The Master Z.E. Hydrogen has been developed in conjunction with Renault's hydrogen partner Plug Power. It builds on trials on hydrogen vans which Renault has been running in France since 2019.
The Master Z.E. Hydrogen uses the same electric drive system as the standard Z.E. electric model but gains a hydrogen tank to ensure a longer range is possible. So if you need to go further or spend a lot of time on the motorway, it will offer a more realistic proposition for many businesses.
The launch will take place later this year when more details will be made available. So to keep up to date with any developments, don't forget to get in touch with your local Stoneacre Renault dealership.