With so many sat-navs on the market, it can be difficult to decide which sat-nav is best suited for your needs. Which one to choose – paid or free? Well, worry not, because Stoneacre is here to guide you through the best sat-nav apps to make any journey a breeze.
We'll take accuracy, features & price into consideration of what makes these apps worth your time (or not).
Let's get started – here's our list, in no particular order:
Google Maps
Price: Free
When Google Maps was created in 2005, it had a plethora of problems. It wasn't accurate and often gave the wrong routes. However, it has evolved into one of the leading sat-nav apps. You'll find it as the default sat-nav app on pretty much all Android phones via Android Auto, while also being compatible with Apple CarPlay.
Google Maps is pretty straightforward; just input your destination and press 'Directions' and it will show you the quickest route. However, there are many hidden tips & tricks, such as sending directions from a computer to Android/iOS devices or adding multiple destinations/locations instead of just A to B.
Accuracy: For the most part, it is accurate, yet there are still improvements to be made in the traffic alerts area. There have been known issues with showing delay time and reporting the location, especially when it came to smaller, rural areas.
Features: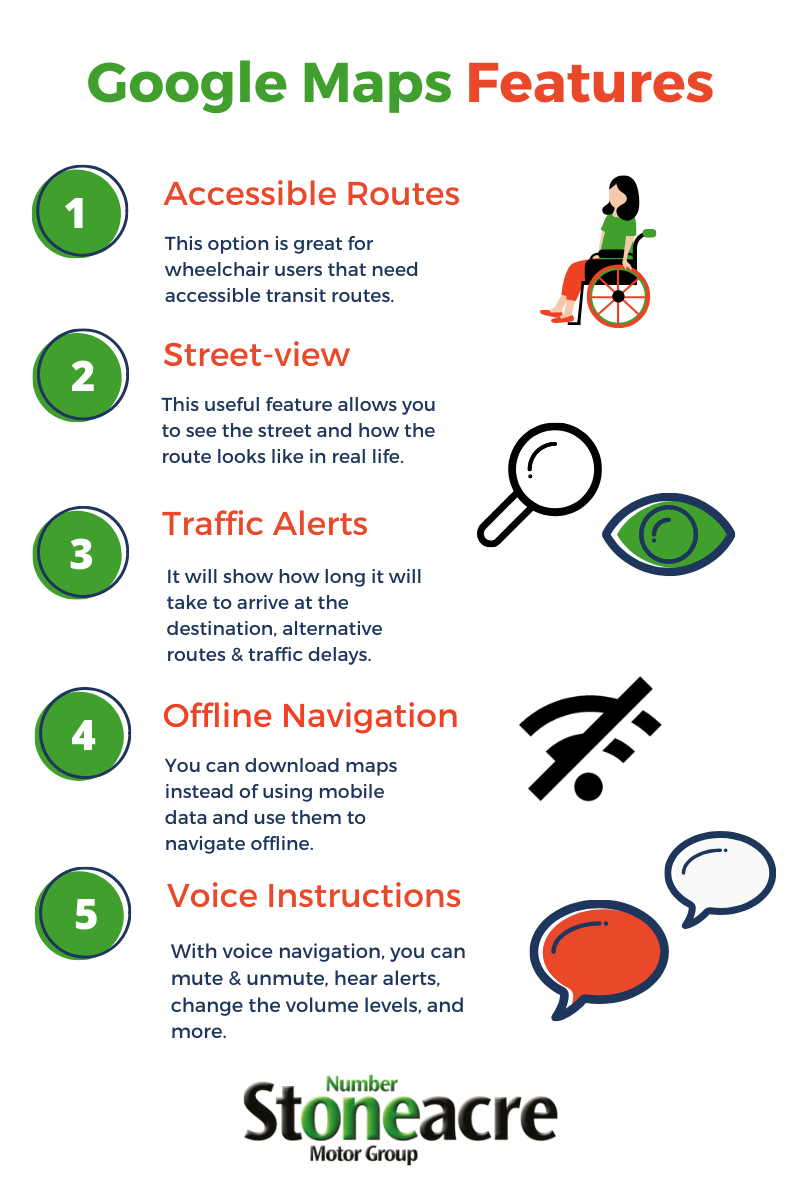 Apple Maps
Price: Free
Free Apple Maps was launched in 2012. It did not have good initial feedback – many users reported incorrect or misleading directions, almost no support for public transportation and numerous errors.
Unlike Google Maps, Apple Maps is not available on Android phones.
What About Apple Maps accuracy?
Even though it is not as accurate as Google Maps, Apple has done well to redeem itself from its initial struggles and now offers a fairly solid sat-nav app. Apple has done well to redeem itself from its initial struggles and now offers a fairly solid sat-nav app.
Features: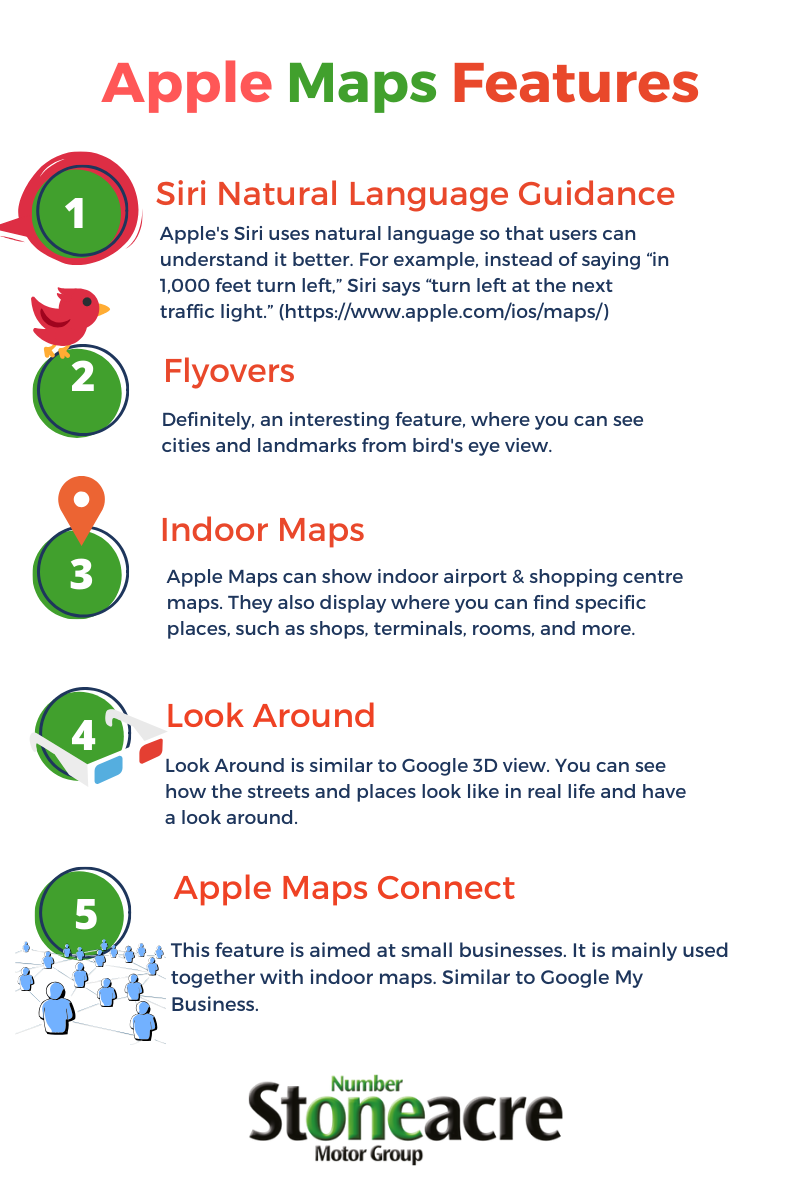 Waze Sat-Nav App
Price: Free
Waze was created in 2006 and owned by Google, and was previously known as FreeMap Israel. It was launched as a crowdsourcing project where users could report traffic jams, events, construction, and other incidents. This still stands true today, where users contribute to the app via hyper-local reporting to help fellow users get around efficiently.
Now that we go into a bit of history, the question stands, how accurate is it?
Well, Artur Grabowski may have the answer. He performed an experiment to compare three apps: Apple Maps, Google Maps, and Waze.
It was found that Waze & Google underestimated travel times by 11% and 2% respectively. Meanwhile, Apple was the most accurate with a 1% error margin (arriving earlier than expected). Based on this study, Waze was noticed to be more inaccurate when compared to the apps listed above.
Features:
Here WeGo
Price: Free
It was initially released back in 2012 and developed by Nokia. Due to its exclusivity to Nokia-only phones, the app is not as well-known as Apple and Google Maps & Waze. In addition to providing sat-nav features for driving, it also offers public transportation information. Same as Google Maps, you can download the maps before-hand to avoid using mobile data.
Accuracy: It lacks vital features, such as active rerouting & traffic colour gradation among others. Here WeGo has a much smaller user database, and that's why it is less accurate than other, more established sat-nav apps.
Features:
Sygic GPS Navigation & Maps
Price: Free plus Paid Plans
This Slovakia-based sat-nav app has a good reputation – a 4.7/5 rating on the Google Play store from more than 1.6M users. They have paid and free plans – Sygic also offers a 7-day trial to test all of the features. After that, you can use basic app features for free, but if you want to open up the advanced features, then it's time to upgrade.
It is available on both Google Play Store and Apple App Store.
Accuracy: Sygic collects data from TomTom Traffic, while the app is being updated every two minutes thanks to its user-rich database of 400 million drivers.
However, the app isn't without its faults – people reported problems with POI feature where they don't get enough information about locations and street names. Furthermore, Sygic only updates its maps four times a year which can cause problems since some of the maps were found to be out-of-date.
Features: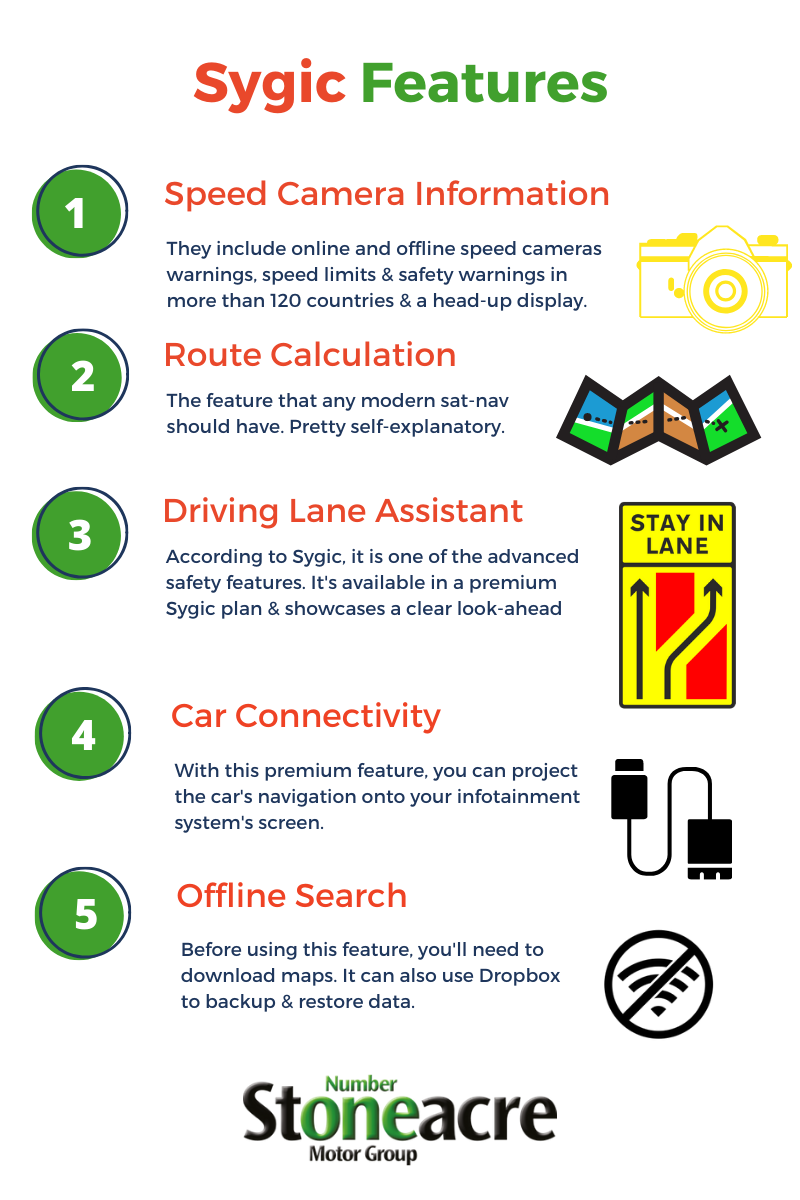 The Verdict:
It would seem to us that Google Maps remains king in the free sat-nav app market, especially when considering the amount of users, it has – one billion, to be exact. Meanwhile, Sygic looks to be the one lacking features when using it on the basic free-plan.
Since Waze was bought out by Google in 2013 for over £735 million, the interface and navigation are similar to that of Google Maps, albeit with some features you won't get from the parent product, given its community-driven approach.
In the meantime, Apple Maps has fully redeemed itself from its not-so-great launch, and is now catching up with Google Maps in terms of ability and popularity.
And lastly, the Here WeGo app doesn't have a large pool of users, so data is not as accurate when compared to other sat-nav apps. However, it has been made the default maps service provider on Amazon Fire tablets and smartphone, so it could see its day in the sun if it continues to improve.
Do you agree with our top-5 list? Tell us your thoughts in the comments section down below.