In this blog, we'll explain the differences between PCP and PCH finance, additionally read on to find out the advantages and disadvantages of both finance deals.
Personal Contract Purchase (PCP) is a type of finance where you have multiple options at the end of the contract, these include:
Return a car to the finance company
Pay the final payment and own a car
Part exchange a car and get a new one
Meanwhile, with Personal Contract Hire (PCH), you don't have the option to own a car. This option is suitable if you don't want to worry about depreciation and want to drive a new car for less.
Similarly, people who take out PCP and PCH don't want to own a car and are looking for cheaper monthly payments than say, Hire Purchase (HP) where you need to pay the full price of a vehicle, depreciation included.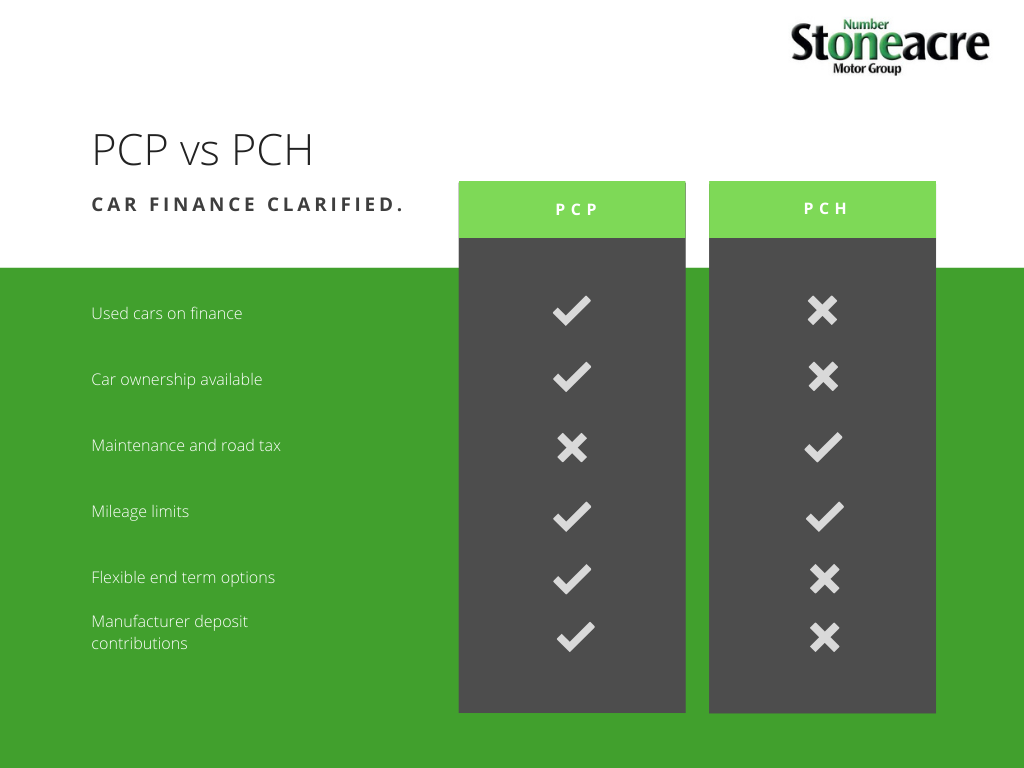 PCP vs PCH finance costs – which one is more expensive?
PCP is more expensive due to the additional option to own a car. This means that the deposit is higher than PCH initial rental payment. The final balloon payment is another cost you need to consider when choosing PCP. However, a variety of manufacturers give superb incentives to make the PCP more attractive and add in interest-free finance, contribution toward the deposit and other offers that can make this finance type a better option.
Monthly PCH payments are cheaper because you're not paying for a depreciating asset, however, you need to keep additional charges in mind. You will need to pay extra if you go over the agreed mileage or if the car is damaged.
PCP vs PCH – mileage and contract length
Both PCP and PCH have mileage restrictions, which is how finance companies calculate how much the car will be worth at the end term. PCP contract typically lasts for 3-5 years, while PCH is shorter and ranges between 1-2 years.
One similarity with both PCP and PCH is that you'll need to pay mileage charges if you go over the limit agreed.
PCP vs PCH – road tax and maintenance
Typically, maintenance is offered as an add-on with PCH, and many leasing providers include the road tax. On the contrary, with PCP you'll be responsible for paying tax, as well as servicing and maintaining the car.
Which finance type is the right one for me?
If you want the flexibility to own a car at the end term, choose PCP. On the other hand, PCH is excellent if driving a new car and not paying additional costs is a priority. Additionally, if you want more affordable monthly payments and deposit, PCH is the right option.