Congratulations! You've just driven out of your local Stoneacre with your brand new Renault, or Dacia, how exciting! Now it's time to get the most out of your new car, but how?
Well, thanks to innovative technologies from the car manufacturers, the new MY Renault/ MY Dacia smartphone apps can benefit both you and your new car.
Wondering what these applications are and how exactly will they assist you?
Worry no more! We have put together a simple guide with FAQ's to assist with navigating the MY Renault and MY Dacia apps.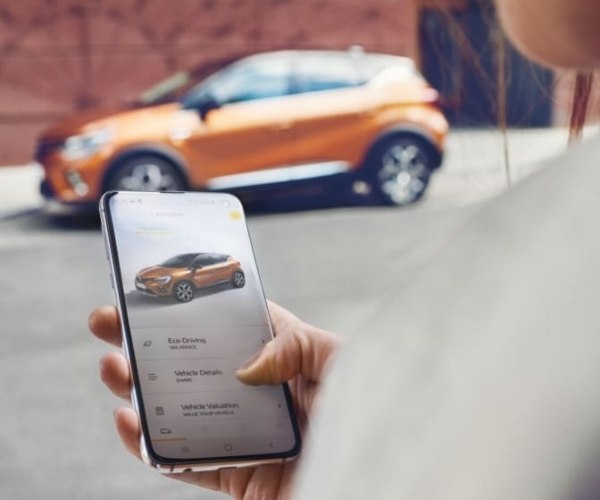 Get set… GO!
What are the MY Renault and MY Dacia smartphone apps?
MY Renault and MY Dacia are phone apps that provide you with a gateway to the world of Renault and Dacia connected services, whilst owning your vehicles. The apps provide you with everything at the click of a button, so not only can you communicate with Renault and Dacia experts for direct advice, but you can also manage your vehicle when you're away from it.
From the creative Renault and Dacia software creators who are constantly seeking to make drivers' lives easier, the MY Renault and MY Dacia mobile apps give you can access to all of your vehicle's data, as well as manuals and video guides to help you navigate your Renault's or Dacia's – all from your smartphone (Android and iPhone).
How do I set up my app and connect it to my vehicle?
Depending on the type of smartphone you own will determine how to download the app. If you have an iPhone, you can download both the MY Renault and MY Dacia apps from the Apple Store; alternatively, Android users can find the MY Dacia and MY Renault apps in Google Play.
Once the app that corresponds to your car is downloaded to your phone, the setup for both mobile platforms and apps are the same.
The first step requires app users to create an account in order to personalise their experience by accessing all your car's data and all of the apps' content.
As soon as your account has been set up on the app, it is extremely crucial to synchronise the app to your car to benefit from its features. To add your car, follow these simple steps:
Click on the "Car" icon in the bottom left-hand corner of your phone screen;
Touch the "+" button that is located in the top left-hand corner;
Enter your Renault or Dacia's Vehicle Identification Number (VIN) – necessary for adding your car to the app;
Press "Add my car";
Your vehicle is now added to your MY Renault or MY Dacia account!
Wondering where to locate your 17 digit VIN number? This can be found on your car registration certificate in section E, or the bottom left-hand corner of your windscreen.
And done! The app and features are all ready to go!
For more information on how to synchronise your car, watch this video for a visual step-by-step guide.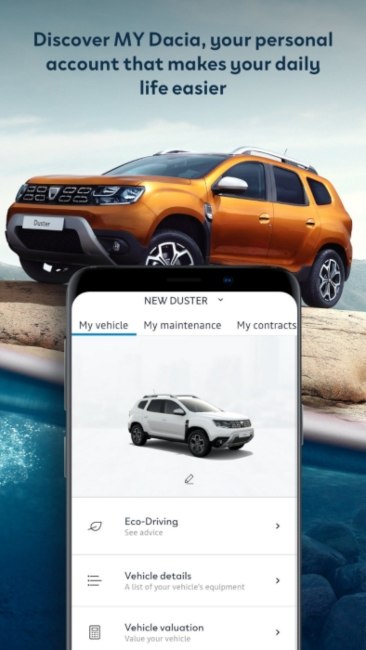 How do I use my apps?
Using the app's are very simple – once you have set up your account and synchronised it with your Renault and Dacia, you're good to go! For an effortless user experience, all the connected services offered are easily found by the colourful, easy-to-understand icons, making the smart trip planning process simple. It is also personalised, with new services being added over time.
The MY Renault and MY Dacia apps include all the services offered by Renault's MY Z.E. app; for instance, it allows you to remain in contact with your vehicle at all times via your smartphone and can update you about any maintenance issues.
Furthermore, the app features a real-time remaining range display, remote control for charging and pre-conditioning, and remote access to information and tips for efficient vehicle usage.
Additionally, the new smart trip planner helps you handle all the preparations for long-distance trips – all within the MY Renault and My Dacia apps! This new feature gives drivers plenty of warning about when, where and how long they will need to stop to charge their vehicle's battery during the journey, or when they will need to stop for fuel. All of this is done by simply entering a few key information (destination, number of passengers, etc.) and the route is mapped out with a full itinerary ready for you to meet your charging points.
Can I book my next service via the MY Renault app?
Yes, you can indeed!
You can book all of your servicing needs you might require during your time with your car all within the app. Scrolling through the app to select the "Dealerships" icon, allows you to find your nearest dealership and all the details you would require.
Why choose the MY Renault and MY Dacia mobile apps?
Not only can you plan your routes, access all your cars information and book your car servicing, but the MY Renault and MY Dacia apps can also give you tips to maximise your car's potential, news about the car manufacturers and offers for the online shop – all manageable through the app.
They are straightforward apps, here to make your life a little bit easier by putting everything you need to manage your Renault or Dacia in one place.
---
Want to find your next Dacia or Renault? Make sure to check what we have available now!