Let's face it, we all want to keep our children safer, and since most children travel in a car daily, it is hardly surprising that journeys are one of the areas we want to make sure they are kept safe. With stricter car seat legislation and more car seats on the market than ever before, it can be difficult knowing where to start, especially as new parents. To help we've put together a comprehensive guide which details current car seat legislation, available car seat options, information on fitting car seats and tips on choosing the right child car seat.
Child car seat laws
The best place to start when looking to buy a child car seat is to familiarise yourselves with the current child seat rules:
By law, you must use a car seat for every single journey until your child is 12 or is 135cm tall, whichever comes first.
Children over 12 or above 135cm must wear a seatbelt.
Babies must travel in a rear-facing seat until 15-months old (if using an i-size seat)
Children over 15-months old can legally travel forward-facing, although it is recommended you keep your child rear-facing for as long as possible.
The legislation gets updated regularly, so you must keep up to date.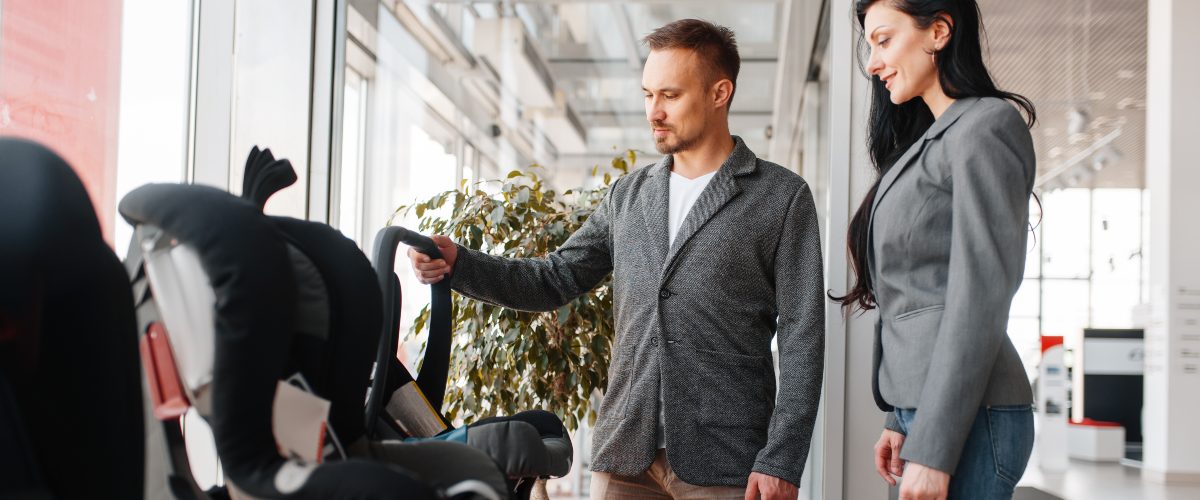 Different child car seat regulations
There are two different regulations in car seats; i-Size (or UN R129) and ECE R44/04 car seats. i-Size seats use the height of children to classify car seats whereas ECE R44/04 uses weight to divide car seats into different groups.
In 2018, new legislation was introduced meaning only i-Size complaint car seats can be sold. However, if you have a non-i-Size car seat you can still use it.
i-Size car seats
i-Size is a relatively new European-wide car seat regulation which aims to make transporting babies safer. i-Size car seats are designed to keep babies and young children rear-facing for longer, offer better side protection and make car seats easier to fit in the car. As mentioned, unlike other car seats, with i-Size seats, you match your child's height and age to the right seat, not your child's weight.
ECE R44/04 car seats
Non-i-size car seats (ECE R44/04) are divided into three main groups, depending on the age and weight of a child:
Group 0+ – rear-facing seats suitable for babies from birth to around 15-months old or 13kg in weight.
Group 1 – forward-facing car seats suitable for children who weigh between 9-18kg or are aged nine months to four years old.
Group 2/3 – high-backed booster seats suitable for children weighing 15-36kg or aged from four to eleven years old.
Some car seats cover more than one group size, so last a child longer and are more economical to buy. However, it is important to ensure a combination seat offers the same protection through a child's life as the equivalent Group size seat.
Booster seats
In 2017, new legislation was introduced regarding booster car seats. Since then, manufacturers have not been able to produce backless boosters for children shorter than 125cm or weighing less than 22kg.
Research found that backless boosters put small children at increased risk of injury in the event of a collision. Small children are not held securely in a backless booster seat, the seatbelt does not cross their body at the right points to secure them correctly and they are offered no side protection in the event of a side-impact collision.
However, the 2017 legislation does not state it is illegal to travel your child in a backless booster if you already own one, but bear in mind this is not the safest option.
Rear-facing travel
Travelling babies and young children rear-facing is still relatively new to the UK. However, other European countries, such as Sweden, have been advocating the benefits of rear-facing travel for some time.
Travelling babies and young children rear-facing has been found to offer more protection and reduce the risk of serious injury in the event of a car accident. Until 15-months of age, children's necks are not fully developed, so they are not able to withstand the force of a collision.
Rearward facing car seats help to spread the forces of a collision over a greater area of your child's body, leading to less pressure on the neck, which reduces the chance of serious injury.
New UK law states babies must be kept rear-facing until they are at least 15 months old if travelling in an i-size car seat. Although in countries where rear-facing travel for young children is common practice, like Sweden, children often continue to travel rear-facing until they are around six.

Where should you position a car seat in your car?
The position of the car seat in the car can affect how safe the child is when travelling. But bear in mind, the available car seat positions can be dictated by the car, i.e. not all cars offer Isofix points on the middle seat.
Front passenger seat
You can place a child seat in the front passenger seat as long as the front passenger airbag is switched OFF. Travelling a rear-facing child seat in the front seat with the airbag activated is illegal.
You should also bear in mind that travelling a child in the front passenger seat may be more distracting for the driver.
Rear seat behind the driver
Usually, this rear seat will have an Isofix mounting point so from that aspect is safe to use, however, it is best to avoid this seating configuration if possible as it could mean getting your baby or child out of the car on the roadside.
Rear seat behind front passenger
This seat is ideal; most cars have an Isofix mounting point in this seat, and you are less likely to be getting your child out of the car on the roadside if parking on the road.
Rear middle seat
If your car's middle seat has a middle Isofix mounting point or has a three-point seatbelt (for non-Isofix car seats), then it is the safest place to travel your baby or child. It is the furthest from the side of the vehicles, so in the event of a side impact accident, your child is less likely to be affected.
Fitting a baby or child car seat in the car
No matter which car seat you choose, it is imperative that you fit the car seat following the manufacturer guidelines to ensure it is safe for your child to travel in.
The majority of retailers are happy to offer advice on how to fit a car seat and many will even show you how to correctly fit the seat in your vehicle before you buy it.
Here are some tips when fitting different car seats:
Child car seats fitted with car's seat belts
If you have a child car seat that is secured using the car's seat belt, you should:
make sure the seat belt passes through the correct guides on the child seat, it should go through the blue lines if using the seat rear-facing or the red lines if front-facing
push your weight into the child seat as you tighten the belt to make sure there is no slack in the belt
check the seat belt buckle is not resting on the child seat frame
If the child seat has a lever or button to tighten the seat belt, make sure you use this to get the seat belt as secure as possible.
If the car seat has a lock-off device, this should be put in place once the seat belt has been threaded through.
Isofix Child Seat
These car seats are fitted by slotting connecting arms into Isofix points built into the car. An additional top tether or supporting leg may also be used to prevent the restraint system from tilting or rotating on impact.
When the connecting arms are slotted into the Isofix mounts, you should hear an audible click once pushed in far enough. Some seats also offer a visual indication, which turns from red to green once the connecting arm is correctly slotted into place.
If the seat has a top tether, you should make sure this is connected. While if you are using a seat with a supporting leg, you should make sure the leg is adjusted, so the car seat is braced against the floor.
With all car seats
Make sure that the car seat you choose is compatible with the car you use
Make sure if you remove the seat you replace it again correctly
Never modify a child car seat or adapt the car seat belt to make a car seat fit.
Securing your child in a car seat
Seats with an integral harness
With seats that have an integral harness, you should ensure the top of the harness is around two-centimetres below the shoulder of a child in a rear-facing seat and approximately two-centimetres above in a forward-facing seat. The buckle of the harness should not over the child's tummy.
The harness should be fairly tight to keep your child secure. As a general rule, you should be able to get just two fingers between your child's chest and harness.
Always remove your child's coat or outdoor clothing before strapping them in, as this can affect how the harness fits.
Seats with an impact shield
Car seats secured by an impact shield or cushion are usually secured using the car's seat belt, so it is important to follow the fitting instructions carefully.
Booster seats and cushions
When using a booster seat the car's seat belt will usually go around both the child and the booster seat or cushion. The seat belt should be worn as tight as possible and should placed be in the correct position i.e. the lap belt should go over the pelvic region, not the stomach and the diagonal strap should rest on the child's shoulder and not be tucked under an arm or behind their back.

Tips for buying a child car seat
Do your research, find out if any car seats aren't compatible with your vehicle, most car seat manufacturers have a list of cars that their seats can be used with.
If you have any questions, you should make a note of them, so that when you visit a retailer you don't forget anything.
Check reviews and see what other parents have to say.
If you want an Isofix car seat, you should make sure your vehicle has Isofix mounting points (most cars post-2001 do).
Buy the right size child car seat for your child.
Buy from a reputable retailer as they can offer advice on different options and even show you how to fit the seat in your car.
Never buy a second-hand car seat unless you know its full-history and can be certain it has not been involved in any collisions.
Try different car seats in your car, to see which work best good car seat retailers will encourage you to do this.
Choose a seat that fits with your lifestyle. If you will be lifting the seat in and out a lot, you might be best opting for a lightweight seat that can be lifted out easily.
If wider family members will be regularly using the same car seat, you need to make sure the seat is compatible with their car too.
Ultimately, the best car seat is one that suits your child, fits your car and is easy to install. You should never feel under pressure to purchase straight away and should always explore as many options as you think necessary.
Hopefully, this guide has offered some helpful hints and tips on buying a child car seat. If you'd like to find out more, why not check out our post on the best child car seats. Or if you are adding to your family you might find our guide to the best cars for three car seats an interesting read.