2021 is a special year for Jeep as it celebrates its 80th birthday.
A Year of Celebration
To mark 80 years of motoring, Jeep is planning a whole year of events. The first of which was a recent online unveiling of its 80th Anniversary special edition models, which we take a look at in closer details below.
Jeep has led 4×4 innovation for eight decades now and continues to be one of the dominant manufacturers when it comes to off-road adventures.
The marque consistently pushes the boundaries of what is possible when it comes to off-roading, with models truly capable of going anywhere. Jeep is still a top choice for expeditions into less well-explored territories with an outstanding reputation for reliably getting you to destinations other cars could not reach.
However, Jeep not only provides unrivalled off-road prowess but also has a reputation for outstanding comfort and luxury. It was one of the first marques to really integrate more high-end features and conveniences to its SUVs, arguably transforming the market.
Jeep continues to push boundaries of innovation and now aims to enter a new era of motoring with the electrification of its most popular models. The first of Jeep's models to gain from this new power is the Jeep Renegade 4XE which cleverly balances efficiency with driving fun to ensure there is no compromise.
Jeep 80th Anniversary Models
The release of special edition models pays tribute to 80 years of Jeep while honouring a tradition starting in 1966 of releasing special edition models to mark momentous occasions.
In the UK, Jeep plans to release special edition models of the Jeep Wrangler and Jeep Renegade. Both will be available to order from Spring.
The Anniversary models will be based on the bestselling variants and offer a wealth of safety and technology features as standard alongside aesthetic flourishes to ensure they stand out.
Unique exterior features include 80th Anniversary badging, low-gloss granite accents and dedicated alloy wheels. Meanwhile, inside will feature distinctive black leather seats with tungsten stitching and 80th Anniversary logo and high gloss black interior accents.
The Anniversary models will also come with the latest features from Jeep, including an 8.4-inch touchscreen, DAB radio and navigation system with smartphone integration, full LED pack and a new 'since 1941' infotainment screen.
Meanwhile, safety-wise the models will pack in a host of driver-assistance functions to keep you safer on the move. So you can expect the likes of adaptive cruise control, forward collision warning, lane departure warning plus and intelligent speed assist to name just a few.
Jeep Renegade 80th Anniversary Model
The Renegade 80th Anniversary model will offer the choice of either a one-litre three-cylinder unit with 118bhp and 190Nm torque or a 1.3-litre four-cylinder engine with 148bhp and 270Nm torque. Whichever you choose, it comes mated to a six-speed dual-clutch automatic with front-wheel drive as standard.
Jeep Wrangler 80th Anniversary Model
The Wrangler special edition model meanwhile, will only be available with a turbocharged two-litre four-cylinder petrol engine with 268bhp and 400NM torque. It comes with an eight-speed automatic and like every Wrangler a permanent four-wheel-drive system with two-speed transfer case.
---
80 Years of Jeep
The 1940s – A legend is born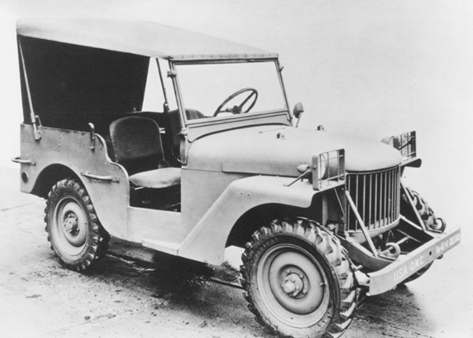 The iconic Jeep starts life as a military vehicle designed to be a small reconnaissance model capable of tackling rough terrain in World War Two (WW2). After winning the tender put out by the USA War Department, the Willys MB went into production.
On the battlefield, The Willys MB proves fast, agile and robust and quickly gains a reputation for speedily reaching places other vehicles could not. Easy to transport, thanks to its compact size many of the models are sent to allies in Russia and England under the land-lease program.
The Jeep quickly wins the heart of many soldiers, which means at the end of the war, Jeep has a loyal following.
Post-war Jeep diversifies, adapting the model to make it ideal for farmers who need reliable transport across a variety of terrains.
---
The 1950s – Changing fate
As the economy slowly improves in the 1950s Jeep seizes a new opening; the rise of the recreation vehicle. With a strong frame and suspension and heightened engineering, Jeep gains a monopoly on off-road motoring.
During this decade Jeep also develops a new waterproof 24V ignition system making the Jeep fully submergible, giving it even more appeal.
Jeep receives further boosts to its success. In 1951 the Museum of Modern Art declares Jeep a cultural icon while the M38 model features in the hit TV show M*A*S*H. Both help promote the popularity of the marque and cement its place in American culture.
---
The 1960s – Further refinement
Jeep grows in refinement and innovation during the 1960s. With over 14 models available, consumers have plenty of choice for work, play and recreation models.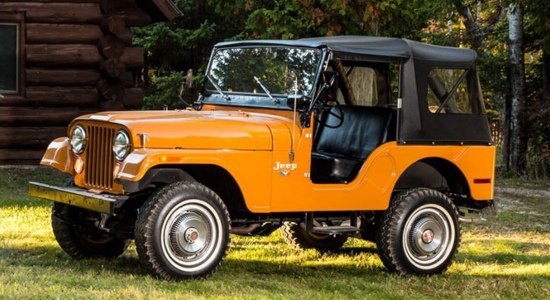 Jeep introduces the Wagoneer which becomes the benchmark of luxury 4×4 SUVs, with passenger-car interior styling and comfort along with practical four-wheel-drive. It also features the first automatic transmission in a 4×4.
---
The 1970s – New adventures
Jeep introduces a sporty two-door full-size Jeep Cherokee, which gains instant recognition and wins multiple 4×4 Year awards. The new sportier look helps Jeep appeal to younger, more adventurous buyers looking for a car that commands attention.
Six other models help to elevate Jeep's sales to an all-time high and Jeep secures its position as the go-to brand for practical yet comfortable utility vehicles.
---
The 1980s – Revolutionising the 4×4
An overhaul to the Jeep Cherokee revolutionises the 4×4 market, bringing consumer wants to fruition. The innovative models feature a host of firsts, being the first compact four-door SUV, the first Uniframe construction and first full-time 4×4 system with shift-on-the-fly capability.
The popular Jeep Wrangler also receives an overhaul to improve comfort, yet remains one of the more rugged choices in the Jeep line-up and the top-choice of serious off-roaders.
---
The 1990s – Pushing boundaries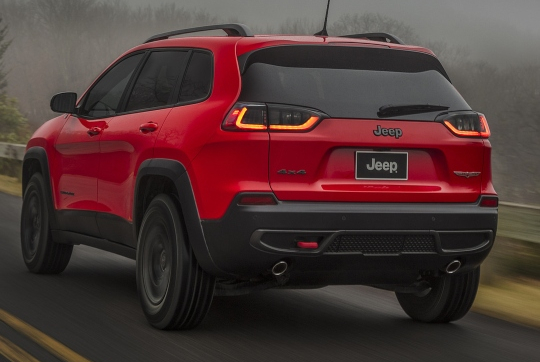 In the nineties, Jeep sets new a benchmark for 4x4s with its unique balance of on and off-road capability.
In 1997, Jeep releases a new Wrangler which it markets as the ultimate escape machine. Pairing outstanding on-road handling with legendary off-road potential ensures its immediate success.
In 1999 the new Grand Cherokee hits the market and is the most capable SUV ever. Other manufacturers rush to imitate what it has to offer, but none can match the unique blend of performance. Its sales soar to 629,000 for the decade.
---
The 2000s – Welcomes the crossover
Jeep introduces the Compass and Patriot models to its range. As a first foray into the small crossover utility segment, both combine Jeep's off-road experience, with exceptional on-board comfort and luxury. The Compass features front-wheel-drive and the choice of two electronically controlled 4×4 systems for all-weather use. It quickly becomes popular in more urban environments, so helps widen the appeal of the Jeep brand.
A revamp to Grand Cherokee in 2005 brings more power, luxury and comfort to the model ensuring it is a model people want to be seen in.
---
The 2010s – The choice SUV
Jeep sits in a unique position renowned for its powerful yet comfortable models. The range offers something for everyone, whether you are looking for a tough off-roader or a more urban-friendly model.
The Cherokee is a key model and gains further refinement as well as more efficient engines to ensure its appeal. While the Compass gets a refresh inside and out to ensure its success.
In 2015, the all-new Renegade enters the market, taking style cues from the iconic Wrangler. At the height of innovation, it features the world's first nine-speed transmission for the small SUV class.
---
Moving forwards
With the introduction of electric power in 2020, Jeep continues to innovate and push the boundaries of 4×4 motoring. The Jeep Renegade 4XE offers an impressive blend of off-road capability with outstanding efficiency and innovative interior, so you don't have to compromise.
The brand also plans to release a hybrid Wrangler model, the Wrangler 4XE, so key an eye on our upcoming cars section to be the first to know more.
---
You and Your Jeep
Help us celebrate 80 years of Jeep by sharing what you love about the iconic brand.
Whether you are a proud 'Jeeper' or you've always wanted to own a Jeep, we'd love to know your thoughts about the models you love and why. So why not leave us a comment below?