Most new cars now come with driver assistance technology to help boost safety for those on board as well as other road users. But with car manufacturers using different systems, it can be hard to know what each model offers.
As a result, Thatcham Research and Euro NCAP have joined forces to offer a new grading system specifically for driver assistance functions, which aims to simplify things for those investing in a new car.
Assisted Driving Grading
The Assisted Driving Grading will supplement Euro NCAP's traditional star-based crash test system. The new Assisted Driving Grading will provide scores for the effectiveness of driver assistance technology, driver engagement and performance in an emergency.
In addition, it will look at how car manufacturers market their driver assistance technology to ensure companies don't encourage drivers to put too much faith in autonomy.
"The systems that are currently allowed on our roads are there to assist the driver – but do not replace them, " said Matthew Avery, Thatcham's director of research."Unfortunately, there are motorists who believe they can purchase a self-driving car today. This is a dangerous misconception that sees too much control handed to vehicles that are not ready to cope with all situations."
Avery went on to explain that legislators, insurers and manufacturers are not able to move to the next steps of automation until consumers understand the full capabilities of current assisted driving technology.
The Assisted Driving Grading will use a points-based system (maximum of 200 points available) to rate the cars across multiple categories.
The points awarded in testing put the vehicle into different categories: Entry (between 100-120 points), Moderate (over 120 points), Good (over 140 points) and Very Good (160 points or more). Vehicles scoring less than 100 points, will be classed as not recommended.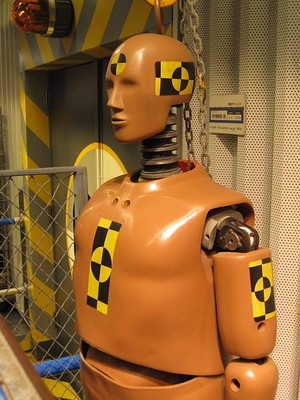 Other Changes to Euro NCAP Tests
The new Assisted Driving Grading will be the second shakeup to Euro NCAP this year. New and improved methods were introduced earlier in the year to assess crash safety and active safety technology.
The Mobile-offset Progressive Deformable Barrier now features two moving elements to a head-on collision test. It measures intrusion to both the vehicle and the barrier, with its intention to ensure that makers of larger models share some of the burdens of impact with smaller cars. It means large models will no longer automatically score well just because they remain unscathed by a collision.
In addition, there have been changes to side-impact testing which will take into account the movement of all occupants not just those at the side of the collision. It will also assess how well airbags installed in the centre compartments operate.
Euro NCAP has also introduced a more advanced crash test dummy, named THOR, which more accurately represents a human to give better feedback including recording abdominal injury.
Other changes include improvement to driver assistance testing. For instance, Autonomous Emergency Braking features a new 'Turn Across Path' protocol which aims to prevent accidents occurring at junctions and crossings. Meanwhile, reverse parking incidents are now taken into account during driving monitoring system assessment.
Finally, Euro NCAP now assesses post-crash safety, looking at which cars can provide accurate information to the emergency services in the event a vehicle is involved in an accident.
What do you think of the changes to Euro NCAP? Do you check the safety ratings of potential models as part of your new car research? Let us know in the comments below.