Can you believe it was way back in 1998, that the Ford Focus was first unveiled?
When launched Ford's entry into the popular family car segment the Focus was available in a range of body types including hatchback, estate and saloon to offer something for everyone. Ever since then, different variations of the Ford Focus have come and gone, yet they have all retained the practicality and outstanding handling that made the Focus such a hit, to begin with.
Recently named as one of the 50 greatest cars of the last 50 years by CAR magazine the Ford Focus is still the benchmark of a practical family vehicle.
First Generation Ford Focus
Launched in 1998 at the Geneva Motor Show, the Mk1 Focus proved an instant hit, gaining critical acclaim and enthusiastic uptake from customers.
Style-wise it was a massive risk for Ford – they moved away from the safe and boxy lines of their bestselling model of the time, the Ford Escort, to try something curvier and more futuristic looking. The interior pushed boundaries too, with its swooping lines, curved edges and sophisticated angles.
While underneath an advanced multi-link 'Control Blade' rear suspension matched handling ability to ride comfort for first-class handling and drive quality.
In 1999 it was the bestselling car in Britain and was named European Car of the Year. Even Jeremy Clarkson was a fan praising the space and comfort on offer as well as the impressive handling.
Second Generation Ford Focus
In 2005 it was time for the Focus to get a refresh. Restyled and with a spattering of new technology, the second-generation Ford Focus was brought it bang up to date to ensure its continued popularity.
The MK2 Ford Focus received the best Euro NCAP ratings for a car in its class receiving five stars in adult protection, four stars in child protection and two stars in safety protection, as well as full marks on front-impact tests.
While in terms of technology, the MK2 Focus gained a Bluetooth hands-free phone system to offer more connectivity on the go, while adaptive front lighting and a solar reflect windshield offered more convenience.
Ford CC Coupe
Not willing to miss out on potential customers in 2006, Ford released the first convertible Focus. With input from Italian styling house Pininfarina, the Focus gained a stylish two-piece retractable hardtop, yet maintained the same impeccable handling people had come to love.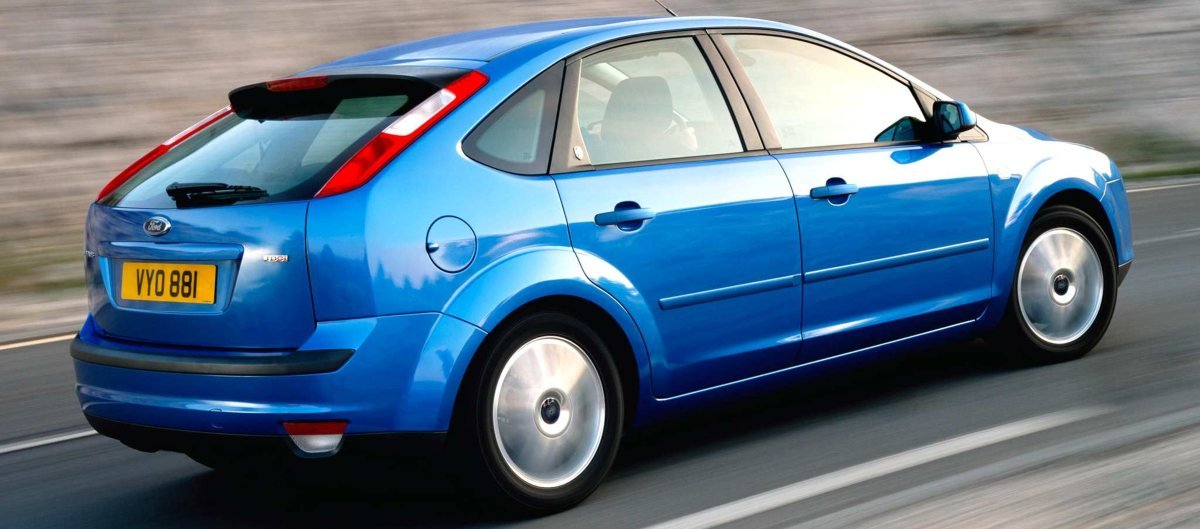 Third Generation Ford Focus
2011 saw the introduction of the third-generation Ford Focus with a brand new Focus EcoBoost engine. Combining superb power with incredible fuel efficiency, it proved that the Focus was still relevant despite being over ten years old.
With the third-generation model, Ford decided to drop the three-door option and made some updates to the cabin and handling to ensure it still competed with rival models. The move was clearly a success as the Ford Focus became one of the most common cars to be found on UK roads.
In 2012, a fully electric Ford Focus was released but it proved unpopular with consumers as just 61 were sold across Europe.
Current Ford Focus
In 2018, 20 years after its original launch, the Ford Focus was updated again to bring us the current generation Ford Focus. Arguably the best Focus to date it features a sharp new design, an impressively intuitive interior, a range of economical engines and a brand new chassis.
On board, the new Ford Focus offers next-level technology, with the latest Ford SYNC 3 infotainment system. Easy to use and super responsive SYNC 3 puts a range of the car's functions at your fingertips.
On top of that, a host of advanced driver safety features such as Lane Keep Assist and Active Braking ensured that the Focus received a five-star Euro NCAP rating.
Keen to keep abreast of market changes, Ford has even introduced a new Focus 'Active' model. Designed to satisfy the growing demand for SUVs and Crossovers, it has a raised ride height, chunkier tyres and offers a variety of driving modes.
Faster Ford Focus Models
To have such enduring appeal, the Focus has had to satisfy a wide range of user's needs. So to offer something more potent and to make their mark in the hot hatch market, Ford has released a number of sportier RS and ST Focus models over the years.
Ford Focus RS
Inspired by the racy Focus used in the World Rally Championship, Ford released a potent Focus RS in 2002. Released as a limited production model only 4,501 front-wheel RS models were made. The two-litre Ford Duratec engine offered 212hp, while a Quaife torque-biasing differential helped keep all of that power under control.
From the outside, it looked incredibly sporty thanks to dynamic front and rear bumpers and 18-inch OZ Racing alloy wheels, while inside benefitted from luxury Alcantara and blue leather interior.
Ford reportedly lost £4,000 on each original Focus RS sold, however, it is now one of the most highly sought after Ford Focus models on the market.

A second generation RS came in 2008. With a modified version of the five-cylinder turbo engine from the Focus ST, it broke the 300hp barrier and managed 0-62mph in less than six seconds and had a top speed of 160mph. With front-wheel-drive, a Quaife limited-slip differential and RevoKnuckle front suspension it was made for motoring fun.
With its huge rear spoiler, gaping front bumper and 19" wheels it certainly looked the part too.
In 2010, a Limited Edition Ford Focus RS was released. The power was boosted to 345hp with 339lb ft of torque for 0-62mph in 5.4 seconds. Only 101 of the 500 cars produced made it to the UK, making it highly desirable. It featured a special matte black wrap with distinctive black alloy wheels.
2015 saw a Focus RS released with four-wheel-drive for the first time. The 2.3-litre four-cylinder EcoBoost engine had a whopping 350hp and 350lb ft torque. 0-62mph was possible in 4.7 seconds and foot to the floor speed of 165mph was achievable. While adding to its appeal it also featured a new 'Drift Mode' which used torque-vectoring to make huge slides on the track easier.

Ford Focus ST
The Focus ST is seen as a tamer version of the RS and was first introduced in 2005. With Volvo under their ownership, Ford was able to utilise a Volvo-sourced five-cylinder turbocharged petrol engine in the ST. This ensured it not only delivered a potent 222bhp but also stood out amongst four-cylinder rivals.
On the inside, the Focus ST was equipped with Recaro seats for enhanced comfort and a sporty look. While the exterior had a racy look whether you opted for the striking Electric Orange paint colour, which quickly became the colour of choice, or not.
2012 brought a new Ford Focus ST which ditched the Volvo-derived engine for a faster and punchier Ford 2.0-litre 247hp engine with 270lb ft of torque. Great to look at, fast, fun and reassuringly familiar it quickly became popular. Ford even introduced a 2.0-litre 185hp TDCi diesel engine in 2014.
Finally, with the release of the MK 4 Ford Focus in 2018 came the introduction of a refreshed ST model in 2019. With a retuned version of the RS 2.3-litre four-cylinder EcoBoost engine, it offers 276bhp and 310lb ft. 0-62mph can be achieved in just 5.7 seconds, eight-tenths faster than the outgoing ST. It is still available in orange too!

You and Your Ford Focus
Have you ever owned a Focus? We'd love to see pictures of the Focus you had whether it was one of the first RS models or you've got a brand new one, let us know and share a picture on Facebook, Twitter or Instagram.
Or why not take a look at the new, nearly new and used Ford Focus models currently available from Stoneacre.