Iconic style, even better design – the new Dacia Duster has embarked on a mid-life facelift to encompass its Sandero sibling's features.
Ready to test drive and order now at a reasonable starting price of £13,995, the new Dacia Duster has updated its styling and technology to ensure it's at the front line of affordable SUVs available on the market.
Introduced in the UK in 2013, the Duster has been at the forefront of low-costing SUVs that still provide a high level of comfort or looks. Shaking up the sports utility segment, the Dacia Duster has always been one of those cars that's suitable for both everyday trips and off-road adventures.
So, what can we expect from the New Dacia Duster?
Well, for starters, the new Duster's exterior has been updated to bring it in line with the rest of the Dacia models: the Sandero and Sandero Stepway. The new Dacia Duster range comes with three trim levels: Essential, Comfort and Prestige – with one thing for certain each and every Dacia Duster configuration reinforce its adventurous character.
Styling tweaks on the new Duster comprise of a new three-dimensional chrome radiator grille for a modern touch, as well as including the brand's new Y-shaped front design that features fresh daytime lights with energy-efficient LED indicators and headlights. Additionally, the new Dacia Duster is designed with aerodynamics at the heart by adding a new rear spoiler and 16 and 17-inch alloy wheels, that contribute to cutting CO2 emissions by 5.8g/km.
There are some variations to the exterior in each trim level, however, still providing an affordable SUV throughout each trim. The entry-level Duster Essential includes black roof bars, the new Y-shaped headlights and 16-inch aero-optimised wheels. Meanwhile, for an additional £1,500, the Dacia Duster Comfort level offers front fog lights, hill descent control plus heated, electrically adjusted wing mirrors.
Looking at the top-of-the-range spec from Dacia Duster, at £16,695 the Prestige trim showcases a luxury SUV at a very reasonable price. At this level, the new Duster is fitted with larger alloy wheels at 17-inch, alongside privacy glass and Grey Quartz door mirrors and roof bars. Keyless entry and multi-view cameras are also available on the Prestige trim, together with automatic air-conditioning and heated front seats. Filled to the brim with safety technology, the Prestige Duster has front parking sensors and a blind-spot warning system, along with onboard navigation and wireless smartphone connectivity.
The main improvement brought to the new Dacia Duster, however, is the interior. Dacia has revamped the inside of the Duster by incorporating the feedback and Dacia Duster reviews they received from its customers – a great move from Dacia to put their drivers at the front of the design. The upholstery has new materials for a new level of contemporary styling, together with slimmer headrests and adjustable lumbar support for the driver's seat. In terms of comfort, a new leather steering wheel, retractable armrests and 8-inch touchscreen infotainment system, featuring Apple CarPlay and Android Auto, are standard on the new Dacia Duster.
Power in the Drive
True to its dependable SUV roots, the new Dacia Duster offers a two-wheel-drive model that has a ground clearance of 217mm, whilst the 4×4 model has a ground clearance of 214mm. Additionally, the new Duster has a range of engines for drivers to choose from, a new option of an automatic gearbox (only available on the Comfort and Prestige trim):
Diesel:
dCi 115 (two-wheel drive or four-wheel drive) combined with a six-speed manual gearbox
Petrol:
TCe 90 (two-wheel drive) combined with a six-speed manual gearbox
TCe 130 (two-wheel drive) combined with a six-speed manual gearbox
TCe 150 (two-wheel drive) combined with a six-speed automatic EDC gearbox
Bi-Fuel (petrol-LPG):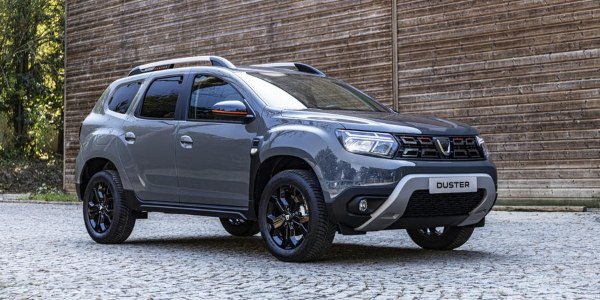 TCe 100 (two-wheel drive) combined with a six-speed manual gearbox
New Dacia Duster Spec
In recent news, the Dacia Duster has gained a new spec level that includes bespoke styling, redesigned wheels and all-new, exclusive exterior colour.
Named the 'Extreme SE', the new spec will sit at the top of the Duster range based on the Prestige trim, offering 17in black alloy wheels and orange exterior trim on the door mirrors, grille and front-door panels.
Additionally, the spec will provide keyless entry, a multi-view camera, heated seats, an 8.0in infotainment touchscreen, sat-nav, blindspot warning and wireless smartphone mirroring as standard.
Meanwhile, the Duster Extreme SE now offers drivers a choice of 0bhp, 130bhp or 150bhp petrol engines, a 115bhp diesel or a 100bhp bi-fuel unit, which can run on both petrol and LPG.
---
With a selection of exciting updates and innovative additions, the new Dacia Duster is certain to catch the eyes of those passing. This is an extremely notable mid-sized SUV for 2021, which still serves driver outstanding reliability and value-for-money.
Prices start from £17,495 for the entry-level, two-wheel-drive petrol model, rising to £21,465 for the 115bhp, four-wheel-drive diesel. Orders for the Duster Extreme SE open in April, with deliveries starting in May.
In the meantime, it is available now to test drive. Contact your local Stoneacre Dacia dealer to book an appointment with one of our experts and get ready to whip some dust with the new Dacia Duster for sale.