Worrying figures suggest the number of people killed in drink-drive collisions on Britain's roads has reached an eight-year high. This startling data has prompted calls to review Britain's 80mg alcohol limit, which is one of the highest in Europe.
– In 2017, there were between 230 and 270 road deaths caused by drink drivers, a central estimate of 250 deaths is the most since 2009
– 14% of all road casualties two years ago were caused by drink driving
The rise in drink drive deaths
The Department for Transport (DfT) data indicates that in 2017, there were between 230 and 270 fatalities in accidents where at least one driver or rider was over the legal alcohol limit. This figure is 20 more than in 2016, with the DfT stating that drink driving related casualties made up 14% of road deaths in 2017. The DfT has claimed this rise was not statistically significant, even though it brings the number of drink drive deaths to an eight-year high.
Many would argue this is hardly insignificant, with Brake's director of campaigns, Joshua Harris, maintaining that the increase in drink-drive deaths was "incredibly concerning. How much longer must this continue before the government acts?" he asked. "The current drink-driving limit gives a false impression that it is safe to drink and drive. This is a dangerous message and one that couldn't be further from the truth."
Drink drive convictions
The number of drink drive deaths is only one part of the story. Research by the road safety charity, Brake, found that over 5,000 motorists had been caught drink-driving on two or more occasions in the past four years. So clearly measures to prevent offending are falling short as people continue to participate in this extremely risky behaviour.
Tackling drink driving
Campaigners feel one of the ways to tackle such risky behaviour which puts not only the drunk driver but all of their passengers and other road users in danger, is more police patrols.
The AA president, Edmund King, acknowledged that while there continued to be "hardcore of drink-drivers", with more than two-fifths of those failing breath tests being more than two times over the limit, a lack of police seemed to be at least part of the problem saying:
"As well as needing more cops in cars to catch people in the act, the ultimate responsibility lies with driver's themselves," he said.
According to Home Office figures, police officers in England and Wales fell by nearly 22,000 between March 2010 and March 2018. So it is hardly surprising that people are drawing a correlation between a fall in officer numbers and an increase in drink drive deaths.
Boris Johnson has pledged more bobbies on the beat, promising to recruit an extra 20,000 officers, but with so much up in the air regarding Brexit, it remains to be seen whether this will be implemented.
How Scotland tackles drink driving?
Scotland has taken decisive action to tackle drink driving and reduced the legal limit of blood alcohol to 50 milligrams in 2014. However, this has not resulted in the expected fall in drink drive road accidents. This further strengthens claims that one of the best ways to prevent drink driving is to increase police presence and up random breath testing procedures.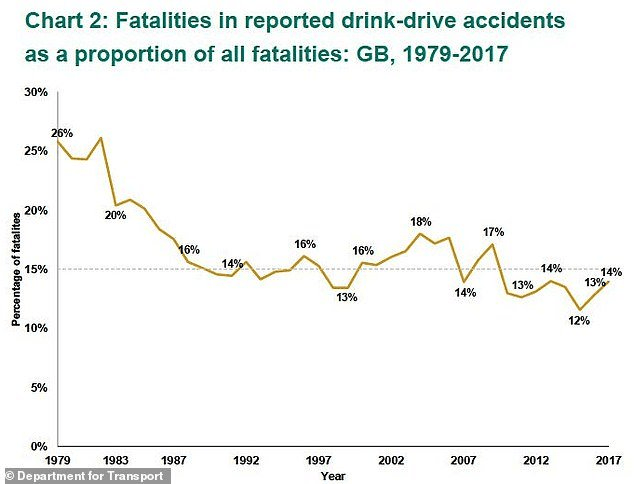 What do the DfT say about drink driving?
A DfT spokeswoman said: "Drink-driving is absolutely deplorable, and those who do it not only put their own lives at risk but other people's too.
"We are working with industry to develop new evidential roadside breath tests, meaning drink-drivers do not have the chance to sober up before being tested, while the Think! Mates Matter campaign had the biggest impact in young drivers' attitudes to drink-driving in a decade."
We think there is really only one way to make sure you and others stay safe behind the wheel and that is to never drink and drive. Let us know your thoughts via Facebook, Twitter or Instagram.