If you've been looking at cars you may have noticed that many newer models advertised come with a DAB car radio. You may be wondering what a car DAB radio is and what the benefits of having this system in your car are?
In this article, we'll discuss everything you need to know about DAB digital radio as well as the different ways in which you can benefit from this higher quality broadcasting system in your car.
What is DAB Radio?
DAB stands for Digital Audio Broadcasting (DAB) and simply put is a broadcasting system that offers superior sound quality than traditional FM / AM band radio.
The digital transmissions of DAB digital radio contain more information than traditional FM/AM transmissions. In addition, the super-fast wavelength of around 220MHz compared to 75MHz of analogue radio broadcasts helps improve the sound quality of both music and spoken word.
DAB+
You may have also seen the term DAB+ on some new radio systems. DAB+ is up to three times more efficient when broadcasting, offers even more choice of stations and improved sound quality. On top of that, with a DAB+ system, there is less chance of the station dropping out.
Digital Radio Switchover UK
In the UK, the government has been planning to switch off AM/FM transmission in favour of DAB for several years. However, as yet the digital switchover date is not set. Instead, the UK government has set out criteria which must be met before the switchover can take place;
Digital listening must reach 50 per cent of all radio listening (this figure includes listening through the TV, internet and DAB digital radios)
National coverage of DAB must be comparable to FM
Local DAB must reach 90 per cent of the population

Figures show that digital listening figures are now around 52.4 per cent meaning the 50 per cent mark has already been surpassed. As a result, the government is planning to proceed with a review which looks at how to progress with the digital radio switchover.
It is thought, all national stations will make the switch to DAB, with some local stations remaining on FM and those still on AM moving to either a digital or FM transmission.
Currently, broadcasters are paying dual transmission fees to have the same station on both FM and DAB stations. So switching off analogue transmissions will alleviate the additional costs, which should help radio stations focus on improving new content.
Advantages of DAB Radio in your car
DAB digital radio offers several advantages over traditional analogue systems:
better quality sound quality as more information is sent over quicker wavelengths
more channel choice as the digital platforms provides more space
easier to find channels as many stations have set channels (similar to your TV)
no need to manually search for new radio channels
you can listen to radio channels from all over the UK and even abroad, you are not limited to local/regional radio channels
DAB car radios offer more features allowing manufacturers to develop radio content as a source of entertainment and information with greater interactivity
you can pause, rewind and record live radio
87% of new cars come with DAB radios, so it is a fairly mainstream offering
Even if your vehicle doesn't have DAB digital radio, it is easy to upgrade your car radio to DAB, which we discuss in greater detail below.
Upgrading to a DAB Car Radio
As mentioned, up to 87 per cent of cars on UK roads now come with a DAB digital radio. So if you are driving a newer model car there is a good chance it will have this benefit.
However, if you're not sure whether your model has a DAB radio, you can carry out a few checks. Firstly, if you can access a broad range of channels and don't need to manually scan to find them, then you probably have a DAB digital radio. If on the other hand, you have to scan through frequencies manually or can only choose between AM and FM stations, you have an analogue radio in your car.
Another way to check, if you are still not sure is to look in your handbook.
If you find that your car does have an analogue system, don't worry as it is possible to convert your car radio to DAB.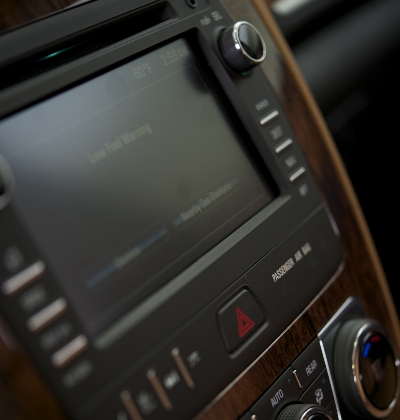 How to Convert your Car Radio to DAB
The most obvious solution is to replace your analogue car radio with a DAB digital one. However, the ease of doing so depends on the type of radio installed.
Initially, when car radios were introduced in the 1980s, manufacturer's settled on a standardised size for stereos known as a single DIN or double DIN. Gradually through the '80s into the '90s systems became more complex, adding in cassette players and CD players. However, due to the standard sizing, replacing a car radio was generally straight forward.
From 2000 onwards, manufacturers started to offer more sculpted dashboards and consoles without a defined DIN slot. On these models replacing the radio can be trickier and involve fitting fascia mounts to reduce any gaps around the radio.
For more complex systems, for instance, Volvo's floating console or where the radio is integrated into the dashboard, it is now virtually impossible to swap the radio yourself. Main dealers or specialist shops may be able to offer this service for you, but bear in mind, it is likely to be expensive.

If this is the case, don't worry as there are still plenty of ways to convert your car radio to DAB.
Other ways to get DAB radio in your car
If the cost of fitting a new DAB digital radio to your car is prohibitive, there are some other ways you can access DAB radio in your car. In fact, with these systems upgrading your car radio to DAB is pretty straightforward.
DAB Car Radio Adaptors
A DAB car radio adaptor is a device that attaches to your dashboard and allows you to play DAB through your existing system. Not only do these systems bring you the higher-quality of DAB radio, they often offer additional benefits like Bluetooth connectivity, voice assistance, hands-free calling and Spotify control.
Fitting seamlessly to your dashboard, they are an affordable and convenient alternative to replacing your full stereo system. Prices vary depending on the specification giving you the option to go for something cheap and cheerful to more expensive and intuitive systems.

Aerials
Digital in-car-radios have two aerial connections, one for DAB and one for analogue. Whereas as the aerial on most analogue systems will only receive FM, medium-wave and long-wave receptions, which means it may be necessary to add a DAB car radio aerial.
If you opt to replace your car radio with a new DAB car radio, then you usually get a stick on DAB aerial with the new radio set. The DAB aerial can be stuck on the inside of your windscreen. The cable is then hidden behind the dashboard and plugged into the back of the radio. While you will find the signal acceptable in most areas, it will not perform as well as an aerial placed on the roof of the car.
However, if you prefer the security of better signal, you can buy a roof-mounted DAB aerial without breaking the bank. You will find various aerials available including magnetically mounted aerials, shark fin antennas or complete replacement roof-mounted aerials. So no matter what your requirements, you're sure to find a suitable solution.
Smartphone/Bluetooth
If you don't want to invest in an adaptor or new car radio, then you can use your phone to listen to DAB radio on the move. If your car offers smartphone mirroring, you can connect to your car stereo through an app. However, if you don't have this function, you can still connect via Bluetooth, an aux-in cable or a USB connection.
AUX IN – An aux-in port is a 3.5mm aux-in jack usually located either on the stereo unit or underneath it. It allows you to plug-in an aux or lightning cable from your smartphone to your stereo.
Bluetooth – with Bluetooth connectivity you can pair your device to your's cars built-in Bluetooth to make use of DAB functions on the go.
USB – most cars come with at least one USB connection point allowing you to connect your phone via a USB cable.

Cars you can buy with DAB Radio
If you're in the market for a new car, then you might want to focus on models which come with a DAB car radio.
Luckily, the proportion of cars fitted with a DAB car radio as standard has grown rapidly in recent years. For example, data from CAP and The Society of Motor Manufacturers and Traders found that in 2019 Quarter Four over 2.38 million vehicles were fitted with DAB as standard.
Across the Stoneacre network, you will discover that Toyota, Honda, Mazda, Volvo, Suzuki and Ford models are all fitted with a DAB car radio as standard. In fact, all of Ford's UK models have been available with a DAB car radio since 2012.
What's more, some of the countries bestselling models like the Vauxhall Corsa, Ford Fiesta, Ford Focus, Nissan Qashqai and Kia Sportage come with a built-in DAB car radio and are available across the Stoneacre network.
DAB Car Radio
So there you have it, our comprehensive guide to the digital switchover of radio. From DAB car radio converters to DAB radio car adapters and fitting a new in-car DAB radio, we think you'll agree that there are plenty of ways to upgrade your car radio to DAB. Why not let us know your thoughts on car DAB radio systems below?