In this article, we pay homage to the weird and wacky by sharing some of our favourite weird cars.
Today we tend to see the gentle evolution of models rather than radical designs, however, this hasn't always been the case. In fact, when cars were still in their infancy, designers tended to have more freedom, so radical designs were more the norm. The result being quirky cars that certainly stand out from the crowd. Below we explore some of our favourites from wartime electric cars to modern bulletproof SUVs.
Oeuf Électrique
First up is a model powered by batteries well before today's attempts to introduce electric vehicles (EVs) to reduce emissions.
Designed by Parisian Paul Arzens during World War II, the Oeuf Électrique (electric egg) ran on battery power due to ongoing petrol shortages. Incredibly lightweight at just 350kg, it could travel around 63 miles, making it ideal for nipping around Paris. The top speed of 44mph with one person on board fell to 37mph if you wanted to carry a passenger, meaning it was never going to stray far from the confines of the city.
The unique egg-shaped three-wheel model featured a distinctive bubble made from hand-formed aluminium and curved plexiglass, offering an impressive view of the road ahead.
The minimalist interior had just a bench over a wicker frame, so didn't offer much in terms of comfort or convenience. However, thanks to the bubble shape, it did offer plenty of head and shoulder room inside. 
The Oeuf Électrique received much press attention, but as aluminium was so sparse, Arzens was only ever able to build a prototype.
---
Norman Timbs Special
Built in the same decade as the Oeuf Électrique, the Norman Timbs Special looks like it comes from a completely different generation.
Inspired by the sleek design of German racecars like the Mercedes W25 Avus and Auto Union TypC, Norman Timbs, an automotive engineer who worked on Indy 500 racecars in the '30s and '40s, was keen to build his own streamlined road-legal roadster.
Beginning in 1945 at the end of World War II, Timbs set about creating the unique model. After drawing sketches, Timbs built a scaled model which was followed by a full-size wooden model which he then used to form the aluminium panels of the car.
Once built, Timbs kitted it out with a 200hp Buick Straight-eight engine while borrowing other equipment like the steering and brakes from the Mercury.
The model was extremely sleek and sophisticated featuring smooth lines and curves, yet it had no roof or door so was not the most practical model. To access the engine, fuel tank and spare wheel you had to lift the full rear section on its hydraulic hinges, meaning it was not very practical for daily motoring.
Despite being incredibly stylish, the Norman Timbs Special was too expensive to produce commercially.
---
General Motors Firebird 1XP-21
You'd be forgiven for thinking the General Motors Firebird 1XP-21 was a jet aeroplane as it pretty much is. The concept was initiated by General Motor's head of styling Harley J. Earl, who is also credited with coming up with the idea of releasing 'concept cars' to display technological and design advancements.
The needle nose, delta wings and a bubble cockpit gave the distinctive look of a jet aeroplane. While the whirlfire Turbo-Power unit closely resembled a jet engine. The turbine could spin up to 26,000rpm to generate 370hp, which was the kind of power that was unheard of at the time.
The Firebird 1XP-21 might have been striking but it was far from conventional. As well as only being able to seat one person, the unconventional power source made it impossible for the car to be anything but a concept model.
---
Fiat Multipla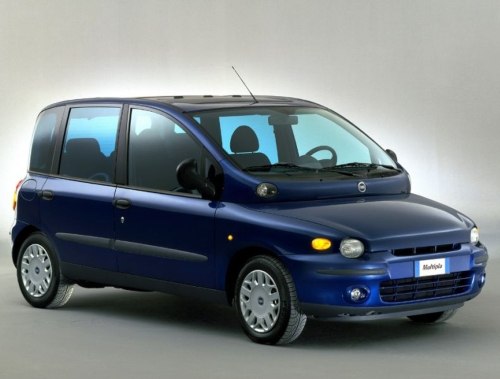 The Fiat Multipla is one of the few models on our list of weirdest cars that actually made it to production and was seen on UK roads.
The Multipla was an easily recognisable model thanks to its distinctive design with quirky styling and bug-like face with multiple small round lights scattered across the front. Meanwhile, the wide windscreen and expanse of glass offered outstanding visibility wherever you were sitting.
Incredibly practical, the Multipla features two rows of three seats which meant there was room for up to six on board rather than the standard five. It also had a well-sized boot to offer plenty of room for a host of luggage.
Despite all of this practicality, the quirky looks of the Multipla never took off with buyers. It was a world away from the usually stylish car designs from Fiat and proved just too different to gain real appeal. However, we certainly think that it is not a car that should be forgotten, especially not when considering the weirdest cars.
---
Peel P50
Cute city cars are certainly enjoying a popular resurgence at the moment, but in the sixties, it seems car manufacturers were taking things a step further. The Peel P50 was a three-wheel microcar originally manufactured by the Peel Engineering Company based on the Isle of Wight.
The Peel P50 model measured just 1,372mm long and 991mm wide and weighed just 59kg unladen. So it had just enough room for one occupant and one shopping bag making it ideal for popping out for a quick top-up of essentials, but little else. It was described as having car-like comfort for moped costs.
In only one door on the left-hand side and was fitted with just one headlight. Plus there was no reverse gear so to go backwards you had to manually manoeuvre it using a handle at the car's rear.
The Peel P50 was released at the Earl's Court Motor Show. During initial production from 1962 to 196550 were built and of those around 27 are said to still be in existence around the world. However, following investment from one of the Dragons on BBC's Dragon's Den the Peel P50 was brought back to life and you can still order one today.
The Peel P50 has also made it into the record books and is listed in the 2010 Guinness Book of World Records as being the smallest production car ever made.
---
Ferrari 512S Modulo
Debuted as a Concept Car at the 1970 Geneva Motor Show the Ferrari 512S Modulo looked more like a spaceship than a car. Designed by Paolo Martin of Pininfarina, the 512S Modulo went on to win 22 design awards, which is hardly surprising given the world's preoccupation with space following the Apollo landing the year before.
The low wedge-shaped body featured a canopy-style glass roof that slid back to allow the driver to get in and out of, hardy the most practical way to get in and out at the shops. In addition, all four wheels were partially covered which helped add to the illusion that it was hovering like a space ship rather than driving like a car.
Despite its outlandish looks, under the bonnet, the Ferrari 512S Modulo featured a Ferrari V12 engine that could reach a top speed of 220mph and get from 0-60mph in just three seconds.  
A car that you can't easily forget, Ferrari went on to make 25 examples of the 512S.
---
Suzuki X-90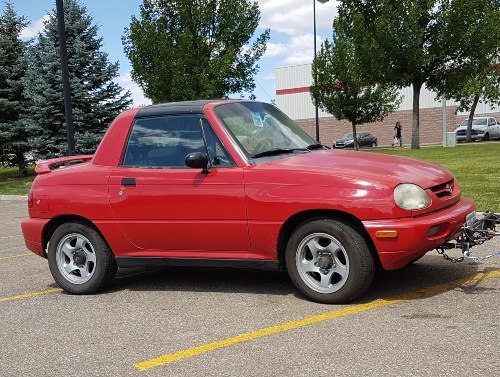 During the early days of the boom of SUVs, manufacturers were keen to experiment to see what consumers wanted. The Suzuki X-90 is arguably one of the weirdest models to come to fruition during this period.
A sub-compact vehicle, it was part two-door coupe and part SUV while also featuring a part convertible T-top roof. Many motoring publications of the time likened the look of it to an oversized trainer.
At just 1,100kg, good ground clearance and a torquey 1.6-litre engine the Suzuki X-90 promised a lot. However, it was built on a truck-like chassis which meant poor handling that left a lot to be desired compared to other SUVs also on the market.
In addition, it failed to live up to the needs of many SUV drivers featuring a car-sized boot that was too small to be useful.
Despite arousing some press coverage due to advertising from Red Bull, the Suzuki X-90 was on sale for just two years from 1996 to 1998. During this time sales were fairly poor and it never gained the success expected with motoring legend Jeremy Clarkson naming it 'the worst car ever'.
---
Amphicar
You've always wanted a car that doubles as a boat right? Well fortunately for you, there is such a model the Amphicar. Released in 1961 and in production until 1967 in Germany, the Amphicar was capable of travelling on the road and in water.
With a pair of propellers at the rear, the Amphicar provided cruising speeds of up to seven knots in the water. Meanwhile, the front tyres acting as rudders to allow you to guide the vehicle through water.
It was the most popular non-military amphibious vehicle with over 4,000 models made. However, its high price tag and lacklustre performance on the road and in the water hampered its sales success.
---
Karlmann King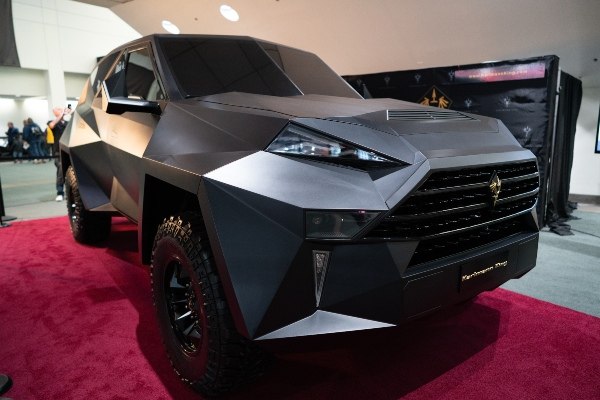 One of the most modern weird cars on our list is the Karlmann King, which remains one of the world's most expensive SUVs you can buy.
Produced in Italy by a Chinese car company, the Karlmann King is a robust model with angular lines and a pixelated look.
Weighing almost five tonnes and at 6 metres in length, it is a beast of a car that is sure to make an impact wherever you are heading. It is based on a Ford F-550 truck chassis and has a 6.8-litre V10 engine with 395bhp, four-wheel-drive and air suspension.
Despite the powerful engine, the weight significantly hampers performance with a top speed of just 87mph.
For those likely to come under fire, bulletproofing is an available extra, although this adds substantial additional weight reducing performance even more.
Inside is incredibly luxurious with a 45-inch flat panel display, Sony Playstation 4, the option of a built-in coffee maker and opulent reclining seats. So it really is a car that leaves you wanting for nothing.
Let us know your favourite
The phrase 'beauty is in the eye of the beholder' couldn't be more relevant when considering some of the models we've chosen to include. Whether you view the models as sublimely styled or ridiculously exaggerated really is down to you. Is there a model on our list you'd love to see go back into production, or just one you wish you could own? Let us know in the comments section below.