Next up in our brief history series is the iconic Vauxhall Corsa. Gracing British roads since the nineties the Corsa has a longstanding history as one of Britain's most popular cars. Known for its agile handling and frugal running costs it is a great choice whether you are looking for a first car, a sleek family car or a compact city car.
Vauxhall Nova
You may be wondering why the history of the Corsa starts with the Nova, but just as Vauxhall is known as Opel in Europe, so too was the Nova known as the Corsa for our European neighbours. Apparently, the reluctance to bring the Corsa name into use in the UK was because Vauxhall marketing chiefs felt the name 'Corsa' sounded too much like the word coarser.
Vauxhall Corsa 1993-2000
However, in 1993, Vauxhall decided to take the plunge, and a newly designed Corsa was brought to the UK market for the very first time. Making its mark, the Corsa upended the hatchback market with its curvaceous modern styling. Available in both three and five-door variants and with petrol and diesel engine options there was something for everyone.
On the road, its brisk performance and low weight combined to deliver exceptional handling. While, new technologies like power steering, anti-lock brakes and a car alarm were added to bring the car up to date. This ensured it quickly gained a reputation as a dependable car for small families and young drivers alike.
The first-generation Corsa underwent a few style updates over its seven-year lifespan before being replaced by a completely new model in 2000.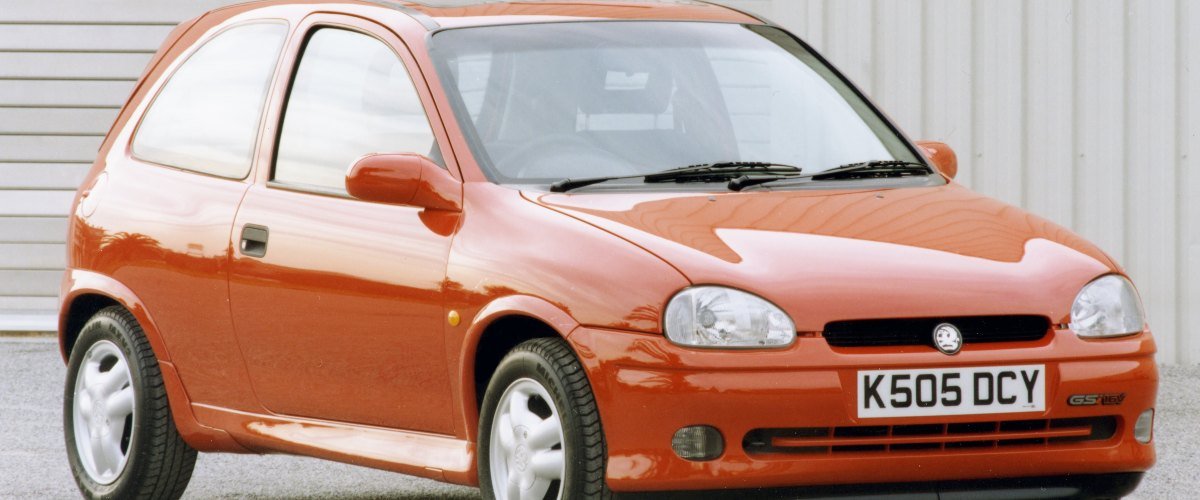 Vauxhall Corsa 2000-2006
The second-generation model arrived in 2000 and was bigger, bolder and sharper than its predecessor. While an impressive engine line-up, a variety of trims and the seamless EasyTronic transmission ensured that as ever, there was a Corsa for everyone.
Cheap to insure and run, this Corsa quickly gained popularity with young drivers looking for their first car.
In 2002, the second generation Corsa was named the UK's most popular supermini and went on to uphold the accolade for four years straight. Since then, the Corsa has continued to be one of Britain's bestselling cars in the UK.
In 2003, this model got a minor facelift to keep it fresh with new clear-lens headlights, coloured bumpers and side rubbing strips.

Vauxhall Corsa 2006-2014
In 2006, it was time for a whole new-platform and more dynamic styling for that sleeker, sportier edge.
Clever use of space ensured that it offered impressive onboard space for a supermini, with room for adults to sit back and enjoy the ride. Plus with both three and five-door models available it offered practicality as well as comfort. It remained easy to drive, cheap to run and extremely safe thanks to its five-star Euro NCAP rating.
Some people credit the third-generation Corsa model as one of the most successful as it was on the market for over eight years, making it one of the longest-running Corsa models to date.

Vauxhall Corsa 2014-2019
In 2014, the Corsa evolved once again to bring it more in-line with the rest of the Vauxhall range. It offered all the space a small family needs. Plus thanks to a striking grille and refreshed interior it offered more refinement and luxury inside and out.
While to ensure it stayed competitive in the modern market, it came with a new easy to use infotainment system, as standard.

New Vauxhall Corsa
With stricter emission targets and a push for carbon-free motoring, 2019 marks the start of a whole new era for the Corsa. With the release of the first-ever electric model, alongside a range of more efficient conventional fuel engine options, the latest Corsa offers new distinct design, integrity and engineering ingenuity. It is not just under the bonnet where things have changed though, as it features dynamic styling and sportier finishing touches for the most desirable Corsa to date. Set to be released in Spring of 2020 you can already get in touch with your local Stoneacre Vauxhall branch to register your interest.

Find out more about the new Vauxhall Corsa and the Vauxhall Corsa-e in our blog. 
Looking for something sportier?
To broaden its appeal, it was essential that Vauxhall introduced sporty versions of their models. So in this section, we focus on the sports version of Corsa models over the years.
Vauxhall Corsa VXR 2007
The first sports Corsa model was the VXR. With a 189bhp 1.6-litre turbocharged four-cylinder it delivered punchy hot hatch performance.
A boot spoiler, rear diffuser and faux triangular centre-exit exhaust ensured it looked the part, while on the inside deep-sided torso-hugging Recaro seats kept you planted no matter how rip-roaring the ride.
Vauxhall Corsa VXR Nurburgring Edition
In 2011, the Corsa VXR Nurburgring Edition took the hot hatch to the next level. Developed at Nurburgring, arguably the world's toughest race track, the performance was ramped up a notch.
The 1.6-litre turbocharged four-cylinder engine delivered 202bhp with 250Nm torque, making it possible to reach 0-60mph in just 6.5 seconds.
To keep all of that power under control, it came with Bilstein springs and dampers which reduced roll allowing corners to be taken with composure. While the limited-slip differential from Drexler improved traction and cut understeer, making it easier to hold a tight line under hard acceleration.
Vauxhall VXR Corsa Clubsport Edition
In 2014, a tweaked VXR was released, taking the new moniker, VXR Clubsport Edition. While it maintained the same engine and performance values as the Nurburgring edition, it featured a Remus sports twin exhaust to help reduce back-pressure.
Vauxhall Corsa GSi
The latest sports offering from Vauxhall is the Corsa GSi. With a potent 1.4-litre GSi variant with 148bhp, it delivers hot hatch driver engagement, yet offers surprisingly affordable running costs.

Find your Vauxhall Corsa
With new, nearly new and used Vauxhall Corsa models available here at Stoneacre, it is easy to find the right Corsa for your requirements.