Find a new Toyota Prius for sale
About The New Toyota Prius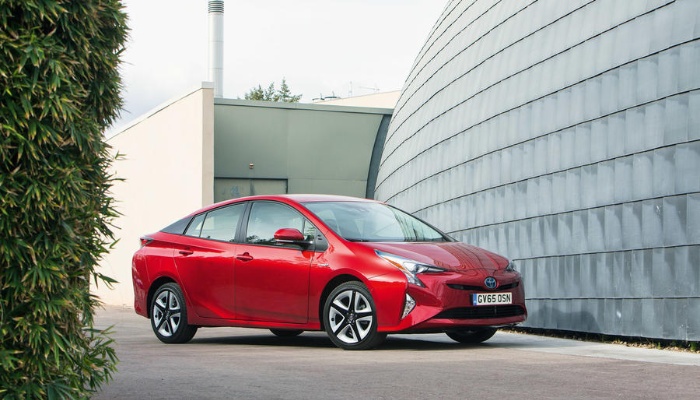 The remarkably innovative and incredibly efficient Toyota Prius has been wowing drivers for over 20 years now. With its remarkable self-charging hybrid system, the Prius was a game-changing model that brought impressive fuel efficiency without compromising performance when it was first introduced. And it continues to astound today with all the benefit of Toyota's years of hybrid motoring, ensuring it remains a clear class leader.
The real beauty of Toyota's hybrid system is that there is no need to worry about range anxiety or charging. Instead, the battery charges on the go, taking surplus energy from the engine and through regenerative braking, which harnesses energy usually lost when slowing down. So you can go about your day as normal.
While things are less than conventional when it comes to power, inside the Prius has all the makings of a great family car. With impressive features as standard you get greater driving convenience, so you can motor on with confidence. Plus, there is room for everyone thanks to a spacious cabin and a well-sized boot.
New Toyota Prius Performance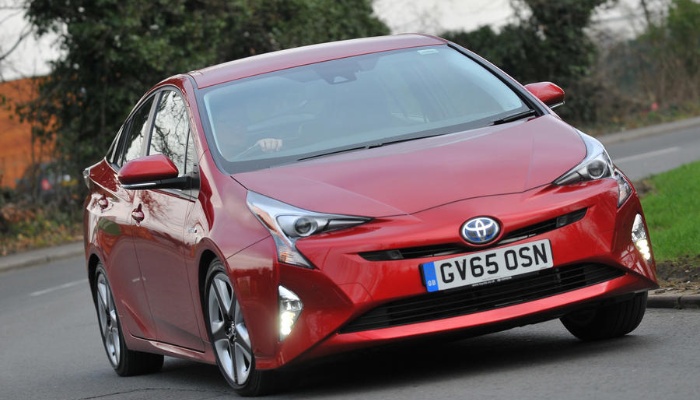 The Toyota Prius has been championing hybrid power for over 20 years, so it is no surprise the current model has one of the best systems in its class. Choosing to adopt a self-charging hybrid system means that the driver doesn't have to worry about range or charging up yet gets significantly greater mpg capabilities and lower emissions. It really is win-win!
Toyota teams a 1.8-litre petrol engine with electric motors and a battery pack to deliver all the power you could need. The battery charges using surplus energy from the engine and through regenerative braking, which harness the energy usually lost when you brake or slow down.
When sufficiently charged, the electric motor can power the car to speeds of up to 36mph on electric-only power and boosts acceleration from standstill to make it feel punchier.
Around town, you get quiet and smooth performance, while the accurate and responsive steering and good road grip gives you confidence when tackling faster roads.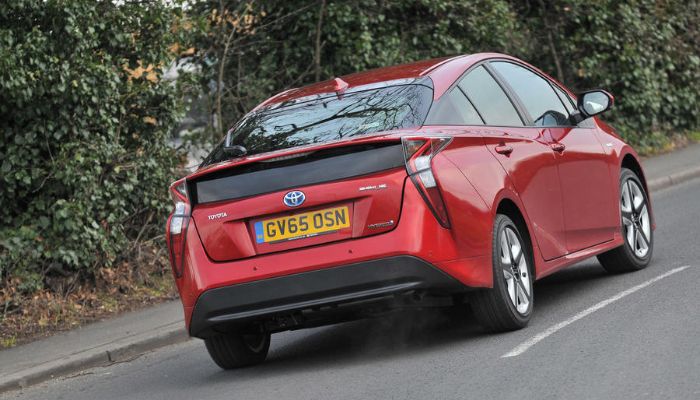 A pioneer of design, the Prius has a striking look that is instantly recognisable. Every angle has been designed to fully optimise aerodynamics to help get the Prius further using less fuel.
With a sleek profile, the Prius can cut through the air effortlessly, so all you need to do is sit back and enjoy the ride.
The long bonnet slopes downwards to the distinctive front bumper, which features defined creases that have been engineered to reduce drag and allow air to flow through with the least possible resistance.
Meanwhile, stylised tail lamps, bright running lights and striking vents help you make a bold statement that gets the Prius noticed for all the right reasons.
New Toyota Prius Practicality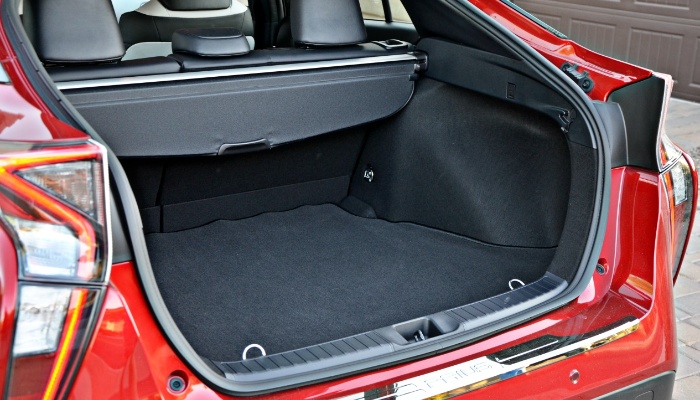 Reliable and practical, the Prius is a good choice for family buyers seating five in total. The cabin offers good space both front and rear passengers giving everyone room to relax on board. Plus, the two outer rear seats get Isofix child seat mounts allowing you to connect your child seat safely and completely hassle-free.
The long boot provides plenty of room for day-to-day gear as well as being capable of coping with all your holiday luggage. You can even expand the boot by folding down the 60/40 split rear seats to carry longer loads with ease.
On the road, the Prius delivers a smooth ride that doesn't jolt you about, thanks to its lower centre of gravity and Toyota's intelligent all-wheel-drive system, AWD-i. The Prius was one of the first cars in its class to benefit from all-wheel-drive. It helps provide better stability in a range of situations and makes it easier to drive for enhanced practicality day-to-day.
New Toyota Prius Technology & Safety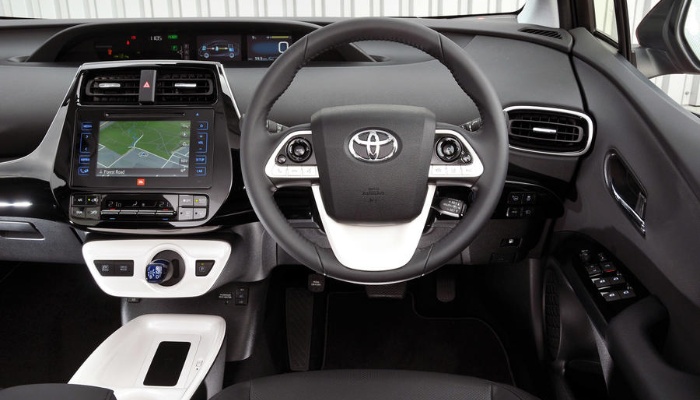 The Toyota Prius is as striking on the inside as it is on the outside. Taking a fresh approach to cabin design in the Prius, the traditional instrument display is replaced with two 4.2-inch colour screens which sit on top of the dash. The right screen shows conventional driving statistics, while the left provides detailed economy analysis on your drive.
Sitting below this is a touchscreen infotainment system that offers the likes of DAB radio, Bluetooth and smartphone mirroring with both Apple CarPlay and Android Auto. It enables you to stay connected, informed and entertained on your journey, so you never miss out.
As a family-friendly model, you can relax in the knowledge the Prius comes with the very latest Toyota Safety Sense technology. You get a host of driver-assistance functions, including adaptive cruise control, forward collision warning with automatic emergency braking and lane departure alert. Each of these driver-assistance systems provides an audible warning before intervening if necessary to help avoid a collision.
About the New Toyota Prius
The pioneering new Toyota Prius has a contemporary on-road presence and unbeatable hybrid characteristics. With sleek aerodynamics and elongated body, it smoothly cuts through traffic enhancing motoring freedom while reducing emissions.
The new Toyota Prius is for sale in a range of standout finishes which allow you to showcase your personality. It proves you don't need to compromise on style to access greener, more efficient cars.
Toyota has been paving the way with self-charging hybrids for the past 20 years. Their expertise with hybrids is clear in the new Toyota Prius, which offers seamless transitions between electric and petrol modes. An advanced regenerative braking function helps you maximise any power lost when slowing down to top up the battery charge on the go.
Opt for the new dynamic All-Wheel-Drive system (AWD-i), and the new Prius delivers power to all four wheels to provide extra control in low-grip conditions, improving on-road stability and safety.
The premium quality cabin of the new Toyota Prius features some of the finest materials for a more upmarket feel. Thanks to features like dual-zone climate control and heated front seats, it is easy to tailor the interior to your specific needs. Meanwhile, getting comfy is no problem thanks to comfortable and supportive seats. There's even the option of electric lumbar support on selected models for added comfort.
The dashboard of the new Toyota Prius offers incredible ease of use thanks to its ergonomic arrangement and an intuitive colour touchscreen. It enables you to access a range of the car's functions with minimum fuss.
The touchscreen offers smartphone mirroring functionality, so you can make the most of your favourite motoring apps on the move, while the option of wireless charging helps to keep you connected at all times.
An enhanced raft of driver assistance ensures the new Prius offers everything you need to stay safer on your commute. The adaptive cruise control helps keep you at a set distance from the car in front and makes long motorway journeys more seamless. Helping to prevent accidents occurring, meanwhile, is the advanced forward-collision warning system with automatic emergency braking.
New Toyota Prius Deals
Our affordable Toyota Prius deals help to ignite your hybrid journey. As well as the option of Toyota Prius 0% finance deals we offer Toyota Prius PCP options, so there's something to suit a range of requirements.
What's more, our Toyota Prius offers can even be tailored to your preferred deposit contribution and term. Get in touch and let us help you start the search for your perfect Toyota Prius deal.
Representative Example
Amount of credit
£17,608.64
Fixed Interest per annum
4.67%
Total Charge for credit
£3,825.35
Option fee (included in total charge for credit)
£399.00
Total Amount Payable (Incl. Deposit)
£21,433.99
We are a credit broker and a lender. We can introduce you to a limited number of lenders and their finance products. We will provide details of products available, but no advice or recommendation will be made. You must decide whether the finance product is right for you. We do not charge you a fee for our services. Lenders may pay commission to us (either a fixed fee or a fixed percentage of the amount you borrow) for introducing you to them, this may be calculated in reference to a variable factor such as (but not limited to) the vehicle age, your credit score and the amount you are borrowing. Different lenders may pay different commissions for such introductions.