Find a new Hyundai Ioniq Hybrid for sale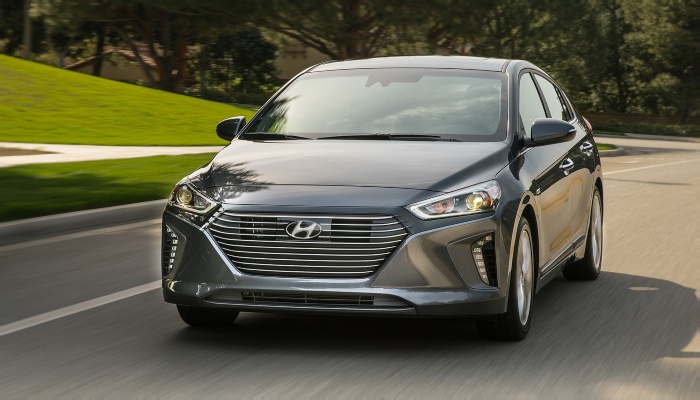 About the New Hyundai Ioniq Hybrid
The new Hyundai Ioniq is an award-winning hybrid family car and is a stand out model in the impressive line-up of Hyundai hybrid-electric cars. A 5-door, coupe-styled liftback, the Ioniq is a distinct model in the Hyundai range and has proved a firm family favourite thanks to its attractiveness and usability.
Hyundai builds to be reliable and is at the forefront of design. It is no wonder why Hyundai has released a wide expanse of innovative hybrids over the years. The Hyundai Ioniq, first launched in 2016, was the first of Hyundai's cars to be primarily manufactured as a fully Hybrid model. It has revolutionised the hybrid-electric industry and has since become popular and a great choice for environmentally conscious Hyundai customers.
The Hyundai Ioniq Hybrid range currently includes the featured Hybrid, as well as the Plug-in Hybrid and Electric models. To see our full range of new Hyundai Ioniq cars, including the new Hyundai Ioniq Hybrid for sale, contact Stoneacre at your local Hyundai dealership and we can let you look around and even book in for a test drive.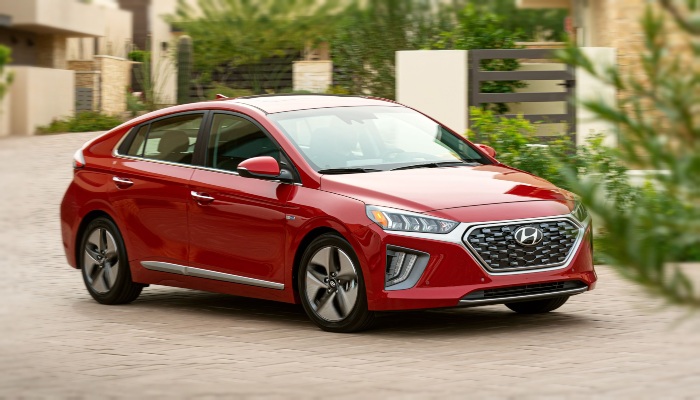 New Hyundai Ioniq Hybrid Design
The interior of the new Hyundai Ioniq is clean, spacious and sophisticated. Designed to cater for the modern-day family, it gives you the space to seat comfortably all of your passengers on board. The Ioniq uses lightweight materials and handcrafted upholstery, with premium leather seating available on Hyundai Ioniq Hybrid Premium trim. Advanced connectivity is available on the 10-inch touchscreen display and keeps you in touch every step of the way with real-time service available through the satellite navigation system. It also has smartphone integration with Apple CarPlay and Android Auto.
The Hyundai Hybrid Ioniq has several features available as standard on the Premium Hyundai trim, with the Hyundai Ioniq Premium SE also available. With the Hyundai Ioniq SE Connect and Premium SE, you'll get much of the same outside features as with the Premium, but including additional interior features such as electric seat adjustments, front and rear heated seats and premium leather upholstery.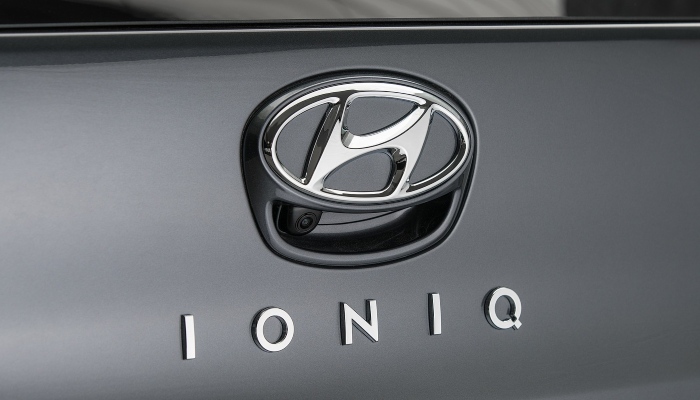 New Hyundai Ioniq Hybrid Safety
The new Hyundai Ioniq for sale embraces a clean and simple design, which prioritises driver and passenger wellbeing with a strong and spacious cabin, and increased safety. The new Hyundai Ioniq is truly a modern car and a hybrid model built for everyday life.
The new Hyundai Ioniq features many great improvements to structure; it has stronger connections between the sill and the dash and has a much better-built passenger compartment.
The new Hyundai Ioniq has also benefitted from a range of advanced driver safety assist features, including smart cruise control, LKAS and lane departure warnings, plus blind-spot detection. It also assists with autonomous emergency braking and has an inbuilt eCall system, which dials the emergency services in the event that the airbags deploy. This comprehensive set of safety features has earned the Hyundai Ioniq a firm overall 5-star Euro NCAP safety rating.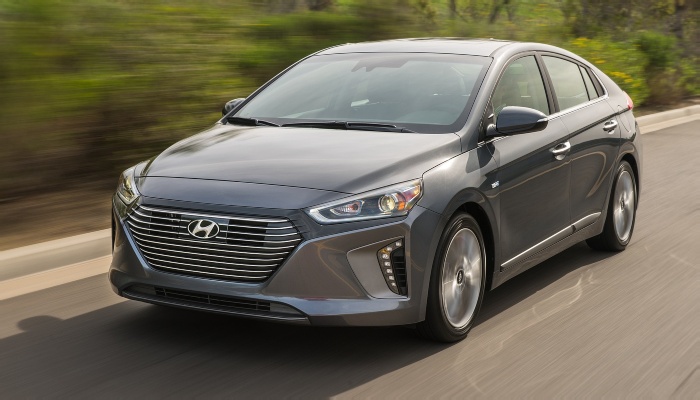 New Hyundai Ioniq Hybrid Performance
Hyundai delivers exceptional performance and usability, with the outstanding environmental and economic impact that comes with driving a hybrid. The Ioniq Hybrid uses a self-charging hybrid powertrain that consists of a 1.6-litre GDi engine and a high torque, high-efficiency electric motor. The electric motor, which is powered by a 1.5 kWh Lithium-ion battery, helps the fuel engine with acceleration and when travelling at higher speeds. The result? Improved fuel economy and lower CO2 emissions with no compromise on performance.
The new Ioniq Hybrid can accelerate from 0-60mph in 11.1 seconds and has a combined fuel economy of 62 mpg. You can control the performance of the Ioniq with two available driver modes that help maximise the efficiency of the engine or tune-up performance. The Ioniq comes with two driving modes: Normal and Sport. In Normal mode, the engine is able to maximise its regenerative capacity to recharge the battery, a process that involves capturing energy from braking and turning it into electricity to charge the battery. Sport mode engages the 1.6-litre GDi petrol hybrid engine with paddle-shift gear changing for optimal performance off the line.
New Hyundai Ioniq Hybrid Deals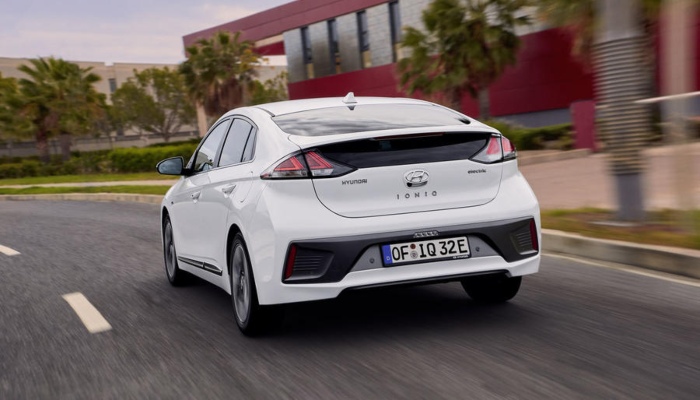 Discover the latest deals on the new Hyundai Ioniq Hybrid at Stoneacre, from competitive cash price deals to flexible finance plans that help make purchasing a new Hyundai be more affordable. Our Hyundai Ioniq Hybrid finance deals include 0% finance offers on all models, with PCP and HP deals available at your discretion. We also have to hand a range of popular manufacturer promotions, which you can enquire about in-branch with our helpful Hyundai specialists.
Are you looking to get ahead on purchasing a Hyundai through finance? Stoneacre offers a part-exchange valuation, where can value your old, used car and put the value towards a deposit or Hyundai Ioniq price. We have a free online valuation tool, which you can use now to get an idea of what you could save.
We support you through the whole buying process here at Stoneacre and can even offer a range of aftersales Hyundai service plans. Our team are happy to discuss your options for the new Hyundai Ioniq Hybrid at Stoneacre, so feel free to contact us today and speak with our expert team. We can talk through everything from finance plans, to part exchanges, to Hyundai servicing at our approved service centres.
Finance a New Hyundai Ioniq Hybrid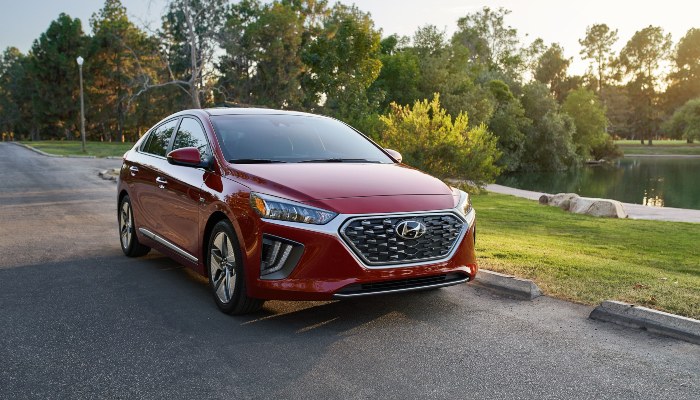 When you buy a new Hyundai Ioniq Hybrid with Stoneacre, we can offer you a range of flexible finance deals, which we can fully cater to you. If you have a specific monthly budget in mind, why not can call our friendly finance team over the phone, and we can help you construct a finance plan to suit your circumstances. We offer Hyundai Ioniq PCP deals as well as HP deals, allowing you to pay off your car through affordable monthly payments. We can set a term of your choosing and even offer interest-free finance on some models!
Did you know that we also offer car finance deals for customers on bad credit? Here at Stoneacre, we understand the importance of owning a car. As such, we work alongside a variety of lenders to offer specialised finance and Hyundai Ioniq deals including 0% car finance and finance on bad credit. Check your eligibility online or talk with our over-the-phone team to find out more about which new Hyundai Ioniq Hybrid cars are available on finance.
Representative Example
Amount of credit
£14,972.95
Total Charge for credit
£3,449.86
Option fee (included in total charge for credit)
£399.00
Total Amount Payable (Incl. Deposit)
£20,001.59
We are a credit broker and a lender. We can introduce you to a limited number of lenders and their finance products. We will provide details of products available, but no advice or recommendation will be made. You must decide whether the finance product is right for you. We do not charge you a fee for our services. Lenders may pay commission to us (either a fixed fee or a fixed percentage of the amount you borrow) for introducing you to them, this may be calculated in reference to a variable factor such as (but not limited to) the vehicle age, your credit score and the amount you are borrowing. Different lenders may pay different commissions for such introductions.