Toyota has revealed its first all-electric SUV, the Toyota bZ4X.
The bZ4X Brings Electrification to Toyota
Although Toyota has been at the fore of hybrid motoring for over twenty years, it has been slower than other brands to adjust to all-electric motoring. As such, the bZ4X marks a jump in Toyota's evolution and an exciting time for the brand.
To mark its arrival in the fully electric motoring sphere, Toyota has named the new model with consideration. The 'bZ' aspect of the name stands for Beyond Zero, which is Toyota's vision statement for carbon-neutral motoring. The 'X' denotes the crossover body style of the car, while the '4' marks it out as a medium-size SUV which although not confirmed, is likely to be similar to Toyota's bestselling Rav4 model.
Pioneering Platform
Like many manufacturers, Toyota was keen to get the platform right for its all-electric models. With battery placement key to the performance and usability of electric cars. So Toyota teamed up with Subaru to develop the e-TNGA all-electric platform.
In the bZ4X model, the platform enables four-wheel drive that offers genuine off-road capabilities in all-road situations to give the driver greater confidence behind the wheel.
Although there is currently little information on battery offerings and range, Toyota has indicated the car is likely to incorporate solar technology, likely through roof-mounted panels, which will help boost power seamlessly during the day.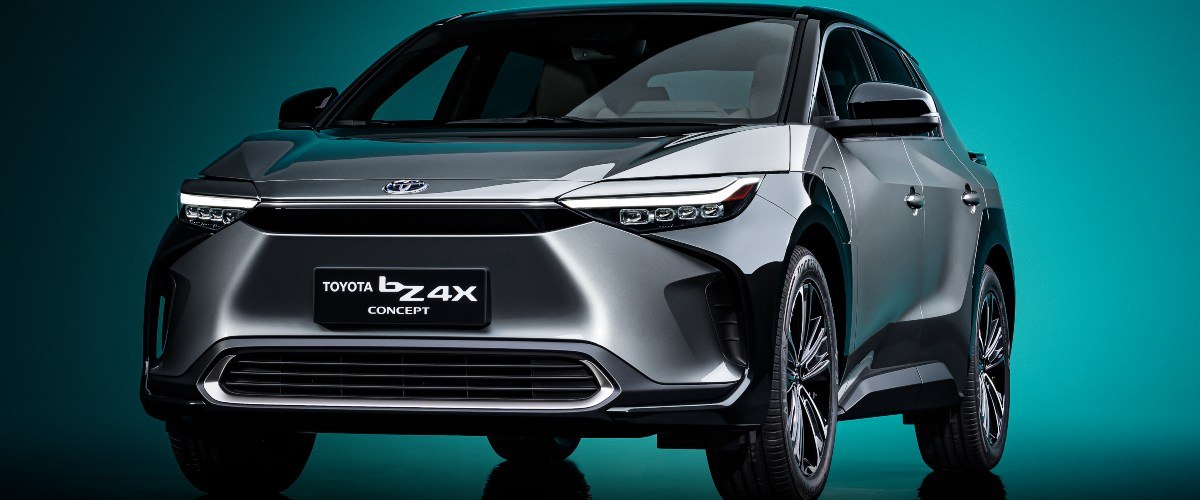 Signature Styling
The unique look of the bZ4X concept builds upon the design language seen in Toyota's recent hybrid models, with more angular lines and sharp stylised features. The cab-rearward design profile creates an elongated while sharp creases create a dramatic and commanding presence.
Various materials have been used, including distinctive glossy plastics at the wheel arch surrounds to help create a mesmerising aesthetic that draws the eye.
As an all-electric model, Toyota has been able to do away with the traditional grille and instead created a commanding front face through lighting signatures and angular lines. Together the ultra-thin daytime running lights and quadruple-lens headlights help create a unique 'hammerhead' look.
A narrow black plastic strip offers further definition while also covering sensors for the next-generation autonomous driving functions.
Meanwhile, a light bar framed by louvred-effect taillights runs across the rear, which helps define the sculpted backend.

A Comforting Cabin
Inside, the bZ4X makes a departure from existing Toyota models in its approach. Firstly, although dimensions are yet to be revealed, Toyota has said the rear legroom is likely to be similar to the 900mm offered in the Lexus LS, giving passengers considerably more room to sit back and relax.
Chief Engineer Koji Toyoshima said of the new design "Our target customer is someone who places importance on time spent together with family and friends. When they want to enjoy such times, Toyota bZ4X Concept can serve as a hub for them."
However, despite improvements to comfort, it is the new dash design that is instantly noticeable. A small instrument panel, a neatly integrated widescreen infotainment system, and the use of plush fabric on the main fascia create a comfortable yet stylish vibe.
Then there is the steering wheel. With steer-by-wire technology, drivers don't need to move their hands around the wheel when making a turn. As a result, Toyota has kitted the bZ4X with a new-look steering wheel which looks more like something out of a race car than your standard circular wheel.
Toyota Takes on Electric
The Toyota bZ4X is just the beginning for Toyota as it plans to release seven EVs between now and 2025. These will make up nearly half of its 15-model all-electric push.
It is hardly surprising given Toyota's longstanding commitment to improving emission standards. The brand has sold over 17 million electrified vehicles, which it says equates to more than 140 million tonnes of CO2 saved. Plus, from 2010 to 2019, it reduced its fleet emission by 22 per cent.
Arguably full electrification is the next sensible step, and Toyota can bring its wealth of experience to ensure it remains at the fore of electric motoring as it evolves.
Find Out More About the Toyota bZ4X
Although there is no official date for the release of the bZ4X yet, it is expected to arrive in the UK in summer 2022. So if you want to keep up to date with what is happening and be the first to know when it does arrive, register your interest with your local Stoneacre Toyota branch.