After a successful reception earlier this year of its urban crossover concept, Toyota has announced that the Aygo X will be available by the end of Spring 2022.
Pronounced as the Aygo 'Cross', this all-new city car is promised to bring something truly unique to the A-Segment market with its compact SUV-esque styling.
Designed for a Crossover Lifestyle
Many of the original designs from the Aygo X Concept were retained in the final design; however, some of the defining features from the Aygo are evident, such as the retractable canvas roof and one-piece glass bootlid.
Meanwhile, the all-new city car Aygo X embraces styling cues from a typical SUV by adding thick plastic wheel-arch cladding and a prominent front skidplate as well as gaining width, length and height to its chassis.
Designed 'to meet the demands of urban and suburban life', Toyota also developed a condensed version of the TNGA-B platform for the all-new Aygo X, the same architecture that is used for Japanese manufacturer's other brand: the Yaris and its Cross sibling.
SUV-Esque Style
The car boasts an additional 235mm than the current Aygo at 3,700 mm long, whilst the wheelbase has an additional 90mm.
True to its SUV purpose, the all-new Aygo X adds 125mm to its width, along with an extra 45mm to the shoulder room for those up in the front. The seating position has been lifted up by 55mm, combined with a roofline that sits 50mm taller than the Aygo's; Toyota claims that this, as well as more sharply angled A-pillars, will give the driver improved visibility by 10%.
The robust body design is built with a 'go-anywhere attitude' as it features an increased ground clearance and larger wheels – similar to SUVs.
Although a crossover, this Aygo X is still a city car, which Toyota states is "designed for the narrowest streets". By demonstrating its 9.4-metre turning circle ability, it is set to be one of the tightest on the market.
The weakest spot in the Aygo was the size of the boot, so the all-new Aygo X is utilising the additional length on the wheelbase with a new boot capacity of 231 litres (a whole 60 litres more than its older sibling).

The Aygo X has some bold colour options, all combined with black on the b-pillars, roof, and rear section. Toyota has given each colour their own personality to make the experience unique for their drivers:
Cardamom: Impression of style and elegance, delivering a refined and understated aesthetic with a green low saturation effect. 
Chilli: A fiery premium colour that catches the eye with a warm and deep colour reflection, thanks to the inclusion of a fine sprinkling of blue metallic flakes in the red paint. 
Ginger: A sophisticated and enduring shade that hints at a spirit of adventure and warm complexity in its neutral hue.
Juniper: Youthful with a touch of masculinity; a blue created specifically for the model to give it an icy coolness with subtle reddish undertones. 
Toyota also announced there will be a spicier Limited edition Aygo X in Cardamom available for the first six months of sales, featuring additional matte Mandarina accents in orange throughout the car with accent stripes on the exterior and the bespoke 18" matte-black alloy wheels. The Mandarina theme is also carried through the interior panels and seat fabric design.
Applaudable Performance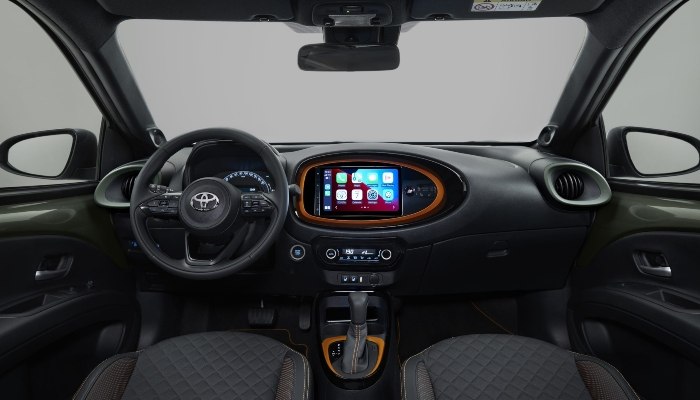 Not only does the Aygo X look great, but it has been designed to maximise economical performance from the ground up, by having a lower body-in-white weight to help deliver excellent fuel economy.
Furthermore, the Aygo X will only powered be by a conventional petrol engine which is a development of Toyota's 1KR-FE 1.0-litre three-cylinder unit, able to produce 71bhp and 69lb ft of torque.
It is paired with either a five-speed manual or CVT automatic gearbox and is capable of up to 60mpg while emitting just 107g/km of CO2. This was done in order to be more affordable for drivers.
Technology is key throughout, with a large focus on the 9-inch high definition touchscreen display that features the Toyota Smart Connect infotainment with Android Auto and Apple CarPlay connectivity– keeping drivers connected to the world.
Driver Safety is Essential
The latest Toyota Safety Sense employs a combination of monocular camera sensors and millimetre-wave radar, Pre-Collision System (PCS) with vehicle detection now operating at higher speeds.
New to the Aygo X are day and night Pedestrian Detection, daytime Cyclist Detection, Collision Mitigation Support, Intelligent Adaptive Cruise Control, Lane Trace Assist and Emergency Steering Assist.
---
The Toyota Aygo X, designed and produced in Europe, will be available in the UK market starting from spring 2022. Pricing will be announced closer to the market launch, with the Aygo X expected to be cheaper than the Yaris, so make sure to keep your eyes peeled here for more info!