A striking new Kia Sportage has been revealed, with a complete overhaul inside and out for the mid-sized SUV for its fifth generation.
To be built exclusively in Slovakia, this all-new Sportage will come to market later in 2021 and will have its own Europe-specific variant for the first time in its near 30 years in production.
While that version will have slightly different styling in places and a bespoke chassis tune, the upcoming Sportage will be very similar to the pictures you see on this page.
Certain visual cues on this new model have been taken from the incoming EV6, with this Sportage being the second Kia built after the fully-electric hatchback under the 'Opposites United' ethos. This much is evident when looking at the likes of the distinctive 'boomerang' headlights, curved bootlid and prominent spoiler.
Kia design boss, Karim Habib, commented: "Reinventing the Sportage gave our talented design teams a tremendous opportunity to do something new; to take inspiration from the recent brand relaunch and introduction of EV6 to inspire customers through modern and innovative SUV design.
"With the all-new Sportage, we didn't simply want to take one step forward but instead move on to a different level in the SUV class."
Elsewhere, the new Sportage is available for the first time with a contrasting roof, while a new X-Line trim will bring about rugged body styling and a curved roof rack – though we are yet to get confirmation whether this model will head to the UK.
Efforts for the interior of the new Sportage are also evident when taking in the curved digital display, a new touchscreen infotainment display and a selection of 'soft-touch' haptic switches on a smart gloss-finished centre console.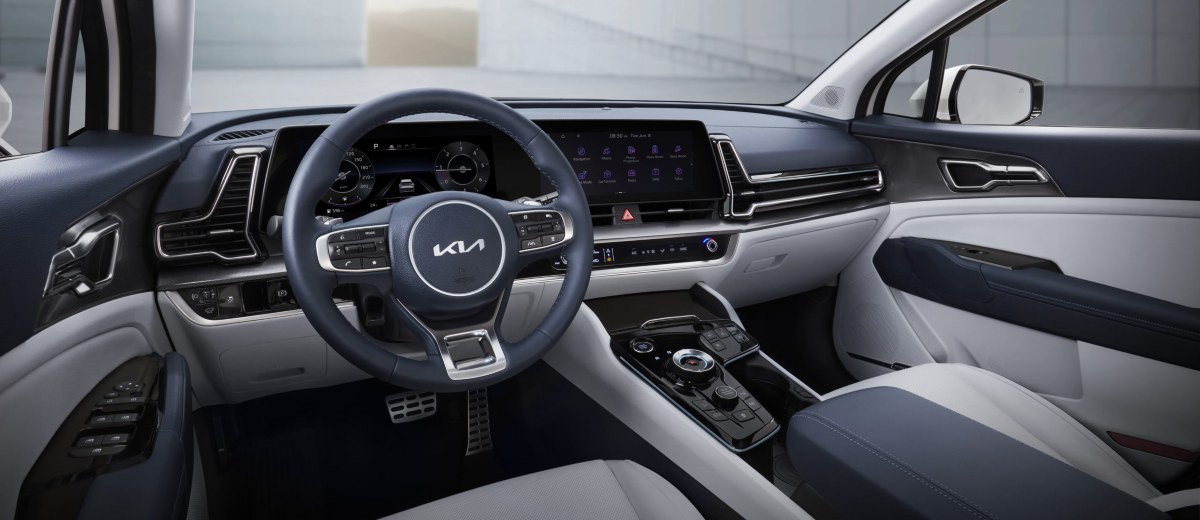 We are yet to get any information on what engines will power this fifth generation Sportage, though we can be confident that a range of hybrid arrangements will be available, especially when looking at its counterpart at Hyundai, the Tucson.
Until then, we'll keep you up to date on any new information that comes our way on this spectacular new Kia Sportage – so watch this space.