Mobility retailers up and down the UK have been recognised for providing outstanding levels of customer service in the Motability Scheme's annual awards, including Stoneacre Wallasey.
The prize is part of a programme of awards run by Motability Operations, to recognise and reward outstanding customer service provided by local Motability dealerships.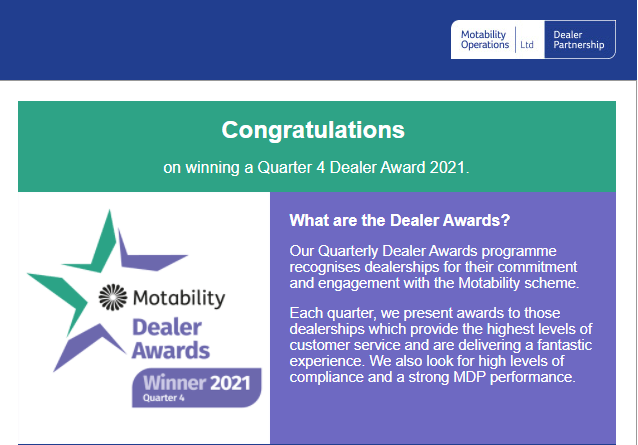 Stoneacre Wallasey was named the winner of the Motability Dealer Award, providing reassurance to customers they will receive top quality service.
The Dealer Awards programme is designed to reward best practices and ensure all Motability customers receive exemplary customer experience across the Motability Scheme's national dealer network. The Awards are judged on how a dealer delivers the Scheme to customers, which is assessed by customer feedback and reviews of their performance.
James Horne, Dealer Partner Relationship Manager, at Motability Operations Ltd, commented:
"The focus of these awards is to thank our dealer partners for providing a consistently positive customer service experience, after all, they are often the first point of contact for our customers. It's important for us to recognise our dealer partners who go above and beyond when representing the Motability Scheme and highlight those who are setting a great example of how to do it well, like Stoneacre Wallasey. Many congratulations to them on their award."
Celebrating their Motability Dealer Award win, Mike Howe from Stoneacre Wallasey, said: "We are incredibly proud to win this Motability Dealer Award and are pleased to be recognised for our dedication to working with the Scheme, which is renowned for its high standards. We look forward to continuing our award-winning approach to business and customer service and to welcoming many more Motability customers through our doors."
Stoneacre Wallasey is dedicated to selling top quality cars. Our vehicle advisors at Wallasey have expert knowledge and experience when it comes to supplying customers with complete Motability support. Whether it is fitting wheelchair access to a Sportage or hand controls to a Ceed, we have been there before and are here to help, so give the branch a call or navigate the website.
The Motability Scheme is the UK's leading car scheme for disabled people. It provides affordable, convenient, worry-free motoring to over 630,000 disabled customers and their families.
To access the Scheme, customers must be a recipient of the Higher Rate Mobility Component of the Disability Living Allowance, the Enhanced Rate of the Mobility Component of Personal Independence Payment or the War Pensioners' Mobility Supplement or the Armed Forces Independence Payment. Once confirmed as eligible, customers transfer their mobility allowance to Motability Operations Ltd to lease a car, scooter or powered wheelchair.
To find out more about the benefits of Motability, check out our blog below.
At Stoneacre we have the latest Motability deals available on cars from for than 20 manufacturers, including nil advance payment options on Motability cars across the range. For more information, visit our dedicated Motability page.