Highlighting the commitment to its Silver Membership with the Automotive 30% Club, Stoneacre Motor Group has promoted long-time employee Kelly Scott to Service Manager at its Vauxhall Blackburn site.
Since Stoneacre has set an agenda to offer more equal opportunities throughout the departments and branches, Managing Director Shaun Foweather joined the Automotive 30% Club earlier this year. The Automotive 30% Club aims to achieve a better gender balance within the automotive industry and to fill at least 30% of key leadership positions in the member organisations with women by 2030.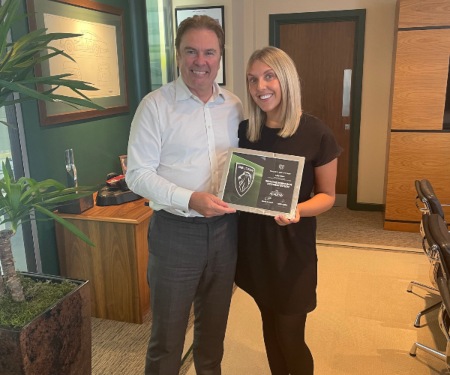 These new visions and goals for Stoneacre have initiated Mr Foweather and other members of the company to set up quarterly 'Women in the Motor Trade' meetings with key female members of the team. The meetings have included discussions on implementing plans to expand the opportunities offered to women at Stoneacre to progress into more senior roles – improving the gender balance in the workplace.
Getting the ball in motion with our new intentions, we are proud to announce that Kelly Scott (as pictured) is the new Service Manager for our Vauxhall Blackburn site.
Kelly has worked for Stoneacre for 12 years, starting her career as an Apprentice Service Advisor at the age of 16 in 2010, and began working her way up through the department. Through her dedication to the company, Kelly has also recently graduated from The Performance Academy -Stellantis's accredited automotive academy – as a qualified Service Manager.
Stellantis, one of the largest automotive groups which incorporates brands such as Peugeot, Vauxhall and Fiat to name a few, offers an apprenticeship programme that can be conducted online. The core responsibility of the programme is to deliver high-quality training to enable apprentices to achieve their career aspirations and appropriate brand and professional skills, behaviours, and competencies.
After qualifying from the apprenticeship whilst at Stoneacre's Peugeot Wigan branch, Kelly has now moved onto the Vauxhall Blackburn site to begin the next step of her career as its Service Manager.
Speaking on the matter, Gerry George, Aftersales Director for Stoneacre, commented: "Kelly is a fine example of the Stoneacre philosophy of recognising and nurturing talent with our focus on promoting from within. I would like to congratulate Kelly on her recent achievement and I am sure that she will continue to be an asset to the group."
We can't wait to see Kelly thrive in her new role, and wish her many more successful years ahead!
---
Representative example: £19,315.06 repayable over 50 months. 50 monthly payments of £420.70. Deposit of £1,706.42. Amount of credit £17,608.64. Representative 9.85% APR. Fixed rate per annum 4.67%. Option Fee £399.00. Cost of Credit £3,825.35. Total amount payable (incl Deposit) is £21,433.99.