Already making ripples in the hot hatch market the next in our line-up of our favourite affordable performance cars is the:
Hyundai i30N
Vital Statistics:
– 2.0-litre T-GDi turbocharged 4-cylinder engine
– 6-speed manual transmission
– 0-62mph in 6.4 seconds
– Top Speed 155mph
– Approximately 40.4mpg
– 159g/km of CO2
– 18" and 19" wheels (i30N and i30N Performance respectively)
Awards:
– WhatCar? Best Hot Hatch 2018.
– Autocar awards Game Changer status 2018
The i30N is described by Hyundai as 'born on the track and designed for driving fun'.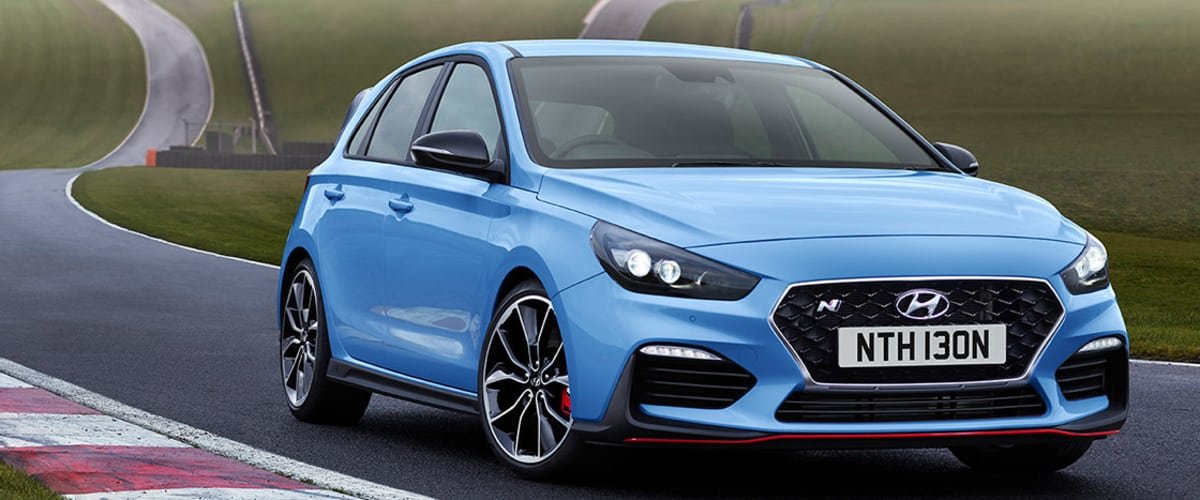 A newcomer to the hot hatch market, the Hyundai i30N is making its mark within a vastly competitive market and has already won a handful of awards from car industry bigwigs since its launch. Whilst the i30N has yet to prove its reliability, what is for certain is that Hyundai has stepped into the performance division at full throttle, with full commitment to their vision of an 'N' performance brand.
The i30N was developed at the Namyang R&D Centre in Korea however it was on the racetrack, the world-renowned Nürburging track to be precise, where the new i30N was honed and finely-tuned. This has ensured it offers customers everything necessary for exceptional performance as well as providing day-to-day driveability, functionality and comfort.
The Hyundai i30N is available as standard or as an uprated i30N Performance model. Both utilise the same two-litre turbocharged engine but are tuned to offer 247bhp and 271bhp respectively. 0-62mph can be reached in 6.4 seconds and the 155mph top speed ensures the i30N puts in a commendable hot hatch performance on the track.
Hyundai has avoided over-complicating the i30N instead focusing on simple components that add to the thrill of the drive rather than taking away from it. For example, an automatic transmission is not an option, you only get a six-speed manual transmission gearbox, which allows the driver to stay in full control.
There's also a reassuringly circular steering wheel offering responsive and intuitive handling. Plus Hyundai has stuck with a manual handbrake, an essential addition for a car designed for the track. However that's not all, they have also kept performance settings refreshing simply allowing them to be individually configured; thus enabling you to soften the suspension whilst still being able to enjoy a more responsive engine.
Where Hyundai has added in sophisticated technological advances they work in harmony with the car. For example, the advanced electronic damper systems provide outstanding ride quality and handling through corners, enabling the i30N to do things many cars can't even contemplate.
However nobody buys a hot hatch based on performance alone, much consideration is also given to aesthetic appeal and in this respect, the i30N does not disappoint. The chunkier front grille, stylish twin exhaust, red brake callipers and red detailing create a more aggressive style that is instantly distinguishable. Plus the specifically developed Pirelli P-Zero tyres add style as well as substance.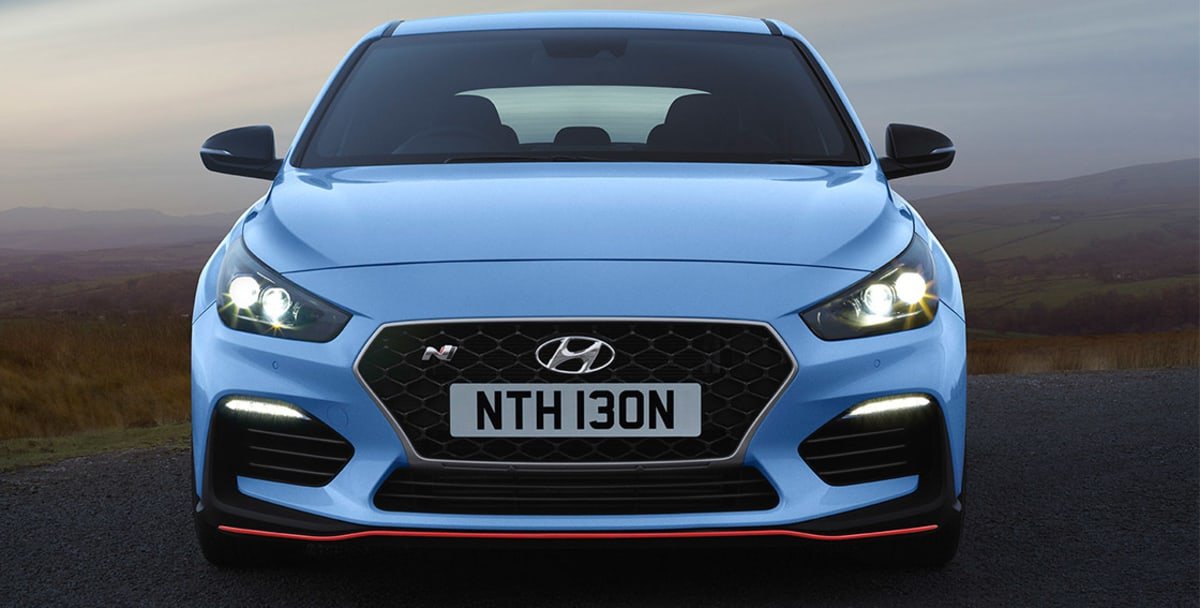 Inside the i30N you get a terrific driving position that gives you an excellent view of the road ahead. Plus with plenty of height and reach adjustment available for the steering wheel finding your ideal position behind the wheel shouldn't be a problem. Plus you can sit back and relax in total comfort in the i30N's sports seats that have been specially designed to increase support when traversing into corners. In the Performance model, the seats are upgraded to leather and come with electrically operated lumbar adjustment and memory recall.
Inside the i30N there is plenty of head and legroom up front for the driver and passenger. Plus as both the i30N and i30N Performance are only available as five-door models you're rear passengers won't have a problem piling into the back seats. Boot space is adequate but not generous, but then who's buying a hot hatch for its cavernous boot?
The i30N has received an impressive five-star rating from Euro NCAP. Features such as auto emergency braking, driver fatigue monitoring, speed limit display and lane departure warning with lane assist have helped it to achieve this top mark rating.
The Hyundai i30N is punchy and exciting, but not quite to the adrenaline-inducing levels of the Honda Civic or the Ford RS. However what it lacks in pure power it more than makes up in creature comforts and drive experience. The eight-inch touchscreen infotainment system has an inbuilt sat-nav, with smartphone mirroring compatible with both Apple CarPlay and Android Auto and online connectivity.
Additional features include the likes of keyless entry, automatic lights and wipers, LED headlights, privacy glass, adaptive cruise control, front and rear parking sensors, rear-view camera and wireless phone charging for added convenience whilst on the go. All of this adds practicality in abundance to a car that's undeniably fun to drive and sure to put a smile on your face.
With such an impressive first venture into the performance car market, our only question is what's next from Hyundai's N division?