Nisan has released details on its first all-electric coupe crossover, the new Nissan Ariya. Welcoming a new generation of motoring we take a look at what the Nissan Ariya can offer motorists.
All-electric power
Nissan has impressive precedence in all-electric motoring thanks to its hugely successful all-electric Nissan Leaf. So the new Nissan Ariya has a lot to live up to when it comes to power delivery and range.
Nissan is offering the Ariya for sale in five different versions in the UK, with single-motor rear-wheel-drive and twin-motor four-wheel-drive powertrains and the choice of 63kWh and 87kWh batteries.
The 63kWh single-motor model offers 215bhp and a usable 223-mile range. While the 87kWh single-motor variant comes with 239bhp and a 310-mile range. Both produce 221lb ft, are capable of 0-62mph in around 7.5 seconds and have a top speed of 99mph.

The twin-motor powertrain uses a new e-4orce four-wheel-drive which is said to have come from the GT-R supercar system. The 63kWh e-4orce model offers 275bhp and 413lb ft with a 211-mile range, with the 87kWh offering 302bhp, 442lb ft and 285-mile range.
There is also a range-topping e-4orce Performance model the same 87kWh battery offers 389bhp, 442lb ft and a still practical 248-mile range. It manages 0-62mph in just 5.1 seconds and like the other two e-4orce models has a top speed of 124mph.
No matter which model you choose, you will benefit from regenerative braking e-Pedal which helps charge the model on the move. It also helps to minimise vehicle pitch and helps to smooth out your journey.
Driving your way
The new Nissan Ariya comes with standard, sport and eco-driving modes, allowing you to change the way you drive depending on your circumstances. The four-wheel-drive e-4orce also offers a snow mode offering even more versatility to the model.
Style and space
The new Nissan Ariya delivers impressive on-board space and comfort while still managing to have an undeniable appeal. It's a car you can buy with your head and your heart.
Built on an all-new Alliance-developed EV platform, it is the ultimate expression of Nissan Intelligent Mobility combining Intelligent power, Intelligent drive and Intelligent integration. It measures up at 4,595mm long, 1,850mm wide, 1660mm tall and has a 2,775mm wheelbase.
A new shield replaces the traditional front grille and incorporates a 3-D Japanese Kumiko pattern under its smooth surface. It helps to protect the sophisticated sensing equipment without disrupting the aesthetic of the vehicle.
Nissan's brand new logo features prominently at the centre of the shield and beams with crystal clear definition. It offers a new sense of style while indicating the electric power of this new model.
When viewed from the side, the sleek low roofline not only helps improve the aerodynamics of the car but also gives it a striking silhouette. Add to this sporty 19 or 20" alloy wheels, and the new Ariya has a fully dynamic stance.

Distinctive finishes
Setting itself apart, the Nissan Ariya is available in a variety of two-tone colour combinations, with each featuring a sporty black roof. The brands signature colour 'Akatsuki' is a two-tone copper look which Nissan claim mimics the moment just before dawn when a new day is on the horizon.
Impressive interior Comfort
Inside offers a unique lounge-like experience. Having one of the most spacious cabins in its class, it invites the driver and any passengers to relax on every journey.
Clever use of space has enabled Nissan to make the most of every nook. Putting the climate control system under the hood opens up the whole length of the cabin. While positioning the battery at the base of the chassis has resulted in a flat open floor which improves legroom and allows for easy interaction between front and rear passengers.

Next-level connectivity
The minimalist dash blends seamlessly with the shape of the cabin. It's devoid of the traditional buttons and switches. Even the climate control is integrated into the centre dash for a seamless sophisticated finish.
The new voice control system enhances access to the car's functions while a dedicated smartphone app allows you to check battery status and alter climate settings remotely.
The Ariya also benefits from built-in 4G connectivity allowing over-the-air updates, so you never miss out.

Adaptable charging
Charging varies depending on the model you opt for. The new Nissan Ariya 63kWh model comes with a 7.4kW home charger allowing you to top-up charge overnight. The 87kWh model meanwhile features a 22kW three-phase charger for faster charging. Plus compatibility with 130kW rapid-chargers often found on motorways ensures it is ready for longer-distance drives.
Taking care of every moment of your journey
Taking your safety seriously, the Ariya comes with an enhanced version of the Nissan Leaf's ProPilot system incorporating functions like lane-keeping assistance and adaptive cruise control. While the Safety Shield system offers multiple active safety systems as standard.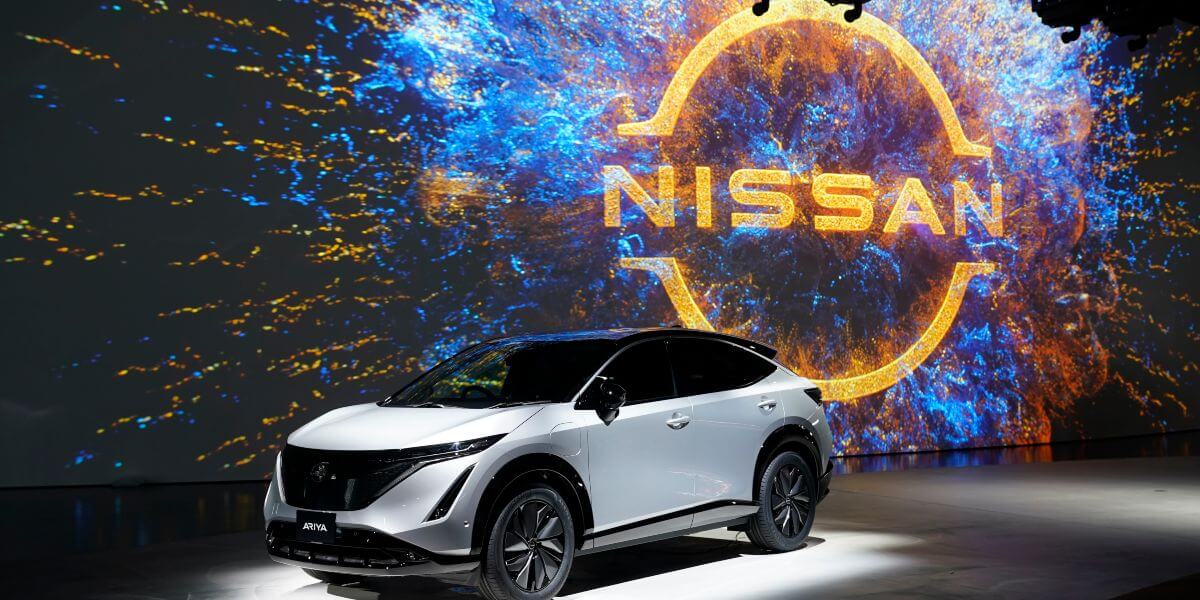 Accessing a new Nissan Ariya
The Nissan Ariya is expected to go on sale in the UK early next year with more details on pricing and full specifications to come soon. To be the first in the know, you can register your interest now with your local Stoneacre Nissan branch.