Hyundai has released details on the Ioniq 5, the first model of its all-electric Ioniq sub-brand. With two battery options, four power outputs, the choice of rear or four-wheel-drive and a range of up to 292 miles, it offers a host of new possibilities.
A New Direction
The Ioniq name may seem familiar, as Hyundai has used it on a single-vehicle. However, Hyundai has decided to take it in a new direction, using it to spearhead a new generation of electric models to take on the likes of Tesla and Volkswagen I.D. electric brand.
The hatchback Ioniq 5 is the first model of this exciting new vision, and over the coming years, Ioniq plans to release a saloon, an SUV and several other smaller models.
All-electric Power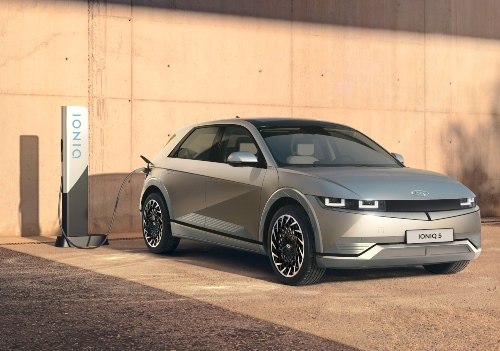 Hyundai has a great base in electric motoring with its hugely successful Hyundai Ioniq EV and Hyundai Kona Electric. So it is no surprise, the Ioniq 5 will take some of the know-how. However, it will also add a host of cutting-edge technology, much of which has not been available at the Ioniq 5's price point.
For example, the Ioniq 5 features an 800V battery system capable of super-fast charging.
The '5' can receive charging feeds of up to 220kW, which can boost the battery from 10 to 80 per cent in just 18 minutes. In real-terms, Hyundai says it means consumers can add approximately 62 miles range in just five minutes.
This super-fast charging is a feature that has until now only been available on high-end supercar electric cars.
Multiple Power Options
With two battery options and four power outputs, there is plenty of ways to get the right model for your driving requirements.
The entry point version will come with a 58kWh battery with a single rear motor capable of producing 168bhp. With 350Nm torque, you can get from 0-62mph in 8.5 seconds.
Meanwhile, the larger 72.6kWh battery will come with a 215bhp motor. It produces the same torque but is capable of 0-62mph in just 7.4 seconds.
The Ioniq 5 will also come with the option of a four-wheel-drive which adds additional power. The 58kWh battery will come with a 161bhp rear motor and a 71bhp front motor for 605Nm torque and 0-62mph in 6.1 seconds.
The flagship 72.6kWh battery will feature a 208bhp rear motor and a 94bhp front motor. Again it produces the same torque as the smaller battery but shaves nearly a second off the 0-62mph, at 5.2 seconds.

Bi-Directional Charging
The Hyundai Ioniq 5 features bi-directional charging functionality, which means the car can be charged and can be used to charge other electrical products.
It means you could plug in and charge your laptop via the conventional 200V power socket. Another potential would be using a Type 2 cable to provide electricity to another EV.
What About Range?
Currently, Hyundai has yet to release official WLTP testing figures on its range. However, we expect the car will be capable of 292-miles on a single charge.
The predicted range is plenty for most people's daily commute. Plus, thanks to the super-fast charging capability travelling further afield is likely to be hassle-free.
Hyundai will also offer a solar-power roof as an option. It can produce up to 200W, so in sunny regions, (we're talking southern Europe, not drizzly Britain) Hyundai claim it could add 1,240 miles of electricity per year.

Hyundai's E-GMP Platform
The Ioniq 5 will be built on Hyundai's new E-GMP platform. With a long wheelbase, the Ioniq 5 will be a fairly lengthy hatchback at 4.6 metres long. However, as the batteries are housed below the floor, the Ioniq 5 sits at a similar height to many crossovers, so doesn't appear overly long.
It will feature MacPherson struts at the front and a multi-link set-up at the rear for enhanced stability and comfort.
A Futuristic Look
The Ioniq 5 takes design inspiration from Hyundai's seventies show car called the Pony Coupe, which heavily influenced the more recent distinctive 45 concept model seen at the 2019 Frankfurt Motor Show.
With striking clean lines, a clamshell bonnet, and flush door handles, it has a distinctly sleek look. It also features the 45 concept's ultra-slim headlights.
Hyundai has replaced the conventional front grille, which is not essential on an EV, with a sensor area that houses the hardware for the car's driving assistance systems.
So while the Ioniq 5 is a futuristic model, it has a distinctly retro feel. In this way, it is similar to how other manufacturers are tackling new electric vehicle (EV) design, for example, the Honda-e.
The Hyundai Ioniq 5 Interior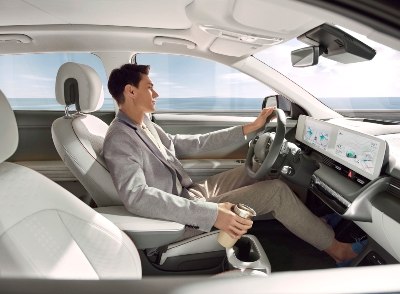 A Streamlined Dash
The Ioniq 5 sees a huge leap forward in interior quality for Hyundai. The conventional instrument panel has been replaced with a modern 12.25-inch digital display which sits next to a similarly sized advanced infotainment system.
It also features an augmented reality head-up-display that can project sat-nav instructions on the road ahead.
Adjustable Seating
Upfront, there is plenty of space for driver and passenger. Plus, as the console adjusts forward and back, it is easy to alter the set-up, so it works for you. Another novel feature is that the front seats fully recline, which means you could take a nap while you top up your battery charge.
The rear passengers meanwhile benefit from slim front-seat backrests, which boost legroom. Plus, as there is no transmission tunnel, rear passengers get a fully flat floor, so there is no awkward straddling your feet.
The rear seats also move back and forward, so you can prioritise passenger or boot space as needed.
Spacious Load Capacity
The boot is incredibly practical offering a whopping 531-litres of space, well above the norms of the hatchback class. You can expand this to 1,591-litres when you fold the rear seats down.
The Hyundai Ioniq 5 also comes with a small storage area beneath the bonnet, ideal for storing charging cables. In front-wheel-drive models, it offers 57-litres of space, while in four-wheel-drive models, this is reduced just to 24-litres.

When to Expect the Hyundai Ioniq 5
The Hyundai Ioniq 5 will go on sale later this summer. Hyundai will launch it with a high-specification edition model called 'project 45'.
Why not register your interest to be the first to find out when the Ioniq 5 will land in your local Stoneacre Hyundai branch?