Hyundai has released details on the latest model to join its N line-up, the Hyundai i20N. The race-track capable hot hatch takes inspiration from Hyundai's successful i20 World Rally Championship Car to deliver more potent performance.
Greater Power
The new Hyundai i20N comes with a new 1.6-litre turbocharged four-cylinder petrol engine which is tuned for an incredible 201bhp and 203lb ft. So 0-62mph is possible in 6.7 seconds, while a top speed of 143mph is achievable for track-worthy performance.
Hyundai also claims the i20N has one of the best power-to-weight ratios in the class. For comparison's sake, the new i20N has 169bhp per tonne compared to just 156bhp per tonne in the 197bhp Fiesta ST.
The new i20N also comes with an uprated turbocharger and intercooler as well as a 350 bar fuel injection system. Meanwhile, the addition of Hyundai's Continuously Variable Valve Duration (CVVD) helps boost performance and fuel efficiency, compared to a traditional set-up.
The engine comes solely mated to a six-speed manual gearbox which has been 'refined and reinforced' for even sleeker performance. Hyundai also utilises rev-matching technology for smoother downshifts.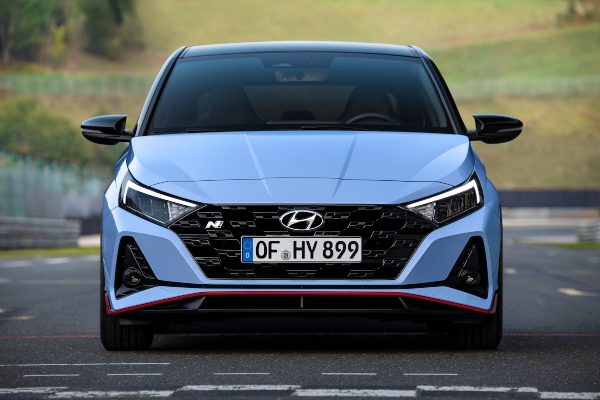 A Dynamic Build
Adding greater dynamism to the model, the new Hyundai i20N comes with numerous tweaks to ensure power and performance is prioritised. For example, you get the benefit of an uprated chassis with multiple redesigned components and geometry changes to improve stability.
There is also the option of mechanical limited-slip differential which allows the front wheels to make the most of all the i20N's power. Meanwhile, specially calibrated steering and larger front brakes, enable you to enjoy better control.
Other motorsport-inspired features included on the Hyundai i20N include left-foot braking calibration, a brake pad wear indicator and specially designed Pirelli P Zero tyres.
Drive Your Way
With five different driving modes, the i20N allows you to adjust settings depending on driving preferences. The inclusion of a custom setting allows drivers to adjust engine response, stability control, transmission, steering and exhaust sound parameters.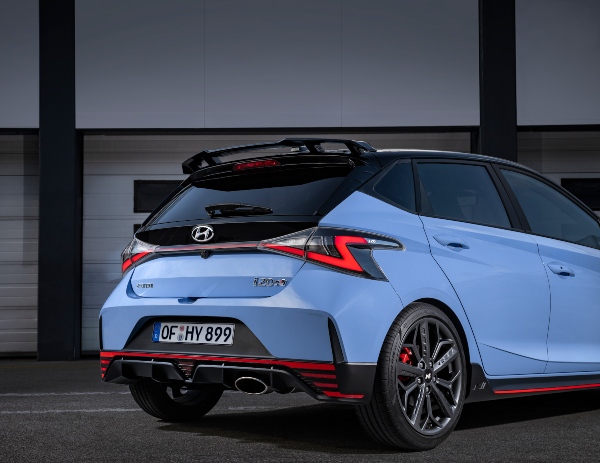 Sports Styling
On top of interior changes, the Hyundai i20N comes with an exterior style overhaul to mark it out as an N division product. For instance, the redesigned front bumper comes with larger intakes. On top of this, comes a red-accented lip spoiler, red detailing extending to the enlarged side skirts and N badging.
At the rear, a chunky faux rear diffuser and large single-exit exhaust create a dynamic looking backend. However, it is the downforce-boosting rear spoiler which is instantly noticeable and generates an energetic look. The i20N also sits 10mm lower than the regular i20, making the N model appear instantly sportier.
The new Hyundai i20N will be available in seven exterior colours, with matt grey wheels and N branded brake calipers.
A Refreshed Interior
Inside, the sportier style continues with new sports seats featuring integrated headrests. Meanwhile, N branding on the steering wheel, gearknob and pedals add further flavour to the cabin.
Although the interior trim will come in black, it features distinctive accents in Hyundai N's Performance striking blue colour.
When it comes to technology, the i20N will come comprehensively equipped with the functions you need. Specific 'N' distinctions include LED 'red zones' for the rev counter which vary according to the engine temperature.
Meanwhile, for added safety, Hyundai has equipped the i20N with its SmartSense system for a raft of driver assistance functions. So you get the benefit of the likes of automatic emergency braking with pedestrian detection, lane-keeping assistance and blindspot monitors.

Getting your new Hyundai i20N
The Hyundai i20N is set for release at the beginning of Spring 2021. To make sure you keep abreast of any developments in its impending release, register your interest with your local Stoneacre Hyundai branch.