If you're keen to benefit from hybrid power in a familiar form, then the Ford Fiesta and Puma are fantastic options. However, as Ford is keen to widen its appeal, it has recently announced both models will be available with an optional automatic transmission from the Spring.
"Adding the option of our seven-speed automatic transmission for EcoBoost Hybrid is another step in our mission to make electrification accessible to all our customers,"

said General Manager of Passenger Vehicle for Ford Europe, Roelant de Waard
What difference does an automatic make?
Automatic cars have been quickly growing in popularity over the past few years. They have become more mainstream across all kinds of makes and models, and now cost much less than when they were first introduced.
Automatic gearboxes offer a more hassle-free driving experience, with no need for the driver to worry about operating the clutch or changing gears. Automatic gearboxes can also offer efficiency gains as the car electronically gauges the optimal time to change gear.
With so much to offer driver's, it is no wonder Ford plans to introduce it as an option in two of its bestselling hybrid models.

A new option for the Ford Fiesta Hybrid and Ford Puma Hybrid
A new seven-speed automatic transmission will be available as an option in the EcoBoost 1.3-litre three-cylinder mild-hybrid powertrain Ford Fiesta and Ford Puma.
Ford says the new automatic with the mild-hybrid system improves in-gear acceleration, with the 123bhp Puma hybrid automatic gaining four per cent over the current non-hybrid model.
Meanwhile, the more powerful 153bhp Puma Hybrid automatic will benefit from acceleration gains, with 0-62mph capable in 8.7 seconds, which is around 0.2 seconds quicker.
Ford has designed the automatic gearbox to hold lower gears when in Sport mode, which allows the car to prioritise performance over fuel efficiency. Plus, the new transmission can perform triple downshifts when under heavy load, which will allow for faster overtaking and minimise the lag, common in automatics.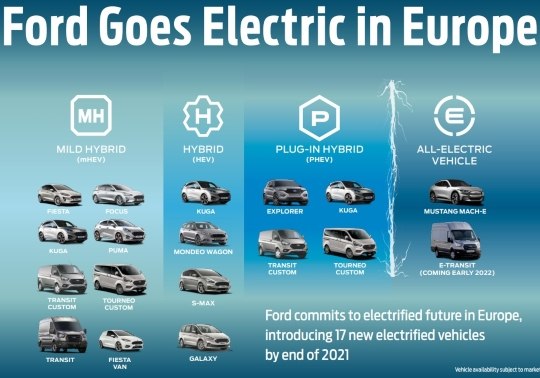 Better emissions
Many manufacturers are trying to lower their CO2 emissions wherever possible. As such, the new gearbox from Ford will lessen the CO2 emissions of both the Fiesta and Puma Hybrid models by around five per cent.
This reduction is possible thanks to the electrical assistance and added efficiency of an automatic transmission.
Although Ford is yet to release official figures, it is expected the 123bhp Fiesta EcoBoost Hybrid and 123bhp Puma EcoBoost Hybrid will return between 48.7 and 49.5mpg while producing 118–128g/km and 129–131g/km of CO2, respectively.
The slightly higher-powered 153bhp Puma EcoBoost Hybrid is expected to have a fuel economy figure of between 47.8 and 48.7mpg, with emissions ranging between 131–134g/km of CO2.
Control when you need it
Ford has a reputation for exceptional driveability, so the new transmission will come with manual paddles behind the steering wheel, which allows drivers to take back control of gear changes when necessary.
Additional Tech
The Ford Fiesta Hybrid and Ford Puma Hybrid will also be available with the option of adaptive cruise control with stop and go functionality.
Adaptive cruise with stop and go enables the cars to regulate independently in traffic, accelerating and braking with no driver input. It means the cars can slow to a complete halt in stood traffic.
Is an automatic for you?
Are you excited by the introduction of new automatic transmissions in two of Ford's bestselling Ford models? Or do you prefer the control of manual driving?
Leave us a comment below to let us know your thoughts.