The festive season has passed, and while it seems like we're reliving the same year all over again – just remember that every day is a fresh start to go again. Even though the semi-conductor shortages are causing a hold up on new cars, the car world isn't letting that stop them from bringing heaps of excitement to our lives with new models and facelifts.
From supercars to superminis, hybrids to hot hatchbacks, what's a better way to start the year than to look forward to what cars are to come!
January:
Aston Martin Valkyrie
For our supercar fans, the Aston Martin Valkyrie is coming this month. An Adrian Newey-designed hypercar that gets 1160bhp from a naturally aspirated 6.5-litre Cosworth V12, pretty hot right?
But that's not all – there's also an open-roof Spider Version and a track-only AMR Pro for those who have a deep pocket as this is essentially a Le Mans prototype.

Kia Sportage
The Kia Sportage is one of the best-selling in the UK and is nearly 30 years old. However, last year Kia announced that the fifth-generation Sportage will be equipped with a European variant for the first time.
The European variant will include a shorter wheelbase, whilst having a slightly different styling in places such as a rugged body styling to encompass the millimetres of space lost and a curved roof rack, as well as only being offered in mild-hybrid, hybrid and plug-in hybrid powertrains.

February:
Ford Fiesta
Although production had to stop causing the Fiesta to miss the top spot in the sales charts, the new facelift and enhanced kits could definitely restore its glory.
The Ford Fiesta will come with a revitalised front that marks the new Ford family face, featuring standard LED or optional matrix LED lights, with the addition of a hot ST variant to stand out amongst the crowd.
Ford Focus
Similar to its Fiesta cousin, the Ford Focus has a fresh face for 2022.
Changes to the car include new powertrain options, an upgraded infotainment system and a new design for the family hatch. Each version has been given a revised look, with a more rugged Ford Focus Active and compelling Ford Focus ST. A February to Focus on?

Lexus NX
Ready for its second generation, Lexus' best-seller coming with PHEV power for the NX. With evolutionary exterior styling, the interior has been overhauled with a big focus on technology courtesy of a large touchscreen infotainment display.
Additionally, the Lexus NX will become available as an MHEV shortly after.

Mazda CX-5
Meanwhile, for the Mazda CX-5, a new grille and headlights mark out the updated model, but more noteworthy news is the claimed improvements to ride comfort, safety and usability.
Riding on Mazda's Skyactiv-Vehicle Architecture, the new model will offer a dedicated off-road mode for its all-wheel-drive versions, by the use of Mi-Drive selectable drive modes.

March:
Cupra Born
Last year, CUPRA unveiled its first-ever fully electric model coming this year – the Cupra Born. Built on the Volkswagen Group's popular MEB platform, the Born shares much of its technical ability with the VW ID 3, but Cupra insists that the car brings its own 'stimulating design and instantaneous performance', as well as a distinctive 'dynamic character'.

Peugeot 308
The highly-anticipated third-generation Peugeot 308 is here. With promises to be on style and efficiency, the 308 is coming with two plug-in hybrids.
The new Peugeot 308 has a striking, but not surprising, look taking styling cues and design language from the recently facelifted Peugeot 3008.

Toyota GR86
Another for the speed fans, the Toyota GR86 comes with a larger, torquier 2.4-litre engine (naturally aspirated, to be expected) and extra agility capabilities.
Not only that, but the two-seater coupé looks amazing – safe to say we're excited to see this out on the road.

Vauxhall Astra
The all-new mk8 Vauxhall Astra has a front-to-rear makeover and will be the first version of the popular hatchback to date that offers drivers two electrified powertrains and plug-in hybrid power.
This is also Vauxhall's penultimate model to move across to the Stellantis developed platform; the company that confirmed in June they would be investing £100 million into Vauxhall's Ellesmere Port here in the UK.
Also joining the Astra family is the all-new variant – the Vauxhall Astra Sports Tourer Estate.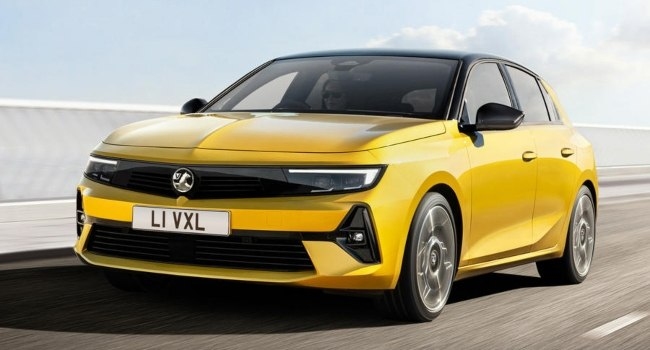 Volvo C40 Recharge
Volvo has released details on its next model, the Volvo C40, its first all-electric model. A crossover styled coupe, the C40 brings a sportier look to the distinctive Scandinavian look of Volvo.
The C40 will feature the same P8 powertrain as in the XC40 Recharge, with an electric motor positioned on each axle. This gives you the power to get from 0-62mph in just 4.9 seconds, although top speed is limited to 112mph for safety reasons.

April:
Aston Martin DBX S
The first SUV from Aston Martin, the DBX S is set to produce 542bhp and 516 lb ft.
Although not many details have been released, a hardcore 'S' version will be available with a V8 engine and no doubt suitably stiffened suspension and racier styling.
Aston Martin V12 Vantage
Coming to the roads is the smallest Aston Martin with their largest engine. A bittersweet moment for the Vantage, as this will be the last of its model. A fitting finale?

Citroen Ami
Controversially, we quite like the look of this unique little urban EV – even if it does only reach a maximum of 28mph.
Originally built purely for the domestic French market, Citroen responded to UK public pressure and decided to offer it here as well.
Toyota Aygo X
Pronounced as the Aygo 'Cross', the all-new city car is promised to bring something truly unique to the A-segment market with its compact SUV-esque styling.
Although a crossover, the Toyota Aygo X is still a city car, which Toyota states is "designed for the narrowest streets".

May:
Citroen C5 X
The Citroen C5 X is a brand new luxury crossover that will join Citroen's line-up this May 2022.
The C5 X is a unique prospect that merges prominent features of SUVs, saloons and estate cars into a brand new crossover design.
Dacia Jogger
Meanwhile, Dacia has been busy working on some new models for 2022, including the Jogger. The new Dacia Jogger will be the brand's first budget-focused hybrid-estate-SUV-people-carrier model on the roads, with only front-wheel drive.
One of Dacia's biggest models, the seven-seat family car has been developed on the same CMF-B platform as other Dacia SUVs.

Lexus RZ
Ready to see the first bespoke EV model from Lexus? The RZ crossover will use the same e-TNGA platform as the Toyota bZ4X and Subaru Solterra, but place more of an emphasis on driver engagement.

Vauxhall Grandland
Furthermore to the new cars in 2022, Vauxhall has released details about the mid-life facelift for the Vauxhall Grandland.
Drivers can expect features like the new Vizor grille and a modern new take on mid-sized SUVs.

June:
Alfa Romeo Tonale
Launching this summer is Alfa Romeo's small SUV – the Tonale.
The concept was one of the stars of the last Geneva motor show in 2019, which was reportedly delayed because its new boss wanted a better PHEV system. It takes design influence from Stelvio and is key to plans to grow Alfa's sales dramatically.

Dacia Spring EV
The Spring, despite being electric, keeps things as simple as its fuel-sipping siblings.
Four seats, 44bhp, 140 miles of range – this Chinese-built budget urban EV could be confirmed for the UK market in January.

Hyundai Ioniq 6
Pushed back by a redesign, the Ioniq 6 will be on sale mid-2022.
This delay to the launch date has also meant that the battery has been upsized, from a previous 72.6kWh to 77.4kWh.
Jeep Grand Cherokee
Setting the standard for large SUVs, American car manufacturer Jeep has unveiled its large SUV, the Grand Cherokee.
Launching in Europe this June, the Jeep Grand Cherokee will come with a 4xe plug-in hybrid powertrain and all-new designs.

July:
Kia Niro
The second-generation Kia Niro is here following its reveal at the Seoul Mobility show, including a hybrid, plug-in and full EV powertrains available for drivers.

Nissan Ariya
Taking a huge step into Nissan's new cars electrification journey, the all-new Nissan Ariya's line-up offers a wide variety of versions to meet customers' range and performance needs, including Advance (63kWh), Evolve (87kWh), e-4ORCE Evolve (87kWh) and e-4ORCE Performance (87kWh).

Toyota bZ4X
Always looking to enhance their new cars, Toyota will be bringing a fully electric range to their Toyota fleet under the 'bZ' (Beyond Zero) sub-brand – the first being the long-awaited bZ4X.
The bZ4X will be the first model to incorporate the new e-TNGA EV architecture, developed with the batteries as a central part of the chassis. Promising to provide the typical EV benefits, the Toyota bZ4X will exhibit a low centre of gravity, good weight balance and strong rigidity within its new architecture.

August:
CUPRA Formentor VZ5
CUPRA's potent Formentor VZ5 is left-hand drive only, but we'll forgive them with the 385bhp turbo five-pot.
The Formentor VZ5 is CUPRA's most powerful SUV yet, with production being limited to 7000 units. Cupra claims 0-62mph in 4.2sec with a top speed limited to 155mph.

Kia Xceed
The Ceed-based crossover is due a round of updates to bring it into line with the recently restyled hatchback.
Kia expects the Xceed to be even more popular than its smaller hatchback sibling with its raised ride height and toughened-up styling.

Nissan X-Trail
The new 2022 Nissan X-Trail is set to arrive in Europe this year and will feature an e-Power hybrid powertrain from launch.
A much-anticipated move, it brings more efficient motoring to one of Nissan's most popular and practical SUVs.

September:
Mazda CX-60
Mazda's first plug-in hybrid is coming this autumn. The CX-60 will be driven by an in-line four-cylinder petrol engine with an electric motor, but versions powered by its new petrol and diesel straight sixes will follow.
Renault Megane E-Tech Electric
Furthermore, more new cars include the Renault Mégane E-Tech Electric.
This will be the new, hot five-door hatchback that incorporates crossover styling – setting the bar high in the electric car market for both appearance and performance.
Toyota Corolla Cross
Crossing over a Corolla with an SUV, the new Toyota Corolla Cross is driven by the firm's fifth-generation, 2.0-litre hybrid powertrain – perfect for 196bhp and 0-62mph in 8.1 seconds.

October:
Renault Austral
As new cars go, we're definitely intrigued by is the Renault Austral. Replacement for the large Kadjar SUV gets a total restyle and a new name that "conjures up the vibrancy and heat of the south", apparently.
The bold new look brings it into line with the all-electric Mégane E-tech, while a wide array of improved powertrains and upgraded infotainment platform.
November:
Honda Civic Type R
The latest Civic Type R hot hatch features the same five-door fastback body style as its predecessor, although Honda's designers have elected to tone down the previous car's styling slightly.
Hyundai Ionqi 5 N
The 2022 Hyundai Ioniq 5 is a new all-electric compact crossover with advanced technology, futuristic styling, and a versatile interior.
It will feature impressive charging speeds (up to 350 kW) and has an estimated driving range of up to 303 miles.

Kia EV6 GT
With its slim and low front end, long greenhouse, sculpted fenders, and an ultra-aggressive rear end with surprising light effects, the new Kia EV6 looks unlike anything else on the road.

December:
Ford Ranger
One of the best-selling pick-up trucks in the UK, the Ford Ranger is here with a completely overhauled redesign and revitalised cabin.
With style cues from Ford's American Market F-150 pick, the Ranger is bigger and better – with an electric powertrain joining the line-up at a later date.

Honda CR-V
The Honda CR-V is the strong-selling hybrid SUV, which receives a cleaner-cut style and bulks up for its sixth era.
However, since the crossover is already only available as a hybrid, in line with Honda's electrification plans, we expect changes to be focused on the design and equipment.
Seat Tarraco
Planned model updates for the Spanish firm's largest model are likely to include the introduction of the long-awaited PHEV version, which was revealed in 2019.
Otherwise, the changes will likely focus on styling tweaks and updated infotainment systems.

---
There we have it! All of the new cars that have been revealed for 2022.
As the year continues, we will be bringing you all the latest news and advice from the car world, so make sure to follow us on socials to keep in the loop.
Seen one of the new cars you fancy? Head over to our New Cars section and search for your next car.