Hyundai is adding to its N performance brand with its first hot SUV, the Hyundai Kona N.
Hyundai Kona N
The Kona N signifies a new push from Hyundai in developing its N badged performance line-up. The Kona N will become the fifth model to join specifically sports-focused N branded models, including the i20, i30, i30 Fastback and Veloster.
All of the former are hatchbacks, so the Kona N is unique in that it is the first Hyundai SUV to come with performance styling and performance tweaks.

All-Out Power
Power for the Kona N comes from a two-litre four-cylinder turbocharged petrol engine. So in its most potent setting, the engine delivers 286bhp and 392Nm torque. It is capable of shifting from 0-62mph in just 5.5 seconds with a top speed of 149mph.
It also comes equipped with a new eight-speed dual-clutch automatic transmission which Hyundai has named 'N Grin Shift'. With no manual gearbox on offer, Hyundai has instead equipped the automation with two additional modes; 'N Power Shift' and 'N Track Sense'. Although few specific details have yet to be released, Hyundai says the N calibration of the systems results in faster shifts for more driver exhilaration.
Enhanced Traction
Despite its SUV styling, the Kona N is front-wheel drive with no option for a four-wheel-drive system. Instead, it gets an advanced traction system capable of handling a variety of terrains and surfaces.
It also comes with an electronically controlled limited-slip differential on the front axle that boosts traction. Hyundai has dubbed the system 'N Corner Carving Differential' which helps enhance the handling poise for improved agility and manoeuvring of the car, so you can have more fun behind the wheel.

Strength to Perform
Packing so much power into a larger higher-riding car is not without its difficulties. To compensate, Hyundai has gone back to basics reinforcing the body to help improve structural rigidity. The chassis also features more welding points, extra braking and a stronger skeleton to ensure you have the confidence to drive with more passion.
A Unique Look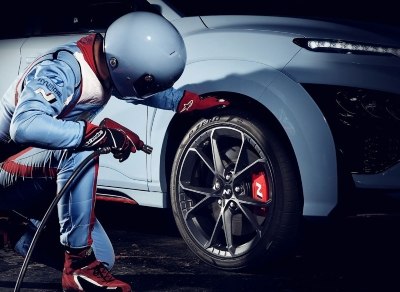 Hyundai is keen to ensure all of its N performance models stand out from standard models, and things are no different with its latest release. As such, the new Hyundai Kona N has undergone an overhaul to ensure it looks showcase the potent power encased.
The new lightweight forged 19-inch alloys are wrapped in bespoke Pirelli P Zero performance tyres. These partly conceal the upgraded brake package creating a dynamic look. Meanwhile, the wider track means the rims fill the Kona' arches.
New side skirts and a lower front lip spoiler help create the illusion the car sits lower and has a more dynamic ground-hugging stance. While at the front, gaping air intakes help cool the engine while also generating a distinctive front face.
At the rear of the Hyundai Kona N, the double wing spoiler houses the N trademark high-level triangular brake light.
A Brand New Hue
Although the Kona N looks similar to the familiar Performance Blue Hyundai uses in its other N branded models, it is in a new hue that Hyundai has named 'Sonic Blue'. Currently, the colour is exclusive to the Kona N, but there is a chance it may roll out the N brand to other SUV models using the same signature colour.
The Kona N also features distinctive red accents, which contrast vividly with the new paint colour creating instant sporty appeal.
A Sporty Interior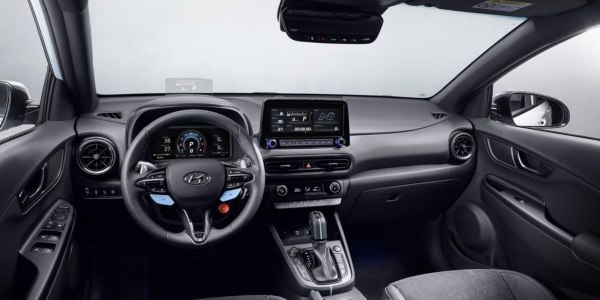 Inside the new Kona N, you will be greeted by familiar sporty touches seen on other 'N' models. Blue accents and N badging across the sports seats, gear lever, steering wheel, and metal pedals offer a racing-inspired interior.
A digital gauge cluster setup and head-up display not only improves your vision of vital driving statistics but also bring a game-like dimension to driving when in N or Sport driving modes.
The new 10-inch infotainment system also comes with a special 'N mode design' area. It displays information such as your lap time and car's position around the lap when at a circuit, so you get a truly unique experience.
Powerful yet Capable
Although the Kona N focuses on performance, as an SUV, it has to be capable too. Since the Kona N is likely to be used for a range of activities, it must come equipped with the latest safety features to keep you and your loved ones protected.
As well as forward collision avoidance, lane-keep and lane follow assist, driver attention warning, high beam assist, blind-spot warning, rear cross-traffic alert and adaptive cruise control. In addition, you also get the benefit of Hyundai's Safe Exit Warning. So you can power on with confidence.
The Future of Hyundai Performance
As already mentioned, Hyundai has already hinted that it is likely to introduce further 'N' badged SUVs. However, the brand has also indicated its plans to improve the future of sustainable driving fun.
Hyundai aims to build on its 'N' slogan of "Never Just Drive". So the new N badged models will come with a raft of motorsport-inspired features to enhance performance and improve driveability without compromising environmental impact.
"We never stop thinking about expanding our product portfolio. Strategically we are moving full speed ahead with eco-friendly offerings. We have a crystal clear plan. One thing is for sure – eco-friendly vehicles are on our priority list, at the top."

Said Thomas Schemera, Hyundai's vice-president for product and strategy,
Exploring the Possibility of New Platforms
Hyundai has indicated its new E-GMP car architecture, which underpins the electric Ioniq 5, has plenty of flexibility as well as strong performance potential that 'N' badged models could utilise.
However, Hyundai may take another approach choosing to use the RM platform showcased at the 2020 Beijing Motor Show. Hyundai has already indicated it plans to use it as a rolling test bed for electrified powertrains and even possibly hydrogen fuel cells. So it is not too big a leap to suggest that it could offer a solution for more potent performance-focused models.