The electric Hyundai IONIQ 5 has scoped several awards this year, including World Car of the Year, World Electric Vehicle of the Year and World Car Design of the Year for 2022. The event was held at the New York International Auto Show last month to announce the results of the World Car Awards.
The World Car Awards is judged by 102 international journalists from 33 countries to recognise, reward, and inspire automotive excellence, leadership, and innovation in a rapidly changing automotive industry globally. To determine the results, they conduct test drives and evaluate new or fully redesigned vehicles that are for sale in multiple markets on more than one continent each year. Within the competition, there are multiple categories such as World Car Design, World Luxury Car, World Performance Car, World Urban Car, World Electric Vehicle and World Car of the Year.
The Hyundai IONIQ 5 performance didn't go unnoticed, as out of 28 competitor models it claimed victory in the three categories.
"We are truly honoured to receive these prestigious awards, which recognize the talent and hard work of all our people and business partners at Hyundai Motor Company. Our vision is to enable Progress for Humanity, and this endorsement of our approach will serve to embolden our commitment to make this vision a reality," said Jaehoon Chang, President and CEO of Hyundai Motor Company.
As Hyundai Motor transforms into a smart mobility solutions provider, the company is accelerating its electrification strategy to become the world's leading EV maker. Hyundai plans to introduce 17 new BEV models by 2030, including Genesis luxury brand models and aims to boost annual global BEV sales to 1.87 million units by 2030.
Check out the results here.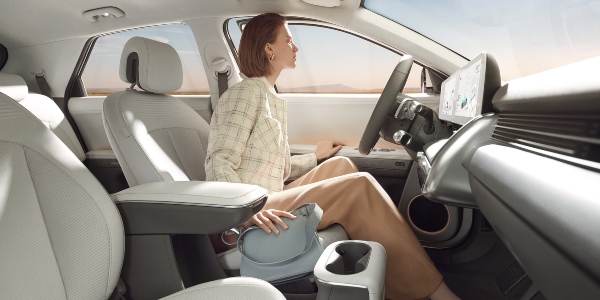 But what makes the new Hyundai electric car stand out from the crowd?
The IONIQ 5 is the first model in Hyundai's dedicated BEV lineup – IONIQ. The vehicle takes full advantage of a bespoke Electric-Global Modular Platform (E-GMP) architecture to offer 800V, ultra-fast charging capabilities for a 10 to 80 per cent charge in just 18 minutes. The Hyundai IONIQ 5 interior is extremely spacious with a high-grade finish to the cockpit.
The unique packaging needs of a BEV means the axles can be pushed right to the front and back of the car, providing more space than a standard drivetrain. When equipped with two-wheel drive (2WD) and up to 77.4kWh battery, its maximum driving range on a single charge will be around 238-366 miles (depending on driving settings), according to the WLTP standard.
Speaking further on winning the accolades, Chang stated "Our game-changing EV has made a strong impact on increasingly eco-conscious and demanding consumers around the world, and its success supports the acceleration of electrification of the automotive industry. The pace of change at Hyundai will continue unabated through the rest of 2022 as we will soon be adding to our award-winning IONIQ range."
The Hyundai IONIQ 5 adopted a new era in design, defined by what the brand's designers called 'Parametric Dynamics' with jewel-like surface details defining the car's visual identity.
The crossover's unique exterior styling is characterised by clean, sharp lines that convey its dynamic presence on the road and distinctive 'Parametric Pixel' LED headlamps and rear lamps that leave a lasting impression.
Make sure to check out the Hyundai IONIQ 5 range today!