Kia's largest SUV has had a refresh with an all-new platform, bolder look, luxurious interior and new technology. So get ready for the all-new Kia Sorento!
More Dynamic
The new Kia Sorento 2020 was designed to be distinctly different to both its predecessor and any other Kia currently on the market in Europe. The Sorento's trademark 'tiger-nose' grille has been subtly reshaped and is now flanked by a pair of LED headlights. While the lower air intake and air-channelling devices help enhance the 2020 Kia Sorento's aerodynamic efficiency.
At the rear, the Sorento's traditional elliptical brake light clusters have been replaced by vertically-oriented lights inspired by those already on the larger US Telluride models. While the rear bumper has been re-designed to appear as if it houses twin exhausts.
The new monocoque chassis comes with altered proportions which make the car look longer. To achieve this, it has shorter front and rear overhangs, and the wheelbase is 35mm longer. All other dimensions are only 10mm greater, but thanks to clever use of space inside the car, this seven-seater feels much roomier on board.

A Connected Commute
Kia has labelled the new Kia Sorento 2020 its most 'high-tech' model ever produced. The large infotainment touchscreen will be linked to the new digital instrument display. While a separate climate control panel is flanked by central air vents, so you still get functional controls for easy use on the move.
A raft of new Kia Sorento 2020 infotainment functions ensures it can always keep you connected. As well as live traffic data you can benefit from weather forecasts and nearby parking spaces, all through the centrally mounted eight-inch touchscreen as standard.
On top of this, comes an optional head-up display which puts speed restrictions, route guidance and driver assistance alerts right in your field of vision.
You'll also be able to choose from a raft of extras including a 12-speaker Bose surround system, a mood lighting package and larger 10.25" touchscreen.
Safer, Smarter Travel
A new cruise control system offers a more refined drive. It automatically readjusts limits according to corner gradients, meaning it is more capable than ever before.
The new Sorento comes with an advanced self-parking function accessed via the key fob. It works in conjunction with automatic braking and blind-spot monitoring, to ensure you don't bump into something when self-parking is in progress.
When it comes to keeping you safer, the Kia Sorento 2020 is more than well equipped. It will come with Park Assist, Blindspot Assist, Driver Alertness Detector and Speed Limit Recognition. What's more, it will be the first model to feature Kia's new 'multi-collision' braking system which can determine the risk of a secondary collision occurring after a crash by applying the brakes to prevent additional impacts.

New Power – New Potential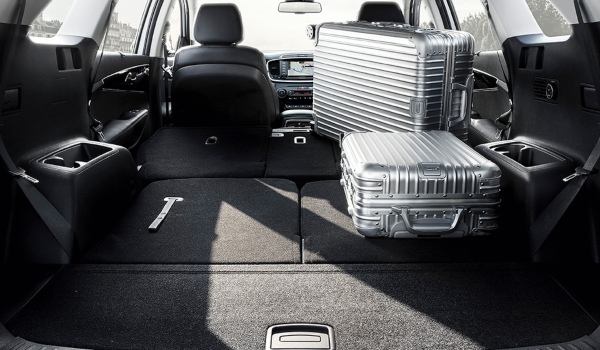 The new 2020 Kia Sorento will be available with a 2.2-litre diesel with 199bhp mated to an eight-speed dual-clutch automatic transmission. While for those looking for a greener option will be able to choose the hybrid powertrain which comprises of a 1.6-litre petrol engine, a 59bhp electric motor and a 1.5kWh battery mated to a six-speed automatic unit for a combined output of 227bhp and 258lb ft torque.
Later the new 2020 Kia Sorento will be joined by a plug-in hybrid with 261bhp, 89bhp motor and 16.6kWh battery.
Off-Road Ready
The new Kia Sorento 2020 offers more off-road capabilities and now features a skid plate for a more robust look. On top of that, it comes with a new Terrain Mode which helps to maximise driving stability in all environments helping the wheels achieve peak traction on sand, snow and muddy ground.
There will be a choice of front or four-wheel drive in all but the plug-in hybrid Kia Sorento, which will be four-wheel drive as standard.
Register Your Interest In The New Kia Sorento
If you want to find out more about the brand new Kia Sorento including when it's due, why not register your interest with your local Stoneacre Kia branch?